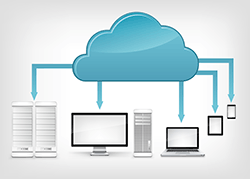 We all know we need to backup our important data.  All too often we get lazy and the next thing you know the photos and files from the past 5 years have been destroyed.  Hard drives are mechanical and have a life span.  Eveyr hard drive in the world will eventually fail.  Some are rated to work for 10.000 hours while others are meant to work for longer.  In the end it will fail and when that happens you need to of already copied your important data onto another drive.
Enter cloud computing.  Cloud computing basically means data is stored in an off site location that can be accessed anywhere in the world.  There are dozens of very affordable data backup programs that work in the cloud such as Mozy and Carbonite.  Business software such as Sugar Sync offer great features for sharing data across dozens of computers and limiting user access to files when need be.  These paid programs are very affordable and work great.
Home programs such as Acronis True image are great for those that want to keep a local backup and an exact snap shot of their entire computer.  If your hard drive crashes you can simply restore the image on the backup on another hard drive and be up and going as if nothing happened in a mater of hours.  This is an option I have setup for many small businesses as well as an off site backup using Mozy or Carbonite.
Free Cloud Computing Options
2 of the best cloud computing options are also free. OneDrive from Microsoft offers 10 gigs of free storage with the option of purchasing more.  The software is easy to use and configure.  Many users will find that it's not really the best for an entire PC backup but you can select certain folders to be backed up and any files in those folders will be backed up.  OneDrive offers easy access to all your information from any computer with your Microsoft login.
The other option is Google Drive.  If you have not heard of it your child most likely has as they are probably using it for school.  Google Drive offers 15GB's for free at the time of this writing.  Business accounts can be purchased as well which give you lot's of different options.  Google drive is quickly becoming the default online storage option for schools and students because of the ability to share documents easily with other students and teachers.  There are lot's of great features on Google Drive but Microsoft is not far behind.  I look forward to seeing how the two companies compete to give us better options down the road.