Since the current chipsets didn't recognise more than one CPU, Intel had no choice but to release new chipsets at the same time as its dual-core Pentium D and Extreme Edition processors. Formerly codenamed Lakeport, the mainstream 945 chipsets essentially provide the same features as the earlier 915 chipsets, plus support for the Pentium D processors.
However, the new chipsets aren't simply an artificial designation to allow motherboards to handle dual-core processors; there are technical differences and improvements too, albeit incremental ones.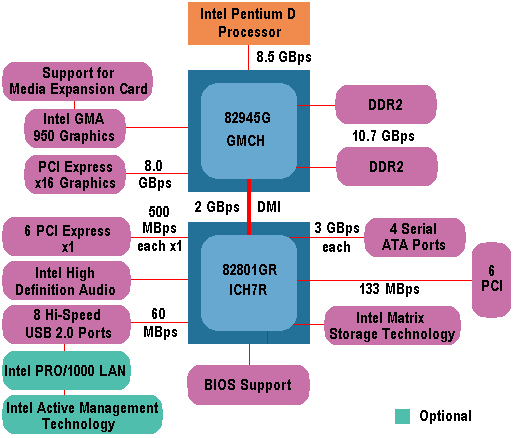 The 945 chipset can handle front-side bus speeds up to 1066MHz and DDR2 memory up to 667MHz, providing up to 10.7GBps of peak memory bandwidth. The latter should provide a noticeable performance boost compared to DDR2-533 systems. Maximum RAM is be limited to 4GB and there's no provision for ECC support.
As with its predecessor, the 945 chipset is available in both P and G versions. The 845G differs from the 945P by the integration of Intel's GMA 950 onboard graphics on to the northbridge. This is a faster version of the GMA 900 present on the 915G chipset, up from 333MHz to 400MHz. The moderate speed hike allows a throughput of up to 1.6G Texels/sec, more than adequate for 2D applications, allowing desktop resolutions of up to 2048 x 1536 pixels at 75Hz and the ability to run two monitors simultaneously via an ADD2 extension card. However, while DirectX 9 3D performance is improved, with Vertex Shader 3.0 and T&L operations still performed in software, this is insufficient for geometry-intensive games.
In addition to providing improved graphics, the GMA 950 supports Media Expansion Cards, allowing a user to take advantage of several video output options in a single-card solution, to provide video input capability and PVR functionality and to support a wide range of display types and configurations, including support of HDTV playback on consumer electronic displays at either 720p or 1080i resolutions.
As with the previous ICH6 chips, the 945's southbridge chip is available in two versions, the basic ICH7 or the ICH7R. Both include four integrated Serial ATA ports – supporting SATA's new 3 GBps transfer rates to suitable hard drives or optical devices – 8 USB2.0 ports, support for 6 PCI slots and High-Definition Audio, a worthwhile improvement over basic AC'97. The ICH7 offers 4 PCI-Express x1 lanes that can be combined to form a single x4 port. The ICHR version differs by adding a further two PCI-Express and an enhanced version of Intel's Matrix Storage Technology.
The latter allows two separate RAID partitions to be combined on one physical set of drives. In addition to RAID0 (striping) and RAID1 (mirroring), the new version also allows for a combination of RAID5 (striping with parity) and RAID10 (stripped mirrors). It also provides support for the AHCI specification, enabling hardware-assisted Native Command Queuing (NCQ) for faster boot times and file transfers and the hot-plugging of devices.
Available as options on both 945P and 945G chipsets are an Intel Gigabit LAN interface and Intel's Active Management technology, useful for monitoring and controlling PCs in an enterprise environment.