The internet is full of everything – both good and bad. Therefore, it's hardly surprising that people are cautious and take every promising idea with a grain of salt at first. Passive income applications are often viewed as especially suspicious since a lot of people believe earning more with little to no effort involved is simply unrealistic.
The truth is that passive income can be a great opportunity for many people. The affiliate marketing industry alone will be worth over $8 billion by the end of this year. Of course, there are many other great passive income opportunities.
However, you have to do your due diligence when choosing a means of earning passive income. You can find a lot of great options if you simply play your cards right.
There are a lot of great apps that can help you earn passive income. We've decided to give one of these apps a try ourselves and see whether it actually can help you earn!
Having been launched almost three years ago, Honeygain is probably one of the better-known passive income apps worldwide. It is available for users of Windows, macOS, Linux, Android, and iOS, who can earn money by running the app and sharing their extra bandwidth. Users get compensated based on the amount of traffic they share and can choose to cash out in either PayPal or cryptocurrencies (Bitcoin or JumpToken).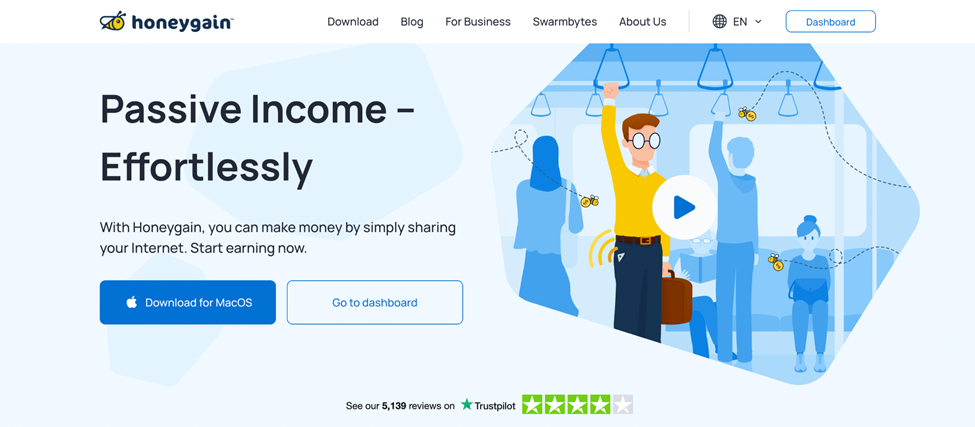 At first glance
The first thing you'll see if you decide to give Honeygain a try is its website. It is rather light and uncomplicated in terms of design. It plays to the tone of effortlessness that's been reiterated in the texts.
However, you can't really say the website is lacking in terms of solid info: you've got explanations of how the app works, a preliminary earnings counter, an 'About us' section which includes an extensive user survey report, a solid blog, and links to the app's (really active) social media pages.
Whichever operating system you use, you can download the app straight from the website. You also need to create an account, but that takes seconds; you only need to enter your email address, think of a password, and verify your email. You can also sign up with your Facebook or Google account.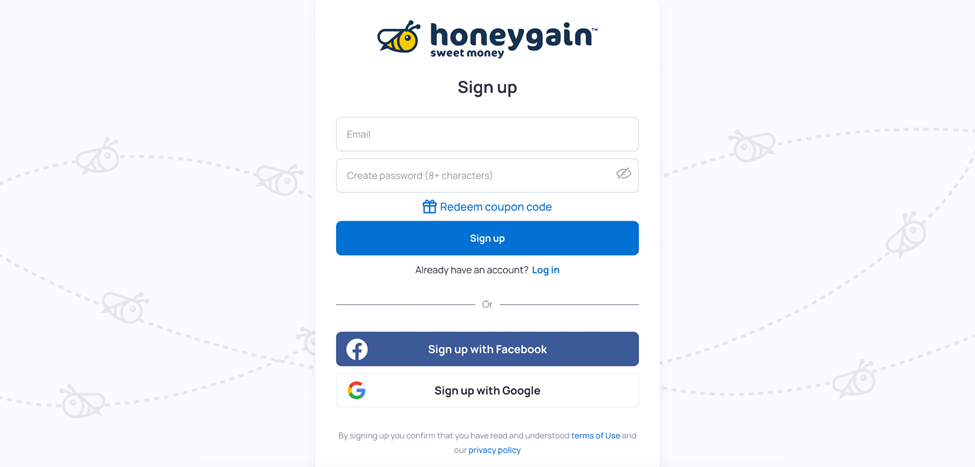 How (and how much) you make
Here's the deal with Honeygain. As you run the app on your computer or smartphone, it shares your excess internet bandwidth. As millions of people worldwide do it at the same time, Honeygain can use their bandwidth to build and manage a crowdsourced web intelligence network.
Honeygain earns revenue by allowing its business partners to use this network for a certain fee and uses its profits to compensate its users for the bandwidth they share. Now, what do these companies need a web intelligence network for? Mainly, it allows them the chance to gather bits of publicly available information from the web – and this, in turn, comes in handy with processes like ad campaign verification, app localization testing, price aggregation, etc.
As you run Honeygain, we earned $1 (1,000 credits) per every 10GB shared – which isn't much, but then again, you're not actively working to earn this money. Moreover, in February they raised the rate to $3, which we're very optimistic about! There's also an extra feature called Content Delivery that lets you earn some more credits on top of that (6 per hour, to be exact), but its availability is limited to computers in 41 countries.
Speaking of additional ways to earn, you've got a referral program that pays a daily bonus equal to 10% of your referrals' earnings and a Lucky Pot lottery where active users can get some free credits once a day. Contests, where you can win thousands of free credits, are also announced weekly on the app's social media pages.
Partnership with JumpTask
In January 2022, it was announced that Honeygain is partnering up with a remote work platform JumpTask. Since then, some changes were introduced to Honeygain. The principle of earning didn't change, but users can now switch between Honeygain and JumpTask modes in their dashboard.
If they choose the former, they can keep earning Honeygain credits, request a payout once they collect 20,000 credits ($20), and pick one of the three payout options available: PayPal, Bitcoin, or JumpToken (JMPT – JumpTask's own cryptocurrency). In JumpTask mode, they earn JMPT and can cash out anytime without any thresholds. As of now, they're also offering an early bird bonus of 50% for using the newly-launched mode.
The final words
We used Honeygain for two weeks on 3 devices (a Windows laptop, a Macbook, and an Android phone) that ran the app as much as possible. We earned $12.88, which includes the sign-up bonus of $5 (we used the code we found on the blog for that) and the early bird bonus for using the JumpTask mode. We were nowhere near the device limit, though, which is 10 active devices per account, so we could technically have made more.
In conclusion, Honeygain does help you earn effortlessly as promised, but the earnings are certainly modest. On the other hand, we basically left the app running and forgot about it; it's not like we worked a lot and then got cents in return. A little extra money never hurt anyone, right?