Power up the PC and the Add New Hardware Wizard should be launched.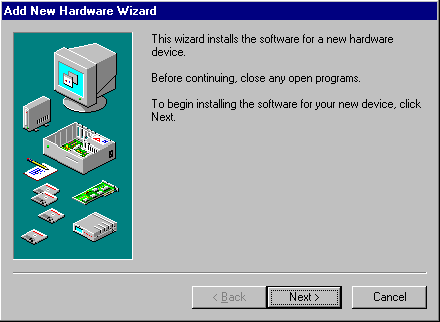 Make sure you've no other programs running and click Next.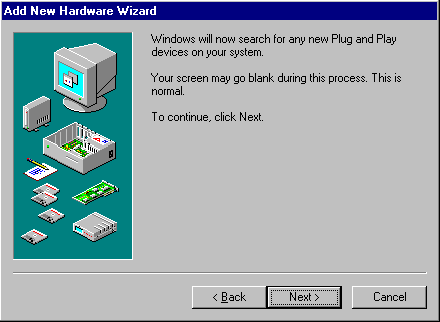 If both your new graphics card and motherboard are Plug and Play compatible, Windows may detect your new card automatically.
Click Next to see if it does.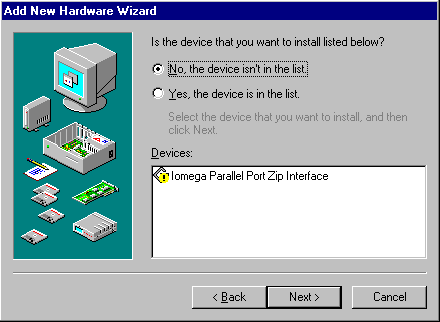 In this case it doesn't, but don't despair there's lots yet to try!
Select No and click Next.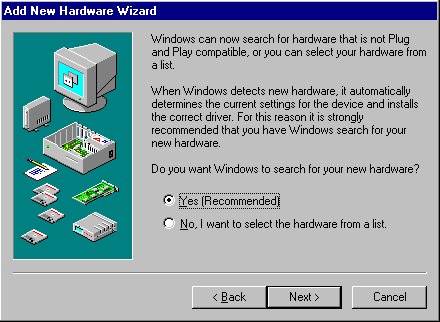 Windows offers to try to detect new non Plug and Play hardware.
Select Yes and click Next.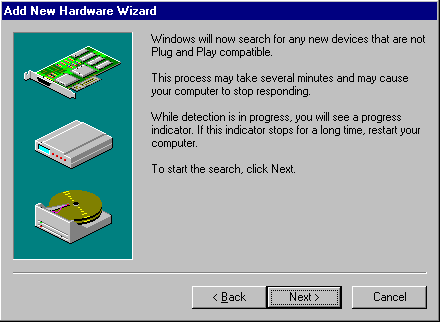 Click Next.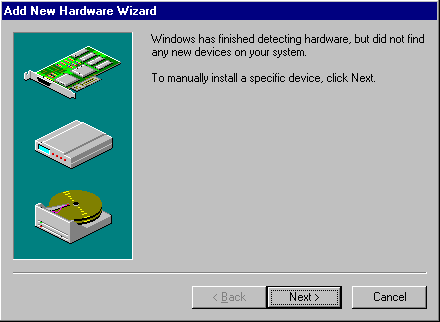 OK, so Windows still hasn't had any luck.
Click Next and we'll try giving it a little help!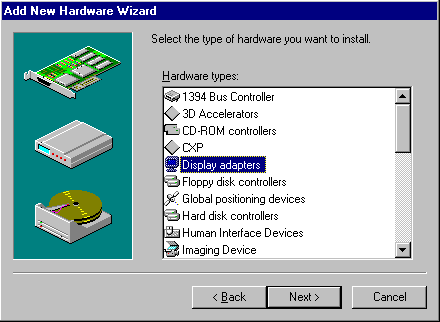 Select Display adapters and click Next.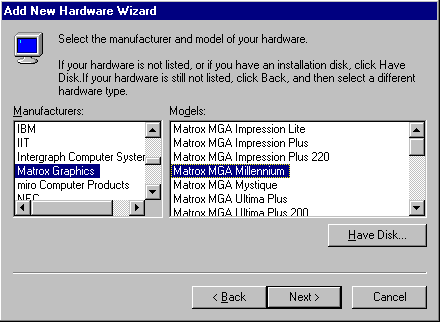 Thanks to our earlier research, we can now confidently identify the new hardware we want Windows to install as a Matrox MGA Millennium graphics card.
Click Next.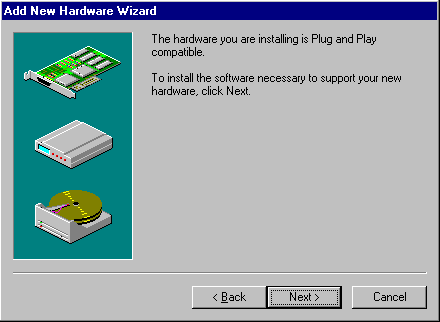 Windows decides that the new card is a Plug and Play device after all!
Click Next.

Load the CD-ROM and click OK.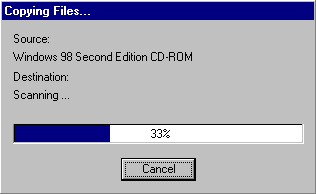 Progress! Windows signals that it has located and is copying the required drivers from the CD-ROM.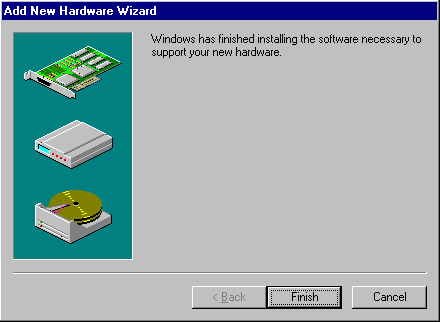 Success at last!
Well, click Next and we'll double-check!
Having successfully found drivers for your new graphics card, you may now find that Windows also re-discovers your monitor. Just follow the screen prompts, restarting your system when requested.
Right-click anywhere on the desktop, select Properties and then Settings.
You'll see confirmation that a device driver for the Matrox Millennium II PCI graphics card has been successfully installed.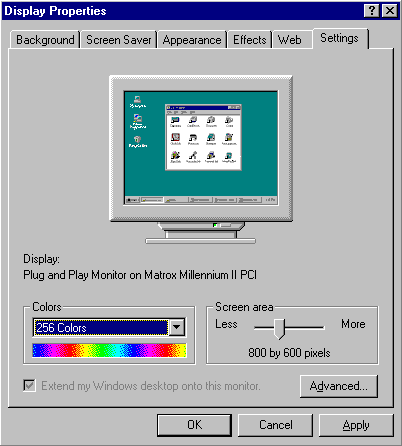 Even if we hadn't succeeded in getting Windows to find and install drivers for the new card, all would not have been lost because of the manufacturer's driver downloaded earlier.
Indeed, we still have an interest in this, since it may be a later version than the driver that Windows has installed.
If you're upgrading your graphics card to improve 3D graphics performance, now's perhaps an appropriate time to check what version of DirectX you have installed.
First introduced in 1995, Microsoft's DirectX is an advanced suite of multimedia application programming interfaces (APIs) built into Windows operating systems. It provides a standard development platform for Windows-based PCs by enabling software developers to access specialised hardware features without having to write hardware-specific code. The bottom line is that it enables higher performance in graphics and sound when you're playing games or watching video on your PC.
You can check whether, and what version of DirectX you currently have installed via the System Information utility. To access this click Start > Programs > Accessories > System Tools > System Information. From the Tools menu select the DirectX Diagnostic Tool.
A modern-day graphics card typically comes with the following connectors:
an IBM Standard Analogue VGA Monitor jack
an S-Video Output connector
a DVI-I Monitor connector
The IBM Standard VGA OUT connector – also referred to as a DB-15 connector – uses three rows of pins and has, for many years, been the standard way of connecting an analogue CRT monitor to a display adapter. Some flat-panel devices (which incorporate an analogue-to-digital conversion) may also connect to the display adapter using this jack.
The 7-pin S-Video Output connector is used to connect devices such as Televisions and VCRs to the card for outputting the same image as being displayed on the monitor. It accepts either a 4-pin or 7-pin S-Video cable. Devices using composite connectors can also be connected, via an S-Video to Composite Adapter.
The DVI-I connector is used to connect a DVI capable monitor to the card. A standard VGA monitor can also be connected, via a DVI-I to VGA adapter.
Typically, two display devices may be connected concurrently, each having independent resolutions and refresh rates.