Qone8.com looks like a harmless search engine that will help you find useful information like Yahoo, Google or Bing. The search engine is owned Taiwan Shui Mu Chih Ching Technology Limited. However, it is a browser hijacker designed to supplant your home page with their search engine. It can do this in all popular web browsers like Internet Explorer, Google Chrome and Mozilla Firefox. If you have tried to manually remove this invasive hijacker then you may have not been successful in removing every bit of code associated with it. You may want to use a tool like SpyHuter to remove all the parts of this program.

Another trick it uses is to place ads on search pages from other search providers. For example, if you are directed to Google search you will see links to advertising websites that are in a light pink background. So, how do they know what ads to serve up to you? There may be some randomness to it, but the more likely scenario is that it is collecting information on your search habits. The company claims that the do not seek any personal information from you. But, they are obviously using the tool to monitor your search habits to they know what ads to show you.
The software is most likely installed in a bundle with something else. Generally, it requests installation during the install of another program. But, since many people just click the buttons and do not read closely it gets installed. There is also a possibility that your browser settings were changed during the installation. So, you should remove the Qone8.com hijacker as soon as possible.
Here you will find the step by step instructions for removing the software from your machine.
Click on the Start button and go to control panel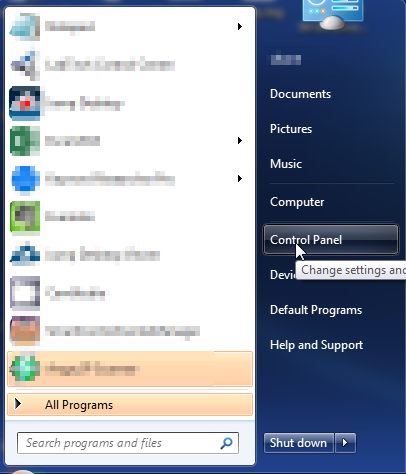 Click on Uninstall A Program in the control panel. If you screen doesn't look like the image below you may have to sort by categories using the link at the top right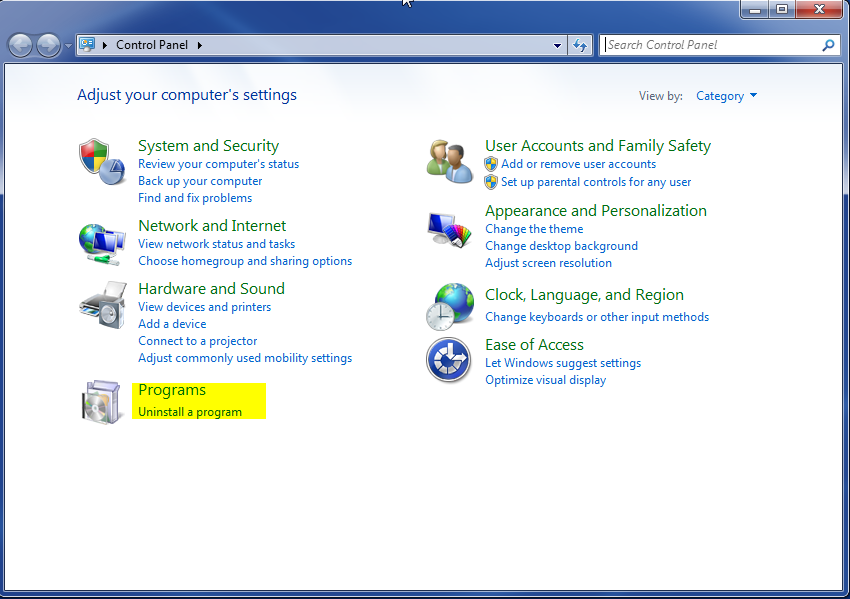 Click on the program you want to remove to highlight it and then click on uninstall near the top of the screen.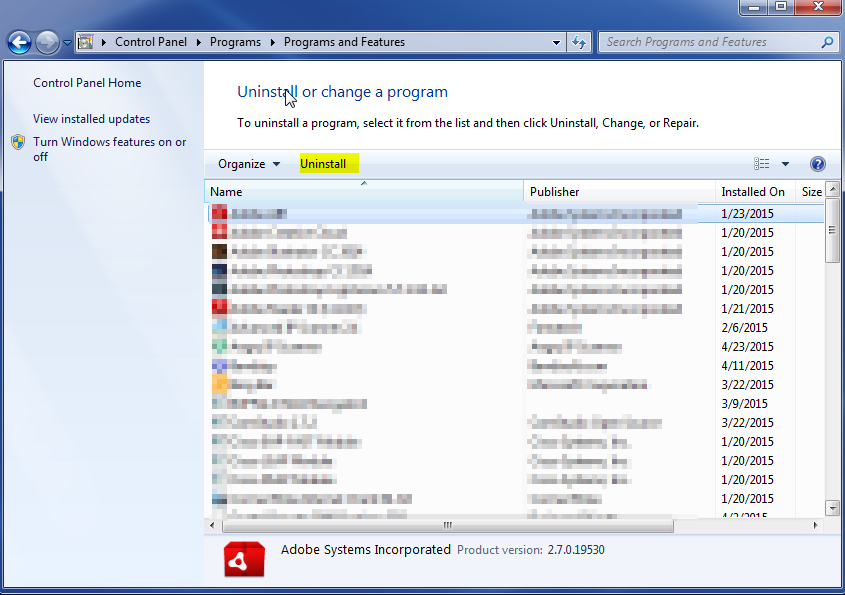 This process will remove the infection from your PC. You will then want to set the home page of your browser to something else other than qone8.com. You can do this in the settings of your browser. You will also want to remove any extensions you found related to the browser hijacker in your different browser settings.
After you have done all this you will want to scan your PC for further issues. The software it was bundled with may have introduced more issues to your machine. It is a good idea to run a scanner like MalwareBytes or your already purchased virus scanner to remove any other issues on the computer.