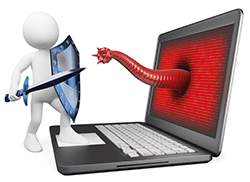 Rango XP Protection 2014 is known as malware. This is a fake antivirus client that get's installed normally through a trojan virus. In most cases the trojan is bundled with other software programs that are free around the internet. Once you download and install the program the trojan then goes out and downloads Rango XP Protection 2014 or one of it's counter parts Rango Win 7 Antivirus 2014, Rango Win 8 Antispyware 2014, Rango Win 7 Protection 2014, Rango XP Antivirus 2014, Rango Win 8 Protection 2014, Rango Win 8 Antivirus 2014, Rango Win 7 Antispyware 2014, Rango XP Antispyware 2014.
As you can see there are many different variations to this threat. Each client normally gets installed on it's corresponding operating system. This is all an effort to make you think the program is legitimate but it's all bogus.
Once installed on a computer Rango Protection 2014 – Antispyware 2014 will show fake scan results. The files that it claims are viruses are not real threats. In fact this program placed those files in those locations. These files are basically harmless. They are made up names meant to scare people into making a purchase of the software. This malware client will also show fake warning messages like the below.
"System Hijack!
System security threat was detected. Viruses and/or spyware may be damaging your system now. Prevent infection and data loss or stealing by running a free security scan."
"Tracking software found!
Your PC activity is being monitored. Possible spyware infection. Your data security may be compromised. Sensitive data can be stolen. Prevent damage now by completing a security scan."
These messages are meant to create fear and a sense of urgency. When you are told your data is being stolen it can cause a person to panic and rush to whip out their credit card to purchase the antivirus client. In most cases people who get infected with this kind of threat had no antivirus client installed and that is why they are now infected. Every computer user knows they need a good antivirus client installed and because they did not have one before they are more inclined to purchase the fake program thinking it is real.
If you make a purchase of the fake antivirus client then yes the warning messages will go away. However nothing new has changed on the computer. You still have a fake antivirus installed on the computer.
How is Rango Protection 2014 – Antispyware 2014 Affecting my PC?
Perhaps the good news out of all of this is no real harm is being done.  No computer files are being stolen.  Many users will find some programs will not operate on their computer and the PC may be running very slow.  They will also constantly get bombarded with bogus messages.  It should be very clear that this fake antivirus program needs to be removed.
How to easily remove Rango Protection 2014 – Antispyware 2014?
To remove the Rango Protection 2014 – Antispyware 2014 threat is rather simple.  Do a system restore or purchase an antivirus client like Spyhunter Can be downloaded here
Before you start System Restore, save any open files and close all programs. System Restore will restart your PC.
Open System Restore by clicking the

Start

button

. In the search box, type

System Restore

, and then, in the list of results, click

System Restore

.

 If you're prompted for an administrator password or confirmation, type the password or provide confirmation.

Follow the steps in the wizard to choose a restore point and restore your computer. You should pick a date that the virus threat was not installed on.  Normally you can just go back a day or 2.
In 90% of all cases doing a system restore works to remove this kind of virus threat.  It will not always work but try it because it most likely will and it only takes a few minutes to do.
After you have done a system restore you still need to run a full virus scan on your computer.  You can use what ever antivirus client you like best.  Most are more then capable of removing this kind of virus threat.  The client I like to recommend out is Spyhunter which is linked above.  I like it because it's cheap and has a small footprint so it won't slow your computer down like other internet security suites.
This thread will be monitored so if you have a question just ask.  We are more then happy to help you out.