System Protection Tools
System Protection Tools is a false antivirus client that is made to look like the real antivirus client from Microsoft. The skin or graphic user interface is very similar and even has several trademarks from Microsoft in it. The program however is fake and is used to scare and trick users into making a purchase. The real antivirus client from Microsoft is called Security Essentials and is free to use.
How Did I get infected with System Protection Tools?
System Protection Tools normally get's installed by the end user by mistake. They are tricked into installing the program by making them think it's a secuirty update or video codec. This malware can be installed with out user intervention if the person does not have a good antivirus program protecting their computer. It's important to have propper protection and keep up with security updates to make your computer secure against threats like these.
How Much Damage is System Protection Tools Doing?
Not a lot of damage is being done to your computer. The virus does not corrupt user files from what we saw. It will block most software programs from running. Things like an antivirus client may be very hard to install. Your personal data such as passwords and banking info should be secure.
System Protection Tools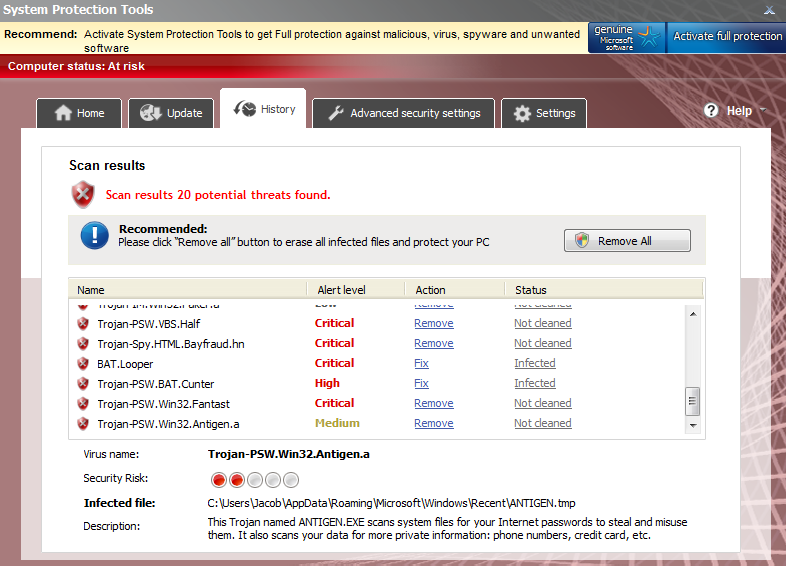 You can use this code to register the product so you can stop and delete the files with out the annoyance of pop ups.U2FD-S2LA-H4KA-UEPB
How to Remove System Protection Tools?
This article covers three main way to remove this threat.
1. Use Anti-virus software (Note you may need to follow the manual guide to start so you can install a client.)
2. Hire an expert ( We Recommend http://www.pcninja.com. This is a remote computer repair company)
3. Remove this threat yourself following our manual removal guide.
Automatic System Protection Tools Removal

Online System Protection Tools Removal Service

System Protection Tools Manual Removal Procedures
Step 1. If you are unable to run any executable programs at all this may be from the virus changing your registry settings. If this is the case you may need to use this patch. It is only for Windows 7 computers. Download Win 7 Fix exe Issue here.
Step 2. You need to stop and delete the main .exe file that is running Windows
Defence Counsel.
You should be able to locate this file at
c:ProgramData\85083SP085_806B.exe
Keep in mind that the USERNAME will be your user name
The file is called sdw.exe. Expect this name to change over time. however if you watch the above video it shows you a few tips for recognizing the file.
Once you locate the file you will need to re-name the file. To do this you can right click on the file named and select "Re-name". Name it whatever you want. Once done re-start your computer. Next time you boot up the virus should not be running. Now you should be able to delete the file name.
At this time you should run a full virus scan. We Recommend Spyware Doctor with Antivirus. However you can use any client you trust the most. To see a list of other clients we recommend check out our Anti-virus Reviews section.
System Protection Tools Registry Removal Procedures
You really do not have to worry about the registry traces this program gives off. Once you kill of the main program these traces will do no harm. Editing the registry manually is not for the novice computer user. One little slip and you can crash your operating system. Instead you should use a Registry Cleaner or antivirus program to scan and remove any left over traces.
System Protection Tools Directories:
Windows 7 / Windows Vista
If you require advanced help or just want an expert to remove the virus than use this computer repair service. The charge is under a hundred bucks and they can often get started right away. These are real experts when it comes to malware and virus removal.
Related Article Keywords: System Protection Tools, Remove System Protection Tools, System Protection Tools Removal, How to Remove System Protection Tools