Avasoft Antivirus Professional is a malware client that attempts to extort money from it's victims. This computer virus comes from a long family of malware clients including Disk Antivirus Professional, System Progressive Protection, Live Security Platinum, Smart Fortress 2012, Smart Protection 2012, Personal Shield Pro.
Manual Removal is not recommended as it may cause severe system damage. The simplest way to remove Avasoft Antivirus Professional is to use this Avasoft Antivirus Professional Removal Tool.

What Damage Is Avasoft Antivirus Professional Doing?
This malware client will block the install of most newer programs and limit what computer programs can run on the system. The software is basically trying to limit the use of your computer so you are forced into paying for the false security software. This is normal for fake antivirus programs such as Avasoft Antivirus Professional.
Avasoft Antivirus Professional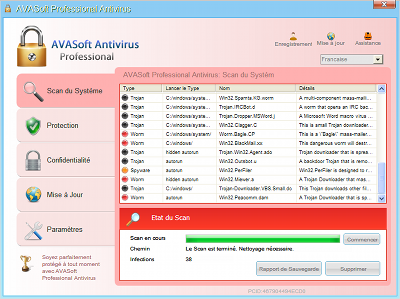 » Download Avasoft Antivirus Professional Removal Tool
Automatic Avasoft Antivirus Professional Removal

Online Avasoft Antivirus Professional Removal Service

Avasoft Antivirus Professional Manual Removal Procedures
We do not recommend manual removal but you can still do it.
To start you need to kill off the main program that is "Avasoft Antivirus Professional". The exact location and name of the file constantly changes and yours won't be the exact same as the traces we show. However it should give you a good indication of what to look for. We also list several ways of searching for the virus threat.
[random].exe ( Example is 6CB34JGG0G4095TUGJ30K30R943RKJF55K4.EXE ) Your file trace will be named different. Every infection will have a different name. However the file tends to hide in the same location
Some Tips on Locating the file.
Known File Paths. To view these file paths you will need to either manually type them in or show hidden files and folders. Learn how to at http://www.removevirus.org/show-hidden-files-and-folders
Windows XP:
C:\Documents and Settings\USER NAME\Local Settings\Application Data
Windows Vista/ Windows 7/ Windows 8:
c:\ProgramData\6CB34JGG0G4095TUGJ30K30R943RKJF55K4.EXE
c:\ProgramData\6CB34JGG0G4095TUGJ30K30R943RKJF55K4.ICO
c:\ProgramData\6CB34JGG0G4095TUGJ30K30R943RKJF55K4
A. Browse to the file location shown above under File Locations and re-name the file first and then restart your computer. Then browse to that file location again and delete the file. You can not delete a file while it is in use.
While you may not know the exact name of the file here are a few tips to locate it.
A1. The file will not be named something that makes sense, it will be jumbled like 6CB34JGG0G4095TUGJ30K30R943RKJF55K4.EXE
A2. You can sort the file by date in the folder and see which ones have been installed in the last few days. In most cases you will only have 1-3 files that match the time of your infection. From there it should be easy to see which one is the one you need to re-name.
B. Boot into Safe Mode with networking and download an Antivirus client and run a full scan. We like Spyware Doctor with Antivirus.
You will be able to install it and run the virus scan. Learn how to boot into safe mode here
C: Log-into another users account and see if you can delete the file. Again use the File Locations below to locate the file
D: Start the Task Manager the very second you login and terminate the process that way.
After you have killed off the file you have to run a full virus scan. We already mentioned which AV client we like to use. You can use another if you like. Just be sure to run a full scan. This is to ensure you have everything and no other threats are present on the computer.
As mentioned already, we also like http://www.pcninja.com. This computer repair company can remote into your PC and fully remove all virus threats found on the system. They do a great job and based in California.