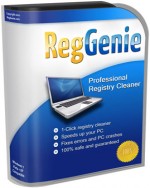 PROS: RegGenie scans computer systems fast and detects invalid entries accurately for various computer systems. It's a basic registry cleaning program with not a lot of bells or whistles.
CONS: Registry entries that should be deleted and removed from systems are identified in order to keep systems running at their best levels and at top speed. It's a rather basic program and I would much rather use a better program for the same price.
OVERVIEW: RegGenie process is a step-by-step easy process that scans systems in search of registry entries that may be causing computer systems to slow and operate in a less stable manner. It's a very efficient program and we recommend it.
RegGenie Review
Program: RegGenie v3.0.0.0
Company: http://www.reggenie.com
Supported OS: Windows 95, 98, ME, NT, XP, Vista, 7
Price: $49.95 1 year license (other license types available – http://www.reggenie.com/register)
Overall Rating: 10 out of 10
What It Does:
RegGenie is a registry and system optimizer, designed to remove invalid registry entries, and keep your system running at optimum speed.
Installation:
The installation for RegGenie took less than 30 seconds.
Details:
After starting RegGenie, the user is greeted with the following screen that outlines an easy-to-follow three step process. Before scanning, the user can choose what parts of the registry should be scanned.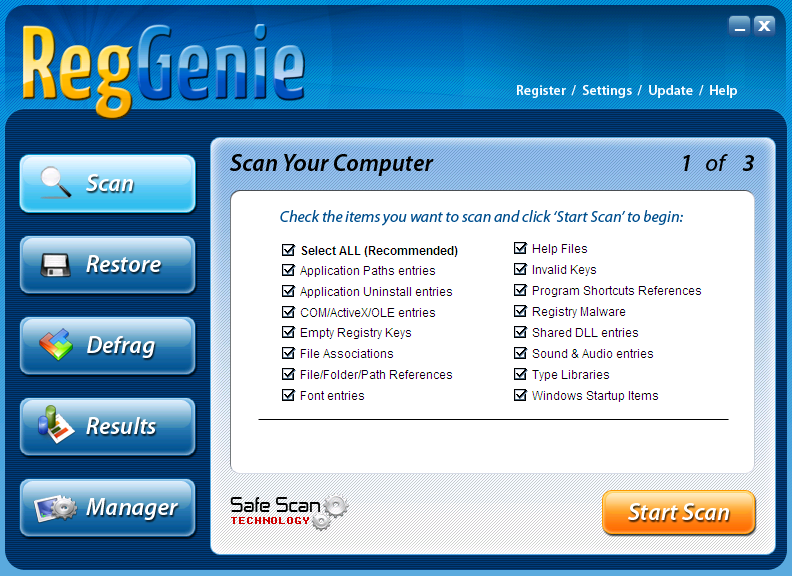 From start to finish, RegGenie only took about 3 minutes to scan the registry.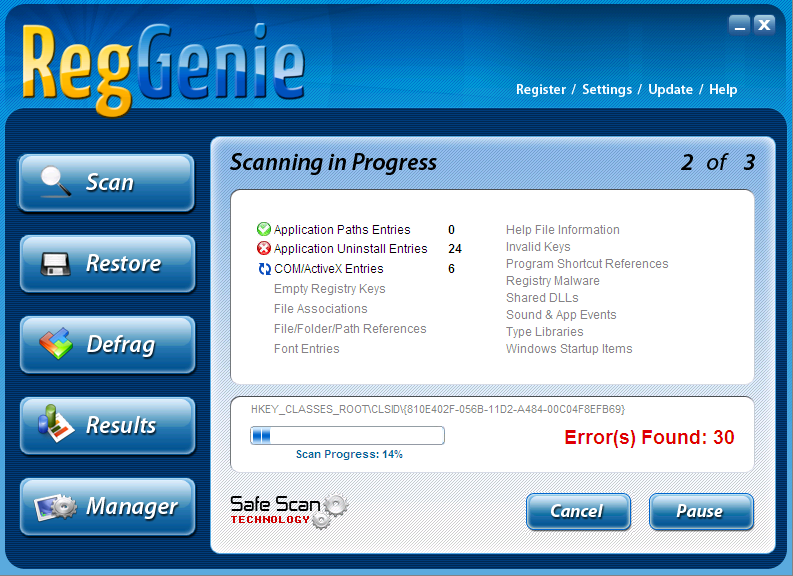 After RegGenie completed, the scan, it displayed how many errors it found, and also gave options of what to do with each error that it detected in the registry. Admittedly, I found the number to be highly suspect, seeing as how I typically use a combination of CC Cleaner, Easy Cleaner, Fix-It Utilities Registry Cleaner, and TweakNow Powerpack's Registry Cleaner to find any errors in the windows registry. This is a combination I've used for several years on my own systems and found it to be the most effective solution in keeping the windows registry optimized and unbloated.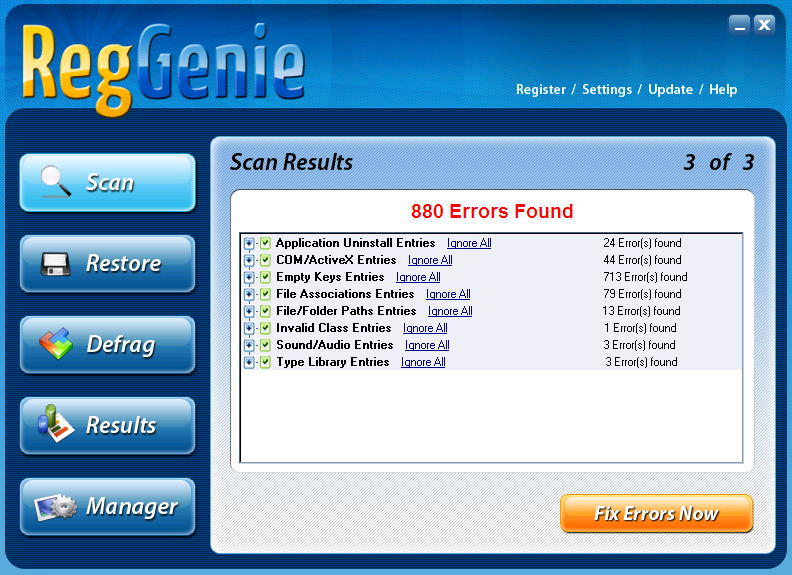 Although RegGenie automatically saves the changes made to the registry, now was the moment of truth, to see whether or not RegGenie lived up to its promise.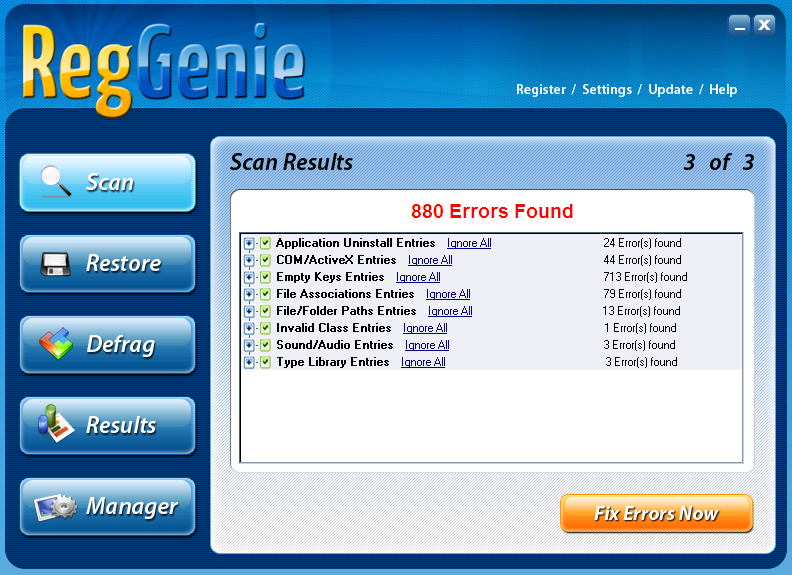 Here is a screenshot of the obligatory second scan, to see what new errors it might have found. It also prompts the user, asking them if they really want to do a second scan, and also explaining that further errors might be found from other applications. The second scan returned only 24 errors. At this point, I ignored the errors, since there were only 24 errors that RegGenie was able to find. From a statistical standpoint, that's approximately a 97.1% reduction in the number of supposed registry errors.
An automatic save point that RegGenie creates for itself is made. RegGenie also provides the user with report of the total numbers of errors found and fixed during the scan. RegGenie's Windows Startup Manager is a nice touch. It saves me the trouble of typing msconfig into the "Run…" section of the start menu. Although it doesn't have all of the options that msconfig does, it certainly makes use of the most common feature.
RegGenie also provides the user with the option to defrag the registry, if it needs to be defragged. This is another method that will enable your system to run even faster. In this case, the RegGenie determined that the registry did not need to be defragged.
Ease Of Use:
RegGenie is designed for the novice user. The interface is easy to follow and very intuitive.
Summary:
While it's an easy to use interface I think the end results are disappointing. I would not recommend this product.