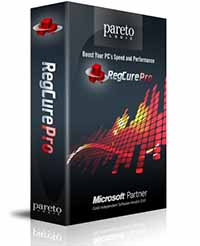 Regcure Pro is from the same makers of PC Health Advisor. In the latest version of RegCure Pro the user interface has gotten a much needed face lift. It's now far easier to clean out the registry as well as take advantage of all the other tools that come with Regcure.
End Result:
Regcure gets the job done when it comes to registry cleaning. You can also manage your startup items as well as several other things outlined in the review below.
Read the PC Health Advisor Review Here
Regcure Pro Features:
Repairs and cleans windows registry
Manage Star-up programs
Scans for Active Malware
Schedule cleaning times
Manage Windows Restore Points
Cleans Junk Files from Computer
Built in Defrag
The free trial version of Regcure Pro is limited. In order to have all the above features you will need to purchase the product.
Regcure Pro Video Review
Regcure Pro Review
The install process will only take you a few minutes. Nothing out of the ordinary here. Just hit the next button till the product is installed. Once installed you will be at the overview screen. From here you can do a system scan. You may also hit the System Scan on the left side of the program to run the scan. This section is were the overall health of your PC is given.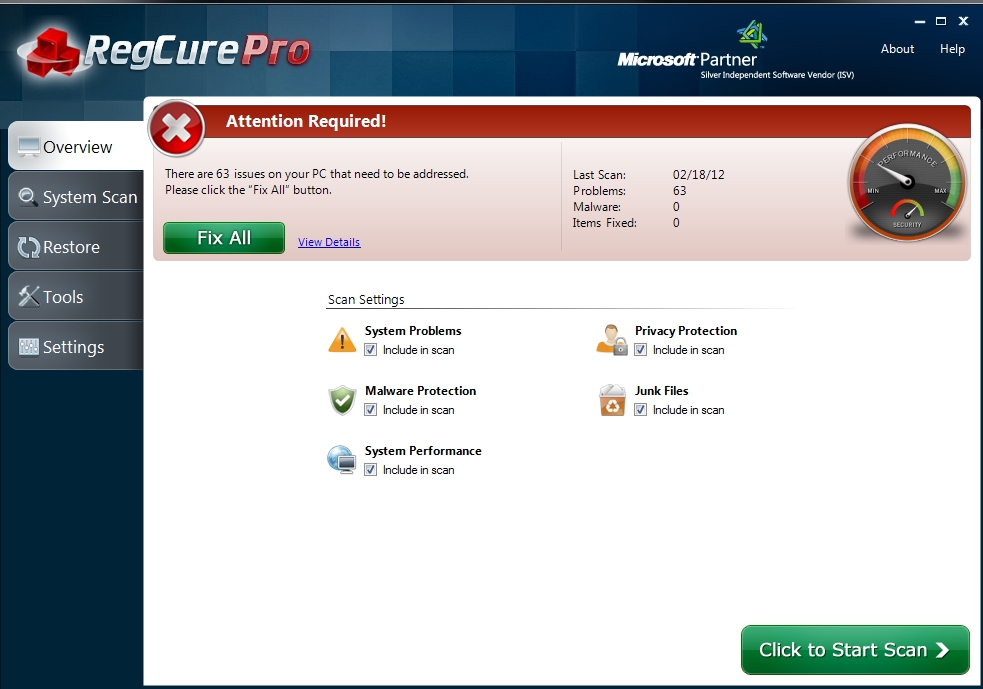 The System Scan section is a little annoying to me. Once the scan is done a voice tells you how many errors you have on your system. I hate voice programs. If it's not going to sound human why even have it. Does nothing to benefit the end user. It's also annoying that if you move to another section of the program and then come back to the System Scan section the scan starts all over again. Even if you did not repair what it found in the first place. The program should remember that a scan already happened and it should already know the results of the last scan and prompt you to make the repairs. I have no issues with it asking if you want to run another scan but it doesn't. Just starts the scan again.
Another item I do not like is the program making the end user feel it has more critical errors then what's really there. It calls my junk temp files critical. This is a very poor representation of the data. If anything it may call the files to my attention but not make a big deal out of it. Not like it's actually effecting my computers performance. There just is no need for alarm-ism with these file types.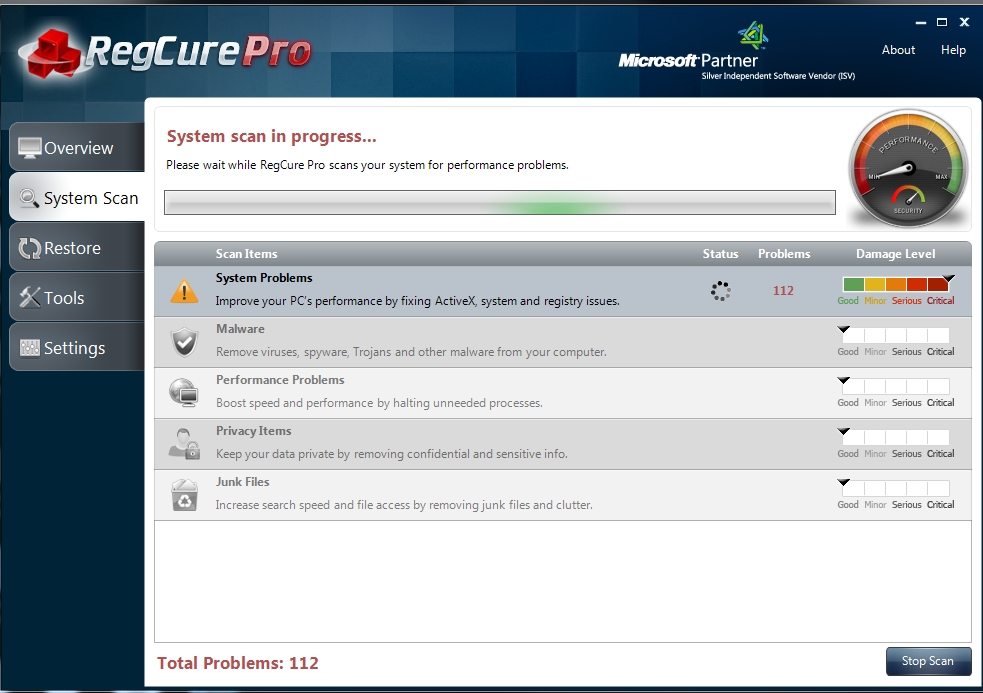 The Restore Point Manager is the place to manage all the Windows restore points on your system. I like it better then the Windows version of the same thing. A restore point is created before the program does any cleaning. That way if something goes wrong you can revert back your computer. The main times I tend to use the Restore Manager is after a Windows update comes down and messes up my computer. It makes it very easy to restore your computer to a date and time when it was running good.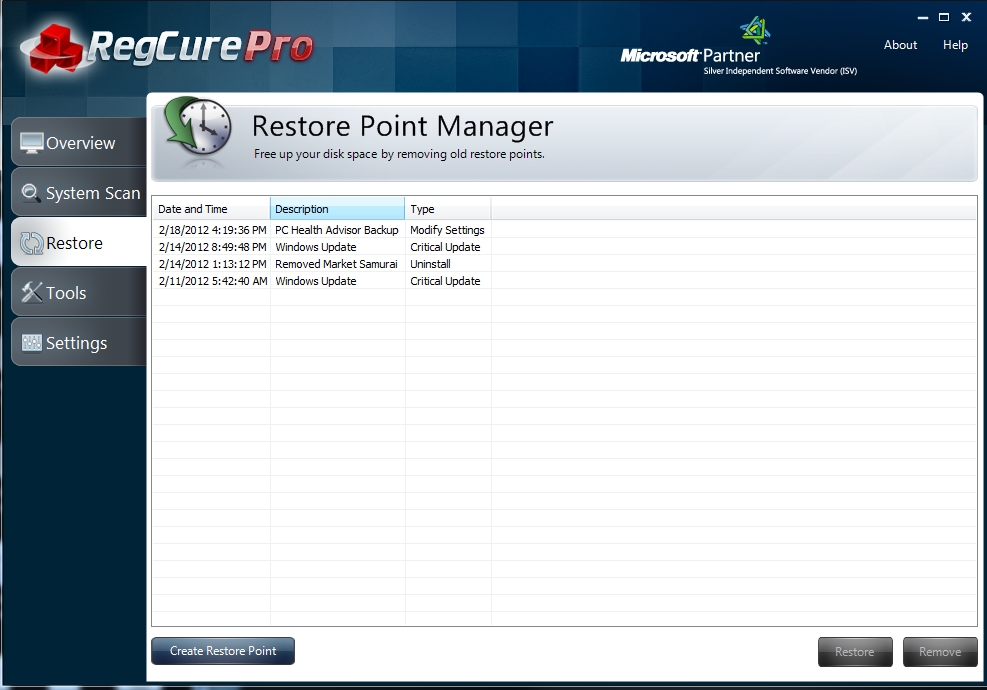 The Start-up Manager is the place where you are going to get a nice bump in processes power. Go through all the programs you don't want auto-starting on you and un-check them. Once this is done you will be asked to re-boot your computer. By eliminating most of these programs you will free up a ton of processing power. I have seen computers boost their speed by 300% from just eliminating these kinds of programs. Those were older computer mind you. Most systems will not see that kind of improvement but it should be a noticeable boost for most end users.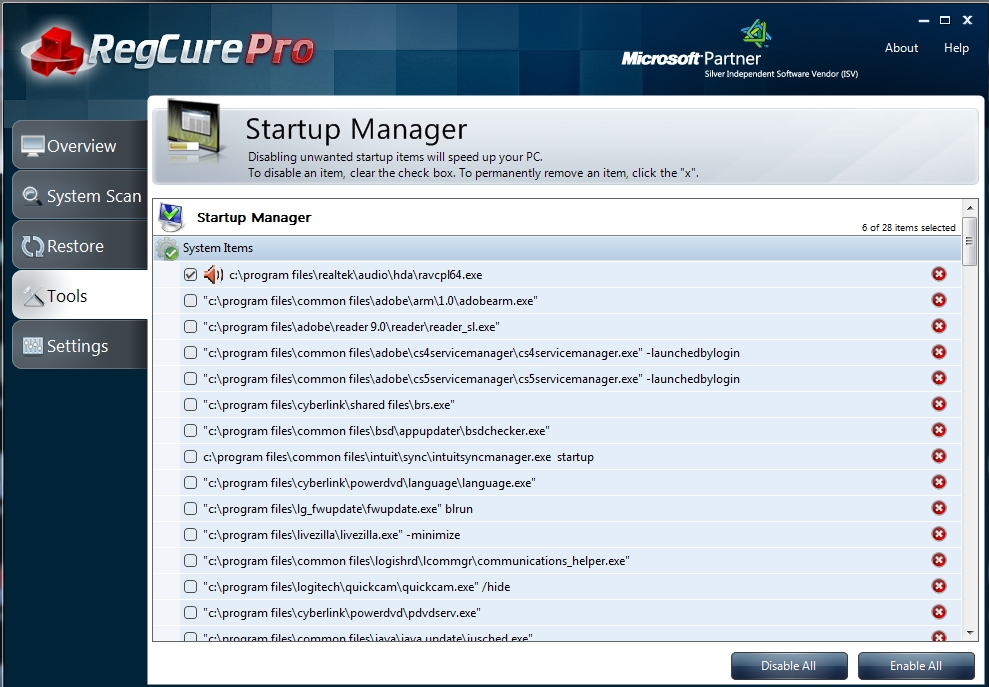 Defrag is a nice harddrive tool to use. While Windows does have this tool already it's nice it's included. In the Tools section you will find the Defrag tool. It may take an hour or even more to run but once done it will help to boost access times. This may help you when you are trying to load up a big program or file.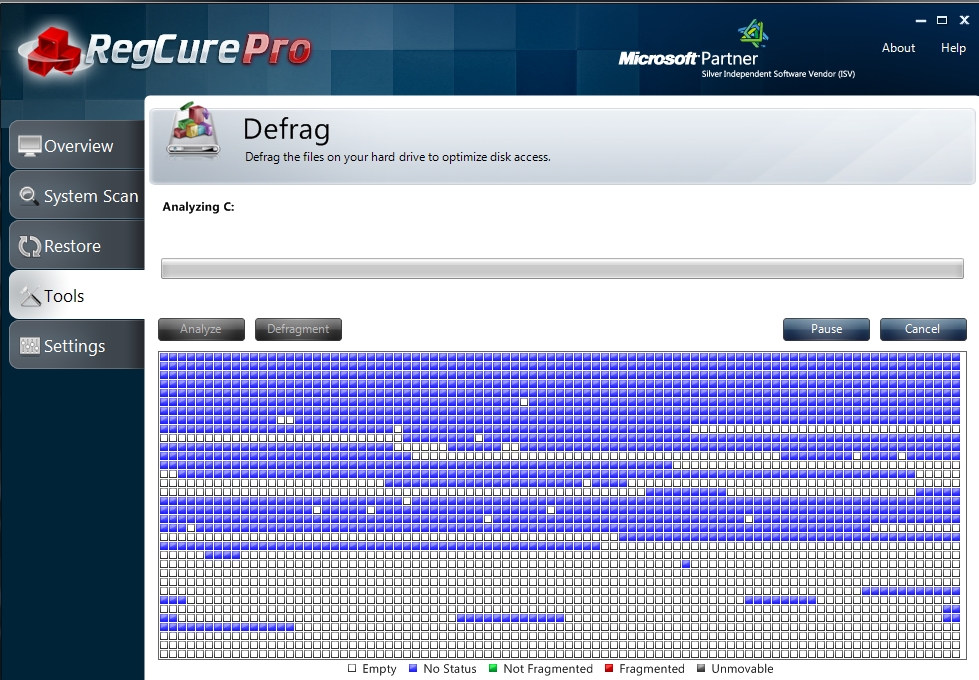 The Setting section is for setting up scan times and overall control of RegCure Pro. Each section is fairly self explanatory. I would advice most users to set the program to scan once a week for junk temp files and registry cleaning and then once a month for defrag. Nothing else is really needed.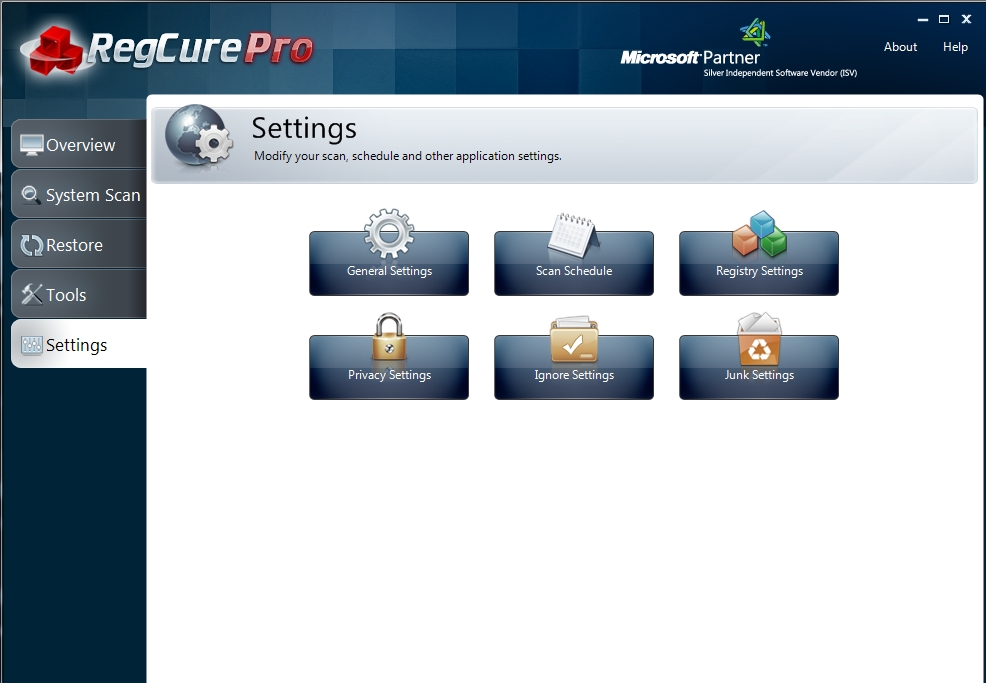 Regcure Pro is not a bad program. Overall the end user can get a faster computer from using it. I like the PC Health Advisor interface better and as it's from the same maker and really the same product just a different name I would go with that version. The price starts at around $29.97. This is comparable and with in the price range of most other registry cleaning products. With Regcure Pro and PC Health Advisor you get more bang for your buck over normal registry cleaning programs. Overall we rate this product a buy. I should however add in that all features except the registry cleaning can be done by hand using existing Windows tools. This is one reason why many computer repair experts do not like registry cleaners. However, most people can do a lot of damage poking around the operating system so using a safe program to change these features is a nice thing.
Save
Save
Summary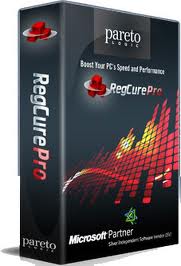 Author Rating