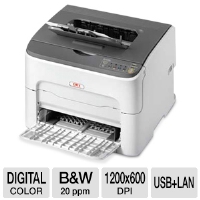 The OKI C110 44173601 Color Digital LED Printer is a mid range printer that is great at printing. It's a real work horse and shines when it comes to printing black and white quickly. You can print up wards of 20 pages per minute in black and white and 5 pages per minute in color.
With a DPI of 1200 x 600 you will get great looking documents.
This is just a printer. It's not an All-in-one device. This printer is best for offices that have large amounts of black and white pages they need to print off.
The OKI C110 is simple and straight forward. You can connect it to a router so everyone can print to it or directly to a PC via the USB port and share the printer from that computer.
The list price for this device is $199.99 but we were able to find it here on tigerdirect for only $69.99. I'm sure that price won't last long and once it's out of stock you most likely will not be able to get this deal again. Even at $199.99 it's still a good value.
The main attraction to this print is the speed of b/w printing and the overall simplicity of the device. No major setup is needed to get this baby cracking.
Product Dimensions: 22.2 x 19 x 18 inches ; 41.4 pounds
Printer Specs:
Print Method: Digital Color
Resolution: 1200 x 600 DPI
Paper Input: 200 sheets
Paper Output: 100 sheets
Print Speed: 20 PPM B/W and 5 PPM Color
Special Features: USB, network 10/100 base ethernet
Final thoughts: I could not locate a MAC driver for this printer. There may be one but if your using a MAC computer you may want to look into this further to ensure you will be able to use it. For the current price and the speed of the printer it's hard to say no to this if you plan on printing off a lot of b/w pages. If you are more into color photos or need scanning and coping capability you will have to look elsewhere as this is just a printer.