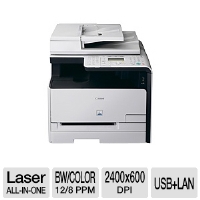 The Canon imageCLASS MF8050CN is a multifunction color laser printer that can print 12 pages per minute in black and 8 pages per minute in color. With a DPI of 2400 x 600 it's on par with most other office laser jet printers.
Canon for years has been on of the top office printers around. They put out solid products and as long as you take care of the printer it should take care of you.
The Canon imageCLASS MF8050CN does copy, scan and fax and is network capable so adding it onto a server or other PC's is simple with the installation CD. It is not wireless so the end user will have to hard wire the lan or USB. Many office computers are like this so it's not a negative at all. Just more of a come on and get with the times kind of thing. At least when it's hard wired it is secure and will work at a higher rate then a wireless printer.
For the Canon imageCLASS MF8050CN being laser I'm surprised the printing is not faster. When reading the features I thought it would spit out pages much faster.
This is a front loading printer so you do not have to move it around to load up paper or mess with controls. It only uses 3 watts of energy while in saving mode so this is a nice plus.
Great thing is being able to print .pdf files. You can cut way down on all that office paper work floating around. Scan in your documents and save it on your system as a .pdf file. Toner prices for this device is below average for other laser printers. I would shop around for toner to find the best deal. For a small office this is a great work horse that gets the job done. Larger offices may want a faster printer. Just depends on how many people print really. As stated this device is a set it up once and run for years never having to mess with it kind of thing. Solid describes it best.
The list price for the printer is $499.99. We found the printer for 120 dollars off on tigerdirect here. Total cost is now $379.99. Expect the price to move around over time.
The product currently has a 2.0 out of 5 Star rating on Amazon with 6 reviews. Does not look so good there.
Product Dimensions: 17.0″W x 19.1″D x 16.9″H ; 52 pounds
Printer Specs:
Print Method: Color Laser
Resolution: 2400 x 600 DPI effective output
Paper Input: 150 sheets
Paper Output: 125 sheets
Prints, Faxes, Copies, Scans,
Print Speed: 12PPM B/W and 8PPM Color
Special Features: USB, Network
Final thoughts: I like Canon and when setting up a Canon printer for a business I enjoy doing it because I know the job will be simple. Once setup these things just work. While this printer may be a little slow it's still a good buy.