Released in July 2014, the Kaspersky Anti-virus 2015 was said to be the slight improvement of the Kaspersky Anti-virus 2014. More so, it still has so much to offer. And for those who have faith with the Kaspersky antivirus products, the 2015 version still assures protection for your computers against all spywares and malwares including their latest versions. It can also scan website links and even your emails and files. Because this is an updated version browsing is much safer as it provides real-time internet protection against various online threats.
Protects Your Money
Some antivirus will not be able to secure your transactions online but with Kaspersky Anti-virus 2015, it uses Safe Money technology that guarantees online banking and shopping protection. It can also secure your digital identity and keep your privacy all by yourself. Browsing along, it can be able to identify suspicious and malicious phishing sites. And like the common problem of those who are getting hacked with their webcams, the Kaspersky 2015 can be able to prevent spying of all unauthorized access to your camera.
Even when connecting to public Wi-Fi network, the Kaspersky 2015 will alert you if it detects abnormal behavior on the connection that emanates from unsecured Wi-Fi spots. And because it wants to provide family protection, you can also set it to Parental Control setting to make your children safe while browsing.
What makes the Kaspersky 2015 very effective is it uses the combination power of the cloud and your PC. In case you happen to download a file or an app that has malicious extension in it, you can rollover the installation and be safe from further infection.
Basic Presentation For Utmost Usability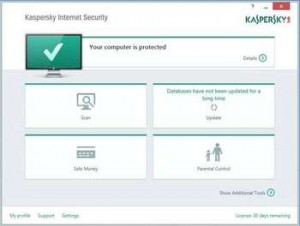 The layout board of the Kaspersky Anti-virus 2015 is very simple. There is the panel for updating the software, another panel for scanning your system, the Safe Money panel so you can have online transaction safely and the Parental Control panel to ensure your child's safe browsing. Even beginners could have easy time in using this antivirus software.
Kaspersky Anti-virus 2015 is also best in protecting your digital identity with its anti-phishing protection. It can prevent spammers' keyloggers and screen capture malwares in doing their deeds courtesy of the Kaspersky's Virtual Keyboard feature. With this, you don't need the physical keyboard when keying your passwords.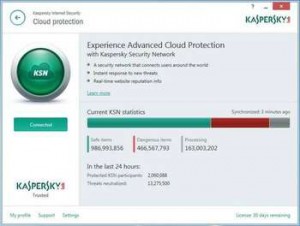 Another milestone is the improved password protection shield that prevents applications to get into your system through unauthorized installation like what browser hijackers do. Browser hijackers can disable your DNS settings and can modify your computer's configuration to set off the malware's own search engine. And considering that a lot of gamers have problem with their games when they have a pro-active antivirus installed, the Kaspersky 2015 will let you play an uninterrupted game.
Added Helpful Features
Kaspesky Anti-virus 2015 also has some additional features. It comes with a Rescue CD that will let you clean your system even if it is almost on its crashing stage. With this, you can save a lot of money in paying for reformatting your hard drive or in purchasing another computer. You can also get technical support though live chat or phone or can email the company for any issue you encounter.
What Users Have To Say?
Based from reviews, the Kaspersky 2015 gathered good ratings because of its excellent antiphishing scores plus its very basic settings. With its virtual keyboard, users are best protected against keyloggers. Most of all, a user can rollback the download if there is an unexpected malware action that suddenly stalls the system. A lot of reviewers also say that this antivirus program has a very effective system cleanup and tools to optimize its use.
However, some individuals are not totally satisfied. Accordingly, the program's manual malware blocking system often failed to detect hazardous sites during manual testing of sites which are known to be hazardous phishing sites. But the bottom line is that the Kaspersky antivirus 2015 still earned high marks from many independent antivirus test labs.
You can have the Kaspersky Anti-virus 2015 from Amazon to the lowest price of $25.85 (used to be $59.95) and you get 3 DVD installation disks with licenses. One disk license for one computer and get one year subscription for each license.