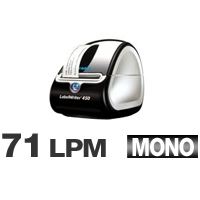 The DYMO Labelwriter 450 Turbo Label Printer can print speeds up to 71 labels per minute. What I really like about this thermal printer is you can use the included DYMO Stamps software and print accurate USPS approved postage. There is no membership fee to use the program which makes it a no brainer for those that need to print shipping labels and postage.
This is a great label maker for any office and one of those products that can save you a ton of time and hassle. What I did not know was software is included to verify US addresses and zip codes so you can ensure no customer data was entered in wrong and you are shipping to the correct zip code or city. This is a very useful feature.
The real benefit is how easy the DYMO labelwriter 450 Turbo is to use. Like other DYMO products it has a short learning curve and most people can figure it out just by looking at the device.
It will work with text in popular software programs like word and excel to print off the labels.
The list price for the printer is $129.99. We found free shipping and the product 60 dollars off at tigerdirect here. That is a cost of only 69.99. Because of this great discount you should really consider the product. I know Dymos that sell for far more and you get less so it's a great deal. Deal may not be live if you are reading this too far into the future.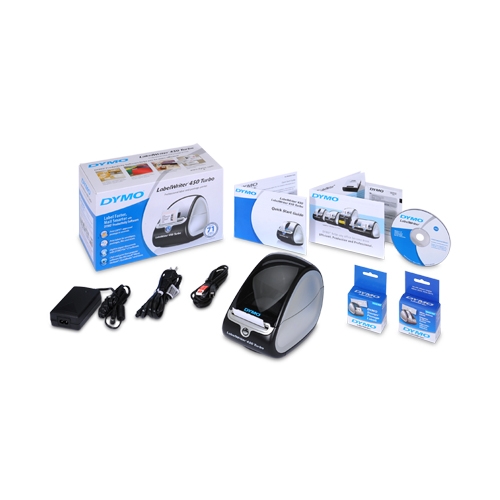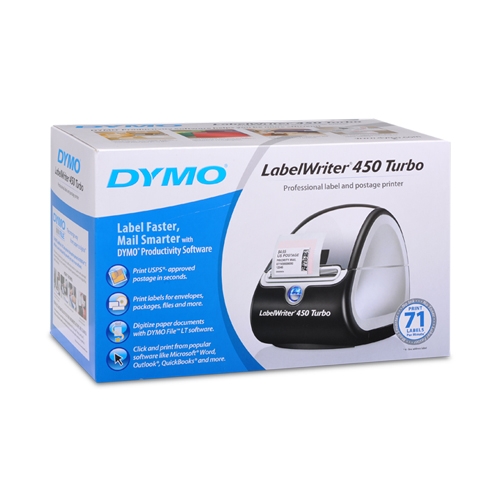 changing the ribbon paper is very easy and only takes a minute to do.  Open up, pop out the old cartridge and enter the new one in.  It's that simple.
The product currently has a 4.2 out of 5 Star rating on Amazon and a 4.9 out of 5 on TigerDirect. With hundreds of reviews out there for the DYMO Labelwriter 450 Turbo Label Printer it's clear people like the product.
The product does connect to a computer via a USB cable that is included in the box.
Product Dimensions: 10.9 x 5.9 x 6 inches ; 15.2 ounces
Printer Specs:
Print Method: Thermal Transfer
Print Speed: 71 labels per minute
Special Features: USB
Final thoughts: For the current price point this is a great product.  Even at the normal cost of 129.99 it's still a good buy.
What's in the Box
Power cords, USB cable, software, instructions, and starter labels. You will want to purchase more labels.  You can do so online or at Staples and the like.