The FlexATX is a natural evolution of the Intel's microATX form factor which was first unveiled in late 1999. The FlexATX addendum to the microATX specification addresses the requirements of only the motherboard and not the overall system solution. As such, it does not detail the interfaces, memory or graphics technologies required to develop a successful product design. These are left to the implementer and system designer. The choice of processor is, however, limited to socket-only designs.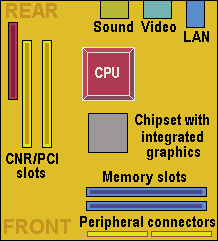 The principal difference between FlexATX and microATX is that the new form factor reduces the size of the motherboard – to 9in x 7.5in. Not only does this result in lower overall system costs, it also facilitates smaller system designs. The FlexATX form factor is backwards compatible with both the ATX and micro-ATX specifications – use of the same motherboard mounting holes as both of its predecessors avoids the need to retool existing chassis.
In the spring of 2000 VIA Technologies announced an even smaller motherboard than the FlexATX. At 8.5in x 7.5in, the company's ITX form factor is half and inch less wide than its Intel competitor. The key innovation that allows the ITX to achieve such a compact form is the specially designed slimline power unit with built in fan. Its dimensions of 174mm long x 73mm wide x 55mm high compare with a standard ATX power supply unit measuring 140mm x 150mm x 86mm.
The table below compares the dimensions of the microATX, FlexATX and ITX form factors:
| Form Factor | Max. Width (mm) | Max. Depth (mm) |
| --- | --- | --- |
| microATX | 244 | 244 |
| FlexATX | 229 | 191 |
| ITX | 215 | 191 |
Unsurprisingly Intel's FlexATX form factor uses it's CNR riser architecture, while the ITX uses the rival ACR architecture.