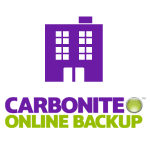 If you are looking for the right online data backup service that offers unlimited storage complete with restore tools, comprehensive backup and security features and with reliable customer service support, then the Carbonite must be your choice.
Carbonite can backup your precious digital photos, music, videos and any documents which you can retrieve anywhere in the world. If you want a lifetime use of storing data you may need to rely on Carbonite's cloud-based data backup service. All the copies of your data will be kept securely to remote servers and without the risk of unauthorized views from anyone but you. With its reliability, it has garnered the TopTenReviews Gold Award for Best Online Data Backup Service.
What generally the reviewers say:
Pros – Unlimited storage with all-inclusive backup and security features.
Cons – The Carbonite mobile app is not designed to work on Windows phones. Also, there is no public file linking feature that can allow you to share folders with other users.
Bottom Line – Still the perfect online data backup service as it offers unlimited storage and comprehensive file backup with restore tools in case of the need to revert the changes you've made. Also have amazing customer support.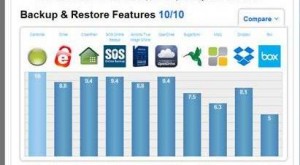 Here is the summary on how you can benefit from using Carbonite
1. Unlimited backup storage without the need to choose which files to maintain or store. You can backup all the contents of your hard drive, basically.
2. It has a file archiving feature so even you update or change anything in your previous files and decides to revert back to the previous state of your files, you can reverse the clock to a point where you have made the unnecessary changes. It can keep old file versions within 3-month period and deletes older versions after that. With other backup services, this is only limited to 30 days.
3. Once you have created your primary full backup set, Carbonite will automatically save everything that you do as the application will be working on the background all the time. You never have to worry about bandwidth getting reduced because Carbonite has its own bandwidth reducing system to prevent any dip with your computer's performance.
4. Other than backing up all your files, Carbonite also has a mirror-image backup feature which takes snapshots of your hard drives once or twice a week. With this, you can have back up for your entire computer system which include configurations, installed software and even operating system.
In the event of system crash or your computer got stolen, you can utilize the mirror-image backup and can restore everything that is in your computer to another computer. Other backup services only store videos, photos, files and videos.
5. If you happen to back up all the contents of your external hard drive and lost it or malfunction for some reason, you can request from Carbonite through customer service to send you via courier an external drive that contains all your backup data. This is very useful if you don't have an internet connection due to natural calamities.
You may worry that your personal files may be in danger with other backup data services especially from nefarious hackers. But this can't happen with Carbonite. So how can you be sure your data are 100% safe with Carbonite?
Carbonite's Safest Features
1. Carbonite automatically encrypts all your files using Blowfish and Triple DES encryption system. This works during transfer and storage of your files. If ever a hacker can be able to break Carbonite's multiple firewalls that are installed on its servers, he would not be able to view your files because these are heavily encrypted and you alone hold the encryption key. With this, your files are always safe from any third-parties.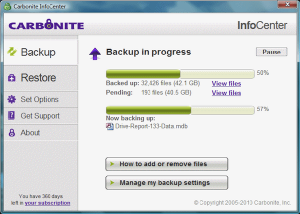 2. Other backup data services only rely on power supplied by outside sources but not Carbonite. Its own servers run 24/7 on temperature-controlled environment so you can always have access to your files any time. Yet, your data are not only backed up once but are stored on all Carbonite's servers so even the first server is damaged or malfunction, your data are still safe on other servers.
3. Carbonite's remote wipe is also one-of-a-kind. If your computer got lost or hacked and contains confidential files that may endanger your financial or personal life, you can wipe out your data remotely right on that computer using the Remote Wipe. This feature can ultimately minimize the threat that may come upon you.
Aside from the Carbonite app for computers, as of now, two other Carbonite backup apps are available for mobile devices, re: for iOS and Android devices. However, there isn't any available app for Windows phones as of the moment.
The first backup app is called the Carbonite Mobile. You can back up your videos and photos on your tablet or phone and can transfer these to your computer. If you shoot a video or took a photo using your phone and want to watch or edit it, you can just back it up using your Carbonite cloud account and can access it quickly on your computer.
The second app is called the Carbonite Sync and Share. You can collaborate and share your files like photos and videos you have in your mobile phone and sync these to mobile phones of your friends with installed Carbonite mobile apps. If they edit the files and save it, the changes will be automatically synced to your mobile device. This is beneficial if you and your team are collaborating on some projects and can work together even from afar. However, file sharing is only allowed for mobile devices right now.
You can have three Personal Plans to meet your expectations and backup needs with Carbonite:
• Basic Plan – $59.99/year – Features automatic online backup for all your computer files like photos, documents, music, and more. This can provide you a complete backup for files that that you have created, downloaded or copied.
• Plus Plan – $99.99/year – Features automatic online backup that can include all your computer's files, external hard drive's contents, computer's operating system and even applications.
• Prime Plan – $149.99/year – Features automatic video backup so once you shoot and save you got yourself a backup video. You can also request a hard drive filled with your files if your computer crashes, stolen or got lost. This is the best option in providing utmost protection for your family's data including your office's confidential data. Your data are encrypted and you will be the one who will devise the encryption key.
If you are running a business or involved in a corporate world, the Carbonite's Online Business Backup Plans is also what you need.
Is Carbonite Support Services reliable?
Help and support come in many different ways with Carbonite. You can call their toll free hotline anytime, have a live chat or email them so that your message can go through the appropriate individuals in charge. You can also find educational resources on Carbonite's webpage like tutorials and FAQs that may be related to your questions and issues.