While GMR technology is looking to areal densities of up to 40Gbit/in2 in the next few years, some hard disk manufacturers anticipate that the phenomenon of losing data due to data bits being packed too close together will begin to happen when drives begin holding around 20Gbit/in2. The Seagate subsidiary, Quinta Corporation, is planning to combat this storage technology barrier, otherwise known as the Superparamagnetic Limit, with its Optically Assisted Winchester (OAW) technology, expected to appear sometime during 1999.
OAW has as much in common with magneto-optical technology as conventional magnetic hard drives, but uses a clever bundle of techniques to get around the size and performance drawbacks of MO formats. The technique uses laser light to select various heads within the drive, rather than the typical electromagnetic system in conventional drives. The principle is simple: a laser is focused on the surface of a platter and can be used for reading and writing. The former relies on the Kerr Effect, whereby polarised light bounced off a magnetised surface has its polarisation twisted. Put that through a further polarising filter and the intensity of the light corresponds to the alignment of the illuminated domain.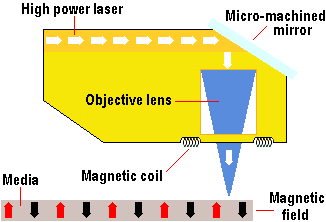 This method of reading needs less power from the laser, so the heating effect on the medium is minimal, preventing data corruption. The same laser and optics can be used for writing, using a magneto-optical technique. A tiny spot on the hard disk is heated with a higher-power output laser to beyond the temperature called the Curie Point, above which the surface material's magnetic properties can be flipped with a magnetic coil. This changes the light polarisation characteristics. Unlike regular magneto-optics, however, OAW heats the media and writes to it in one pass, rather than heating on one rotation and writing on the next. OAW is able to do this as it uses a micromachined servo mirror and a minute objective lens to focus the laser very accurately on the smallest area possible. Adjacent areas aren't heated up and are therefore left unchanged.
Since the laser used to heat the media can be focused on a much smaller area than a magnet, higher data densities are possible. The media itself is made of an amorphous alloy that does not have a granular structure, with an atomic level density constraint. Unlike conventional magneto-optical disks, the laser light is carried to the head via an optical fibre rather than being directed via mirrors through air. As a result, the head and arm take up much less space, allowing multiple platter configurations to be fitted into the same form factor as a Winchester hard disk. Performance should be comparable to a regular hard disk too, but durability will be much higher, as the disk media is extremely non-volatile at room temperature.