GMR technology was a key feature of IBM's (the company's hard disk drive business was subsequently acquired by Hitachi Global Storage Technologies in 2002) revolutionary Microdrive device, launched in mid-1999. The world's smallest, lightest one-inch hard drive was invented at IBM's San Jose Research Center by a team of engineers engaged in the study of micromechanical applications such as Si micro-machined motors and actuators for possible usage in very small disk drives.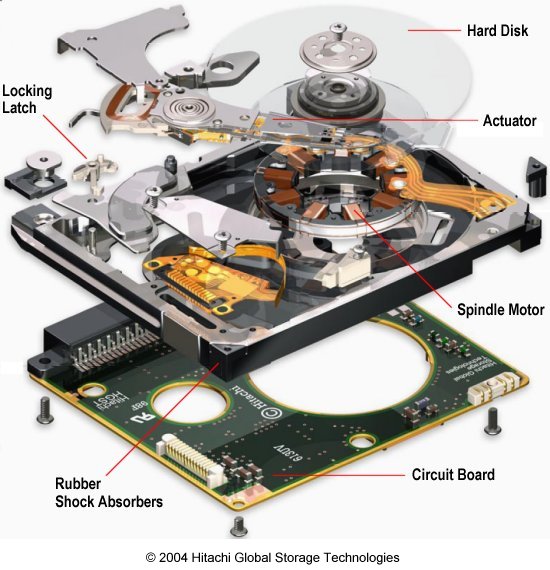 The Microdrive uses a single one-inch diameter glass platter with a metal coating which is less than a thousandth of the thickness of a human hair. Powered by nine elecromagnets, the spindle motor spins the 16g disk at 4,500rpm, data being transmitted and received through the actuator's miscroscopic read-write heads as it sweeps across the disk. Rubber shock absorbers and an actuator locking latch prevent damage to the disk's surface, both under normal operating conditions and if the unit is jarred or dropped. The drive's circuit board acts as the drive's brain, controlling its functions from speed to dataflow.
The tiny elements inside the Microdrive confer some unique advantages. For example, since the actuator has 50 times less inertia than one in a larger drive, it can ramp up to full speed in half a second. Consequently, its possible to allow the drive to stop spinning when data is not being accessed – thereby improving the device's power conservation characteristics.
Use of the industry-standard CF+ Type II interface – allowing easy integration into a variety of handheld products and providing compatibility with PCMCIA Type II interface via the use of an adapter – took CompactFlash storage into completely new territory, enabling high-capacity yet cost-effective personal storage for a wide variety of electronic devices.
The Microdrive was initially released with capacities of 170MB and 340MB, with a claimed seek time of 15ms, average latency of 6.7ms and a data transfer rate of between 32 Mbit/s and 49 Mbit/s. In 2000, 512MB and 1GB versions were released and capacities continued to increase, reaching 8GB by 2005. By that time, other manufacturers had entered the market, with Seagate having launched an 8GB 1in drive in the same year and Sony licensing re-badged Hitachi-made models under the brand name Sony Microdrive.
Hitachi expects to see the recent advancements in Perpendicular Magnetic Recording (PMR) technology translate into storage capacities of up to 20GB on a one-inch Microdrive by the year 2007.