Announced in May 2006, the new DisplayPort standard was developed by a VESA Task Group comprised of leading companies in the display silicon, connector, computer monitor, TV display, projector, and PC industry segments. Key objectives were to specify an open, licence-free digital display interconnect standard, agnostic to application/topology/data-type, and with a low power, low pin count, low profile video interconnect connector suitable for use on notebook PCs and other portable devices.
The DisplayPort 1.0 specification supports a single, unidirectional four-lane link for transporting isochronous A/V streams, capable of a maximum transfer rate of 10.8Gbit/s. This is sufficient for one uncompressed video stream and associated audio. Two link rates are supported: 2.7Gbit/s and 1.62Gbit/s per lane. The capabilities of the DisplayPort transmitter and receiver, and the quality of the channel will determine what link rate is used. The video signal supports 8 or 10 bit pixel format per colour channel and is not compatible with either DVI or HDMI. A bi-directional auxiliary channel running at constant 1 Mbit/s is used for command and control functions. The HPD signal also serves as an interrupt request by sink device.

DisplayPort's electrical interface is similar to the PCI Express physical layer and its ultra slimline connector been designed to support both internal and external display connections. Up to 4 connectors can be accommodated on a PCI card and cable lengths of up to 15 metres are supported. With Dell, HP and Lenovo amongst its proponents, VESA is hoping notebook vendors will use it for connecting the LCD to the motherboard – facilitating easier upgrades – as well as for supporting standalone monitors. The connector has an optional latching feature, which will prevent the undesirable cable fall-off which can be especially problematic with a heavy, long-hop cable-connector assembly.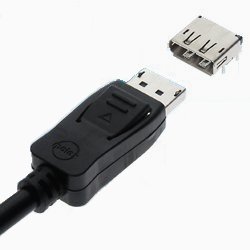 DisplayPort includes an optional copy-protection technology that is different from from the Intel HDCP scheme used in both HDMI and DVI. The DisplayPort Copy Protection (DPCP) system developed by Philips uses an 128-bit Advanced Encryption Standard (AES) encryption, with secure modern ciphers, rather than the 40-bit key used in HDCP. It also features full authentication and session key establishment (each encryption session is independent) as well as support for checking the proximity of the transmitter and receiver to ensure users aren't sending content over the Internet.
Not long after VESA revealed it was working on DisplayPort, a separate consortium proposed the Unified Display Interface (UDI) which, unlike DisplayPort, is designed to be compatible with both HDMI and DVI.