You got that brand new shinny toy and chances are you have already put it to use.  It's likely you are reading this on that nice sexy piece of technology.  We have your back when it comes to selling your phone for the most amount of cash.
First the Options Out there.
Sell Iphone Special Consideration: With Iphones you can now trade them in when you get your new iphone. They will pay cash on the spot or deduct the cost from the new phone.  The down side to this method is they give you just about the least am mount of money you can get.  It's the easiest but for like 10 more minutes of work you can get more money.
For the Iphone as well as other phones such as my Favorite Galaxy phones here are the rest of the options
Selling the phone on Craigslist:  Buying and selling on Craigslist is oldschool but nothing like bartering local if you are into that.  Simply list your phone and set the price you want to sell it for.  Having Accessories going along with the phone can be a big up-sell to getting that top dollar offer.  If you have accessories even if they are old and worn you should list them with the phone for free when they purchase the phone.
The down side of selling on Craigslist is you will have to meetup with someone to actually sell the product. It can be a pain at times and tire kickers always suck.  I tend to tell people I don't reserve unless you are on your way at that very moment to meet me and even then I only give them 30 minutes.  You may get people who really try to haggle with you or tell you sob stories.  I advice to say no to ANY sob story you here.  It's just not worth dealing with the person.
Selling on E-bay:  Selling on Ebay is another great way.  Just watch out for fees as Ebay seems to want to take more and more money from the sellers.  It's a pain in the butt honestly if you don't already have a sellers account but if you plan on listing other used items around the house it's a solid way to go.  Just ensure you only ship to inside your country.  With this method it's kind of a crap shoot.  If you have sold a lot of items you have a decent rep and people will take that into consideration when purchasing.  If you are new then don't expect to get top dollar for your used phone when selling it.
As mentioned it takes a bit of time on Ebay and the fees can be a bit depressing.  Still if your phone is broken I highly recommend listing there as people buy broken phones and re-sale them all the time.  I see broken phones selling for way higher then they should be selling for at time.
Selling At a Kiosk:  If you have not gone to a mall recently you may not know about cell phone kiosks where they take your phone and give you cash on the spot.  This is a very easy way to sell your phone and honestly I would take it over Ebay.  You are not going to get top dollar however with this method and you might actually get paid WAY less then the real value of that used phone
The Best Way to Sell your Phone IMO: Now that I made you read all of the above let me reward those people who have read to the bottom of the article.  You can make far more money selling your phone through an online store that re-sells older tech.  There are now hundreds of these stores and yes some are crappy.  I have sold a few phones through a service called Technollo.
Here is an example of Technollo compared to let's say another popular site called nextworth.
Iphone 5c – Excellenct Condition
On Nextworth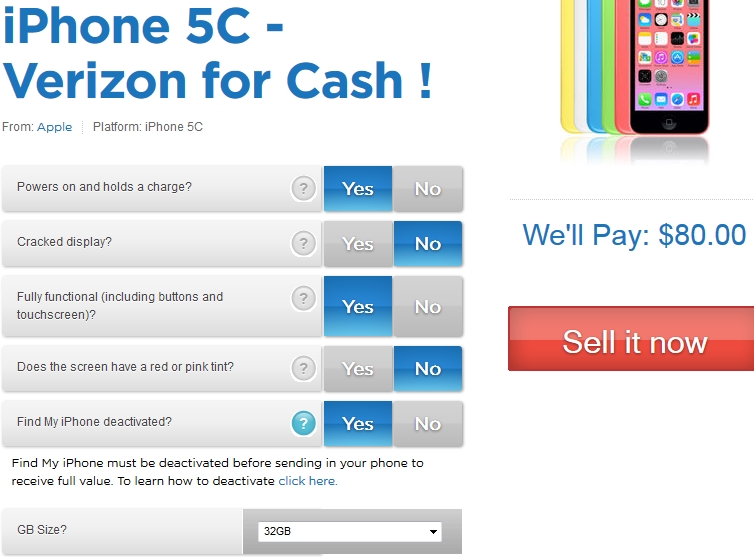 On Technollo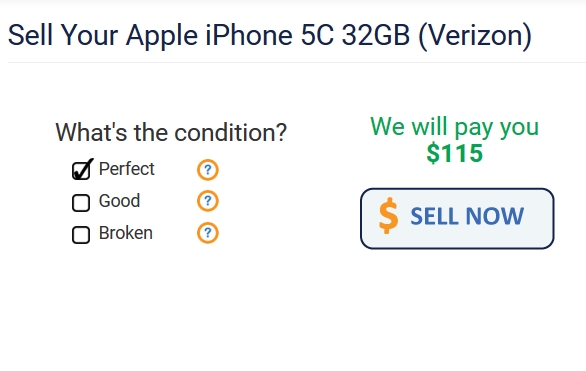 you can see the same phone is worth $35 bucks more on Technollo.  This is probably the best deal you can get as it's fast and takes far less work. You can see how much your phone is worth at Technollo Here.
Worth Consideration:  There are now a number of charities popping up for used cell phones.  They may take your phone to re-sell it or give it to someone who needs access to a phone for security and life saving needs.  I imagine that over time these kind of charities will grow.