Fujitsu has developed a new plasma display type that overcomes the low-resolution restrictions of conventional PDPs. Called Alternate Lighting of Surfaces (ALiS), the technique uses interlaced rather than progressive scans.
In a surface-discharge plasma display, the display discharge is generated by applying a voltage between two parallel sustain electrodes. In the conventional method, each display line consists of a pair of sustain electrodes and the spaces between display lines are not used for the discharge because a sufficient distance is needed to prevent interference between vertically adjacent cells. In the ALiS method, on the other hand, the sustain electrodes are arranged at identical intervals and the spaces between them are used as display lines. Therefore, the resolution can be doubled compared with a conventional display having the same number of electrodes. Discharge can be controlled steadily by alternately generating a discharge for the odd and even display lines.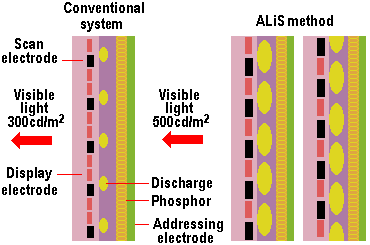 ALiS has the advantage of requiring only half the number of drivers of its predecessor. Because the discharge area for the ALiS method can be wider than in the conventional method, a bigger discharge space and therefore a higher luminance can be obtained. Since the black stripes between screen elements on a standard PDP aren't present, the image is consequently that much brighter.
One of the biggest drivers for higher performance plasma displays has been the move towards digital television. If plasma is to compete in this new and potentially lucrative market, it needs to support the level of definition that this technology demands (around 960 lines on the screen). Another factor is the increasing demand for 20in and larger high-resolution CRT monitors. Consequently, the first products using ALiS that Fujitsu released were both a 42in HDTV panel and a 25in SXGA PDP panel.
The specification of the latter is summarised in the table below:
| Parameter | Specification |
| --- | --- |
| Display pixels | 1280×1024 |
| Pixel pitch (mm) | 0.39×0.39 |
| Effective display size (mm) | 499×399 |
| Number of colours | 260,000 |
| Luminance (cd/m2) | 150 (white peak) |
| Contrast ratio (in dark room) | 80:1 |
| Weight (kg) | 10 |
| Viewing angle | Greater than 160° |