Despite the trend towards removable storage, digital cameras still allow connection to a PC for the purpose of image downloading. Until the late 1990s the principal method of transfer was via a conventional RS-232 serial cable at a maximum speed of 115Kbit/s. However, since then USB connectivity has become the norm, with most manufacturers bundling cameras with the necessary cables and driver software. In the past some professional models offered a fast SCSI connection. However, FireWire has subsequently become the technology of choice for this market sector.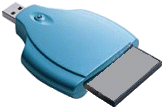 USB is also exploited by a method of image transfer that emerged in the early 2000s and that saves the bother of having to connect a camera to a PC at all. These media readers are available for all the common media types – CompactFlash, SmartMedia, MemoryStick, MultiMedia Card etc. – and simply plug in to a USB port, either directly or via an extension cable. They're also available in combo units, capable of reading multiple media formats. They draw power from the USB port and so don't waste a camera's precious batter power. They vary in speed, the fastest being capable of data transfer rates approaching 1 MBps. For those without USB, adapters are also available that allow a CompactFlash or SmartMedia card to be inserted into a special floppy disk like device that works from a standard 3.5in 1.44MB floppy disk drive.
Supplying a digital camera with TWAIN drivers that allow the user to simply download images to a standard image editing application has also becoming standard practice. Some digital cameras provide a video-out socket and S-Video cable to allow images to be displayed directly to a projector, TV or VCR. Extending the slide show capability further, some allow images to be uploaded to the camera, enabling it to be used as a mobile presentation tool.
An increasing number of digital cameras have the ability to cut out the computer and output images directly to a printer. But without established interface standards, each camera requires a dedicated printer from its own manufacturer. As well as the more established printer technologies, there are two distinct technologies used in this field: thermo autochrome and dye sublimation.