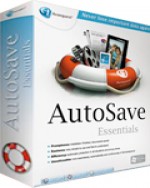 PROS: AutoSave Essentials is a simple to use data backup program that is very straight forward and does an excellent job backup up data. This program is very light on system resources.
CONS: No full image backup of the operating system is capable with AutoSave Essentials. This is not a big deal to most end users but business users should have a full image backup of their computer.
OVERVIEW: For the $40 dollar price tag this program does deliver perhaps the simplest user interface I have ever used for backup up data. If you are not tech savvy and just want a simple program that will work to backup your files, this program is for you.
AutoSave Essentials Review
Program: Autosave Essentials v3.50 (build 102)
Company: Avanquest
Supported OS: Windows XP, Windows Vista, Windows 7
Price: $39.95 per license
Purpose:
AutoSave Essentials does what it says, it automatically saves (backs up) your essential files by creating a duplicate copy in the safest place you have specified.
Installation:
Autosave Essentials took just over a minute to install with no noticeable degradation to system performance during that time.
Details:
Immediately from startup, Autosave Essentials automatically copies and saves the directory structure of your files to a default location. Even while it's running, there is no noticeable hit to system performance. From the main screen, Autosave Essentials tells you exactly what it's doing, and even gives you the option to rename the folders that it saves files to. To enable the buttons, click on "more options".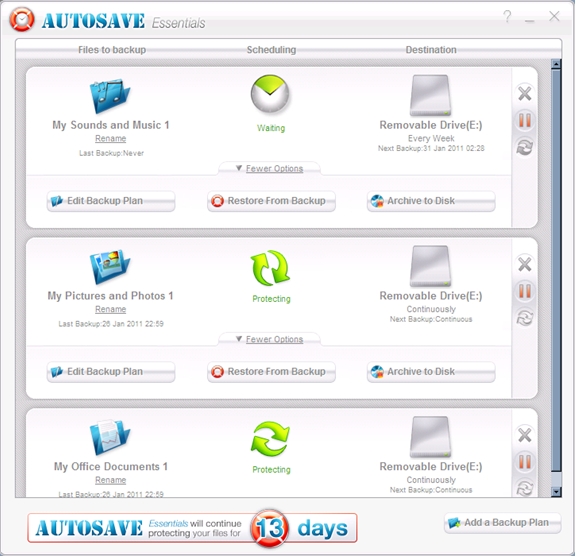 When selecting the button "Edit Backup Plan", a fairly intuitive and painless screen is used to determine what kind of files you want to have automatically saved. If you choose to "All My Documents", you can select the options to save everything from videos to documents and presentations. "All My Web Settings" only saves bookmarks, history, and email.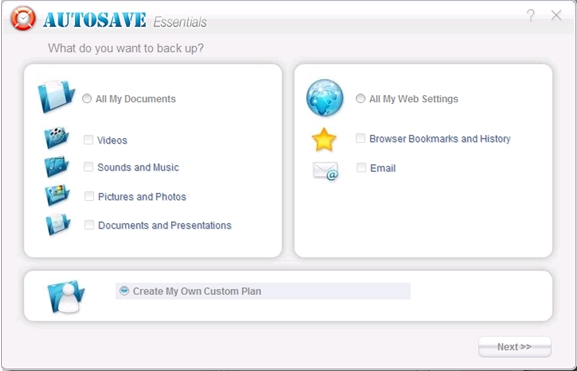 After choosing which files to save from the first two categories, Autosave Essentials allows you to choose where to save the files. Among these are External and USB Flash Drives, Network Drives, FTP Servers and Local Disks. Naturally, if you use FTP servers to store your data, you will need to know the login information to perform the operation.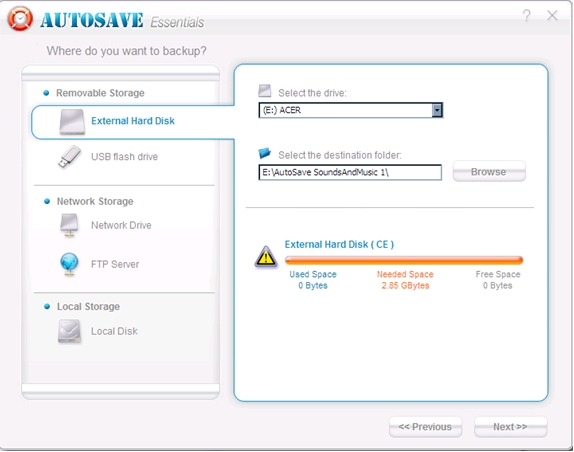 After choosing to create a custom backup plan, you will be shown the interface below, and given the option of what locations to choose from. Under the "Specific Extensions" tab, you merely need to specify the extensions of the files you want to save.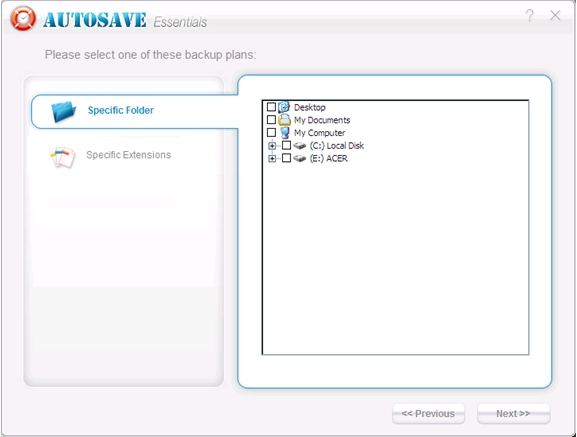 Below is the interface used to specify which file extensions should be used with a customized backup plan.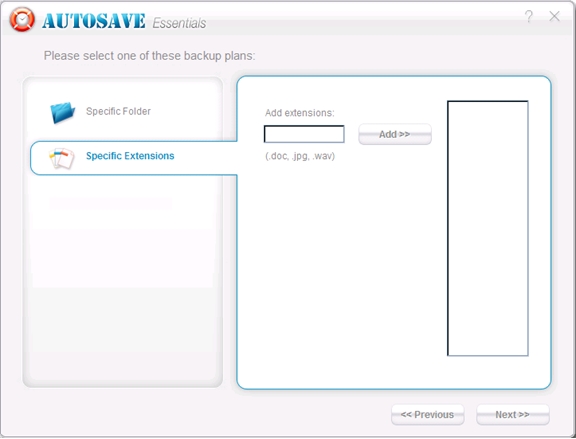 When choosing the "Restore From Backup" option from the main screen, you can choose which backup to restore from a dropdown list, and choose which backup version you wish to restore when clicking on the "+" symbol.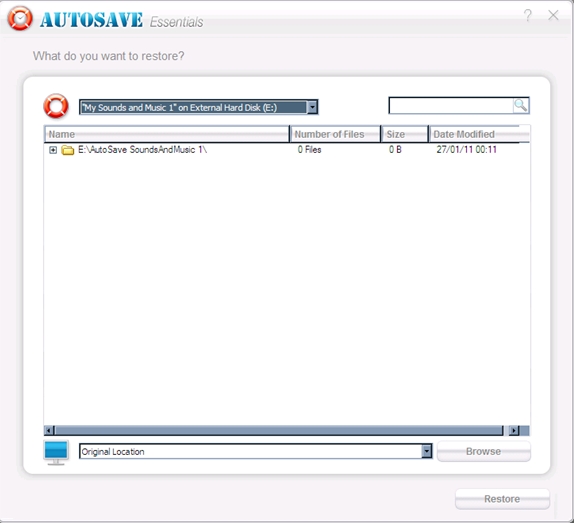 Choosing "Archive To Disk" allows the user to choose which backups to save to a CD or DVD, and title the backup media with the default name, or one of your own choosing.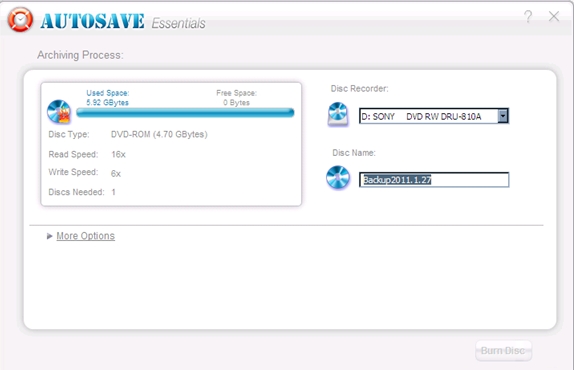 Ease Of Use:
Autosave Essentials is one of the easiest applications that I've used. While its design is clearly meant for the novice user, even advanced users will undoubtedly have a deep appreciation for the simplicity in design, and elegance in execution.
Summary:
Autosave Essentials begins saving your data to an easy-to-find default location from the start, and lets you know of its progress as this happens. Even when Autosave Essentials is active in memory, it only uses about 9MB worth of RAM. This is an application that is extremely easy to use, and doesn't have a lot of clutter to distract the user from what they're trying to accomplish. Its interface and selling price are easy on the eyes and the wallet.