Formerly codenamed Glenwood, continues this practice, essentially providing the same features as the earlier 925X chipset, plus support for Pentium Extreme Edition processors.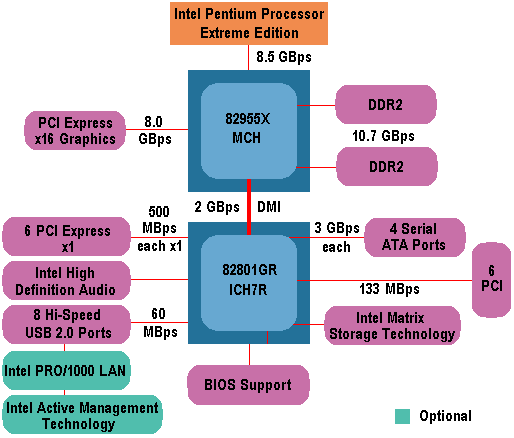 Ever since the release of its 865 and 875 chipsets in 2003, Intel has segregated its Pentium 4 chipsets into performance and mainstream lines, the former using northbridges equipped with the best silicon and, consequently, lower memory access latencies than on the mainstream chipsets.
In a move that appears confirms the company's desire to differentiate its XE line of processors from their mainstream series processors, the 955X chipset continues this practice, its marginally superior performance being attributed to what is rather extravagantly referred to as Intel Memory Pipeline Technology (IMPT). A further differentiation of the 955X from the 945 chipsets is its lack of support for 533MHz system bus processors.
However, the 955X's principal difference from its mainstream sibling is rather more significant; it's Intel's first desktop chipset to break the 4GB memory barrier, capitalising on the removal of the 4GB limit facilitated by 64-bit edition of Windows XP by supporting up to 8GB of addressable main memory.