Announced at the same time as the i925X Express, the i915 Express chipset family – codenamed Grantsdale and comprising the i915P and i915G chipsets – have the same features as its sibling with the exception of some specific performance improvements.
The principal differences between the i915 and i925X chipsets are in graphics and memory support. The i915 supports traditional dual-channel DDR memory as well as the more expensive DDR2 variety. In addition, the i915G chipset includes an integrated Intel Graphics Media Accelerator 900, optimised for Microsoft DirectX 9 and capable of providing dual independent display capability with support for the latest 16:9 ratio monitors, in addition to conventional 4:3 displays.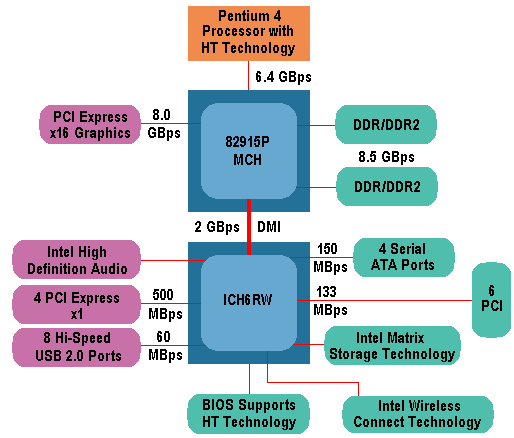 The 3D graphics pipeline is broken up into four major stages, including geometry processing, setup (vertex processing), texture application and rasterisation. The Intel GMA 900 is optimised to use the Intel Pentium 4 processor for software-based geometry processing (such as transform and lighting) defined by Microsoft DirectX 9.
The Intel GMA 900 handles the remaining three stages, including converting vertices to pixels, applying textures to pixels, and rasterisation – the application of lighting and other effects to produce the final pixel value. From the rasterisation stage the Intel GMA 900 writes the final pixel value to the frame buffer for display. Intel GMA 900 includes two independent display pipelines that enable operation of dual displays.
The Intel GMA 900 utilises a shared memory architecture, its support for dual-channel DDR2/533-MHz memory ensuring the memory bandwidth so critically important for quality and performance.