Write Once/Read Many storage (WORM) has been around since the late 1980s, and is a type of optical drive that can be written to and read from. When data is written to a WORM drive, physical marks are made on the media surface by a low-powered laser and since these marks are permanent, they cannot be erased, hence write once.
The characteristics of a recordable CD were specified in the Orange Book II standard in 1990 and Philips was first to market with a CD-R product in mid-1993. It uses the same technology as WORM, changing the reflectivity of the organic dye layer which replaces the sheet of reflective aluminium in a normal CD disc. In its early days, cyanine dye and its metal-stabilised derivatives were the de facto standard for CD-R media. Indeed, the Orange Book, Part II, referred to the recording characteristics of cyanine-based dyes in establishing CD-Recordable standards.
Phthalocyanine dye is a newer dye that appears to be less sensitive to degradation from ordinary light such as ultraviolet (UV), fluorescence and sunshine. Azo dye has been used in other optical recording media and is now also being used in CD-R. These dyes are photosensitive organic compounds, similar to those used in making photographs. The media manufacturers use these different dyes in combination with dye thickness, reflectivity thickness and material and groove structure to fine tune their recording characteristics for a wide range of recording speeds, recording power and media longevity.
To recreate some of the properties of the aluminium used in standard CDs and to protect the dye, a microscopic reflective layer – either a proprietary silvery alloy or 24-carat gold – is coated over the dye. The use of noble metal reflectors eliminates the risk of corrosion and oxidation. The CD-R media manufacturers have performed extensive media longevity studies using industry defined tests and mathematical modelling techniques, with results claiming longevity from 70 years to over 200 years. Typically, however, they will claim an estimated shelf life of between 5 and 10 years.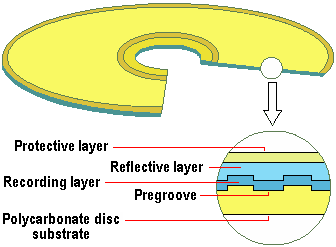 The colour of the CD-R disc is related to the colour of the specific dye that was used in the recording layer. This base dye colour is modified when the reflective coating (gold or silver) is added. Some of the dye-reflective coating combinations appear green, some appear blue and others appear yellow. For example, gold/green discs combine a gold reflective layer with a cyan-coloured dye, resulting in a gold appearance on the label side and a green appearance on the writing side. Taiyo Yuden produced the original cyanine dye-based gold/green CDs, which were used during the development of the Orange Book standard. Mitsui Toatsu Chemicals invented the process for gold/gold CDs. Silver/blue CD-Rs, manufactured with a process patented by Verbatim, first became widely available in 1996. Ricoh's silver/silver Platinum discs, based on advanced phthalocyanine dye, appeared on the market in mid-1998.
The disc has a spiral track which is preformed during manufacture, onto which data is written during the recording process. This ensures that the recorder follows the same spiral pattern as a conventional CD, and has the same width of 0.6 microns and pitch of 1.6 microns as a conventional disc. Discs are written from the inside of the disc outward. The spiral track makes 22,188 revolutions around the CD, with roughly 600 track revolutions per millimetre.
Instead of mechanically pressing a CD with indentations, a CD-R writes data to a disc by using its laser to physically burn pits into the organic dye. When heated beyond a critical temperature, the area burned becomes opaque (or absorptive) through a chemical reaction to the heat and subsequently reflects less light than areas that have not been heated by the laser. This system is designed to mimic the way light reflects cleanly off a land on a normal CD, but is scattered by a pit, so a CD-R disc's data is represented by burned and non-burned areas, in a similar manner to how data on a normal CD is represented by its pits and lands. Consequently, a CD-R disc can generally be used in a normal CD player as if it were a normal CD.
However, CD-R is not strictly WORM. Whilst, like WORM, it is not possible to erase data – once a location on the CD-R disc has been written to, the colour change is permanent – CD-R allows multiple write sessions to different areas of the disc. The only problem here is that only multi-session compatible CD-ROM drives can read subsequent sessions; anything recorded after the first session will be invisible to older drives.
CD-Recorders have seen a dramatic drop in price and rise in specification since the mid-1990s. By mid-1998 drives were capable of writing at quad-speed and reading at twelve-speed (denoted as 4X/12X) and were bundled with much improved CD mastering software. By the end of 1999 CD-R drive performance had doubled to 8X/24X, by which time the trend was away from pure CD-R drives and towards their more versatile CD-RW counterparts. The faster the writing speed the more susceptible a CD-R writer is to buffer underruns – the most serious of all CD recording errors. To reduce the chances of underruns CD writers are generally fitted with caches which can range from between 256KB to 2MB in size. Faster devices also allow the write process to be slowed down to two-speed or even single speed. This is particularly useful in avoiding underruns when copying poor quality CD-ROMs.
By the end of the 1990s the cost of a CD-R drive had fallen sufficiently for CD-R to became viable as a mainstream storage or back-up device. Indeed, it offered a number of advantages over alternative technologies.
Originally, CD-Rs came in 63- or 74-minute formats holding up to 550MB or 650MB of data respectively. Even in their early days they represented a cheap bulk storage medium, at around 1p per megabyte. The ubiquity of CD-ROM drives made them an excellent medium for transferring large files between PCs. Unlike tape, CD-R is a random-access device, which makes it fast to get at archive material and discs are also more durable than tape cartridges and can't be wiped by coming into contact with, say a magnetic field. Finally, just about any form of data can be stored on a CD-ROM, it being possible to mix video, Photo-CD images, graphics, sound and conventional data on a single disc.
The CD-R format has not been free of compatibility issues however. Unlike ordinary CDs, the reflective surface of a CD-R (CD-Recordable) is made to exactly match the 780nm laser of an ordinary CD-ROM drive. Put a CD-R in a first generation DVD-ROM drive and it won't reflect enough 650nm light for the drive to read the data. Subsequent, dual-wavelength head devices solved this problem. Also, some CD-ROM drives' lasers, especially older ones, may not be calibrated to read recordable CDs.
However, CD-R's real disadvantage is that the writing process is permanent. The media can't be erased and written to again. Only by leaving a session open – that is, not recording on the entire CD and running the risk of it not playing on all players – can data be incrementally added to a disc. This, of course, is not the most ideal of backup solutions and wastes resources. Consequently, after months of research and development, Philips and Sony announced another standard of CD: the CD-Rewritable (CD-RW).