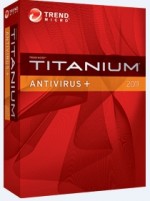 PROS: Detected virtually all threats in a wildlist scan, and didn't cause any performance issues
CONS: Long scan times and a handful of false positives. This can cause major issues. Ensure you do a restore point before you remove any files.
OVERVIEW: TrendMicro Titanium Plus Antivirus 2017 is an antimalware scanner designed to remove and detect the latest threats that can compromise your system. During a wildlist scan, TrendMicro proved to be a valuable asset to security, but the user should be wary of false positives generated by the heuristics and slower scans if time is an issue.
TrendMicro Titanium Antivirus Plus 2017 Review
Company: TrendMicro
Supported OS: Windows XP, Vista, 7
Price: 1PC/1 Year License – $39.95 (full listing @ http://emea.trendmicro.com/emea/products/personal/titanium-antivirus-plus/)
Overall Rating: 6 out of 10
What It Does:
TrendMicro Titanium Antivirus Plus 2017 is an Anti-Malware scanner designed to detect and remove malware, and to keep your system safe from current threats.
Installation:
The installation process took about 15 minutes to complete with minimal user interaction, and required only one reboot. After the installation, there was no noticeable hit to system performance.
Details:
After TrendMicro Titanium was installed, the user is presented with the screen below. I also have an extensive archive of text-based data sitting on my primary hard drive, so I expected the scan to take a significant amount of time.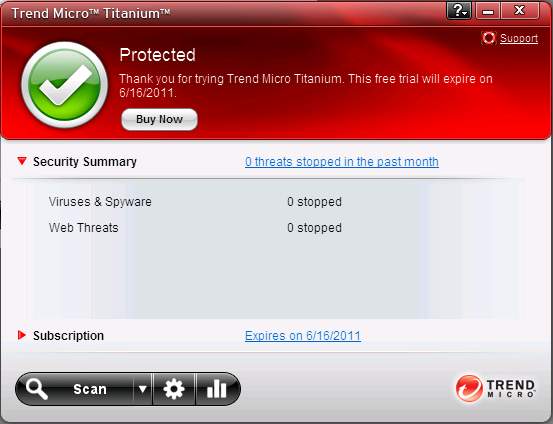 Below is a screenshot of TrendMicro Titanium's scan module in process. Unlike the rest of the security applications that I tested, TrendMicro Titanium's interface was probably the most aesthetically pleasing, yet the most simplistic of them. During the time that I was present for the scan, there was no noticeable degradation of system performance.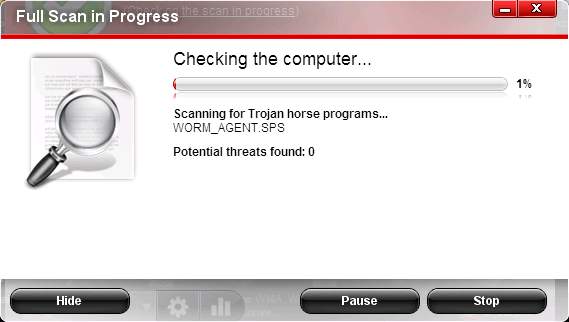 Approximately eight hours later, TrendMicro Titanium was finished scanning. I found the results to be rather disappointing, several cookies were removed and detected as threats, although the cookies in question were simply used by advertisers and can be picked up by normal internet usage. There were also numerous false positives on applications that I knew to be safe. However, most users probably won't have these kind of false positives, unless they have the applications installed on their system.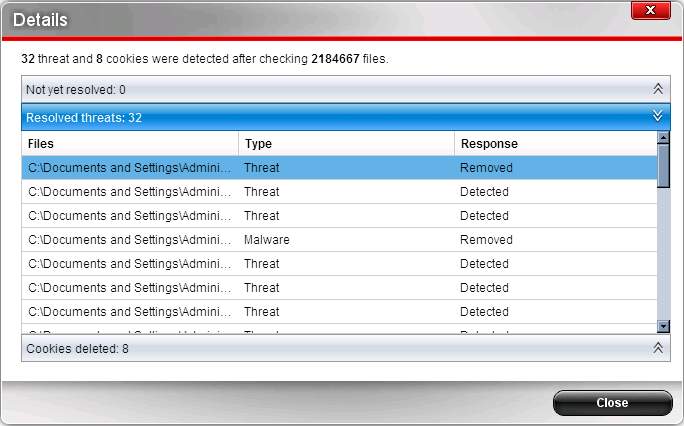 Ease Of Use:
TrendMicro Titanium was fairly easy to use, and both the installation and uninstallation process were relatively quick and easy. The interface is designed for the novice user in mind, and can be navigated and used with ease. The interface is also very pleasing to the eyes, and the light translucence to the interface is something that can definitely be appreciated.
Summary:
While TrendMicro Titanium was easy to install, the results on a full system scan were somewhat disappointing, and the scan time was significantly longer than I expected. When I used TrendMicro Titanium to scan a small archive of a few thousand wildlist samples, virtually all of the malware samples were detected, which is a plus. The two concerns that I do have are in regards to what I assume are the heuristics throwing false positives on legit applications, and that the scanning process takes a rather long period of time as opposed to other anti-malware solutions such as AntiVir. While TrendMicro Titanium is a great solution to detect malware, the false positives and the lengthy scantimes are something to be wary of.