Blu-ray Disks (BDs) can contain a region code, similar to the DVD region code but with different boundaries. Region codes place geographical restrictions on where in the world a Blu-ray movie can be played. For example, a BD system bought in the USA region would play only Blu-ray movie disks with that area's encoding.
The purpose of region codes is twofold. First, it allows regional pricing to be affected by the movie studios. Since pricing will be very different around the world, the system prevents home users importing home movies bought overseas at a lower price. Secondly, it allows the control of regional release of movie titles. Often, for instance, Hollywood films are available to buy on disk in the USA and Europe before other parts of the globe. With regional encoding, the studios can prevent unlicensed movie imports so giving distributors around the world control of supply.
Of course this is all the theory of regional codes. The region codes are entirely voluntary on the part of the studios releasing the disks, and Blu-ray movie releases need not have any region code, so called region free releases. If a Blu-ray movie is region free, it can be played on all systems regardless of region.
Region codes are not law, and so are a voluntary code for BD system manufacturers to pay attention to. With DVD, many budget DVD player manufacturers briefly gained a market edge when they stopped including the DVD region codes. As their sales flew the bigger companies followed, and they too stopped including DVD region codes in their DVD players. In any case, in time many people worked out how to bypass the DVD regional codes built into their DVD players. Interestingly, many early releases of Blu-ray films were region free.
Regions for Blu-ray standard
The following map shows the regions as defined by the BDA.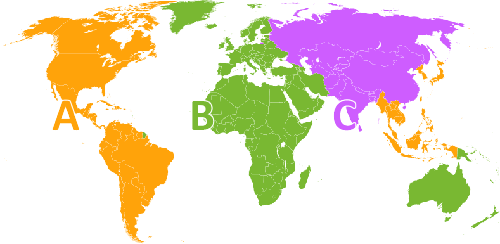 A: East Asia (except Mainland China and Mongolia), Southeast Asia, the Americas and their dependencies.
B: Africa, Southwest Asia, Europe (except Russia), Oceania and their dependencies.
C: Central Asia, East Asia (Mainland China and Mongolia only), South Asia, central Eurasia and their dependencies.