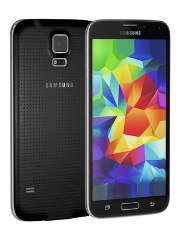 The Samsung Galaxy S5 was officially released in the market in February 2014. It is one of the most recognized Asian phones right now as it becomes comparable with the best mobile phones in the world in terms of usability and user-friendly interface. If you are familiar with the latest software on mobile phones then you will be glad to know that the SG S5 has the Android 4.4 Kitkat OS. And with a quad-core processor of 2500 MHz CPU and 2GB of RAM that makes it for faster processing speed.
So for you to have a fair chance in knowing the SG S5, we have taken a quick look at it, noted the good and even the ugly sides and put them here on quick board overview.
The Samsung Galaxy S5 is obviously the slight upgrade version of the Samsung Galaxy S4. A bit bigger, wider and heavier than GS4, the GS5 has 5.1 inch screen (GS4 has 5.0) and boasts of its water and dust resistant feature. However, there were video tests that the GS5's water resistant feature can only be reliable for up to 30 minutes only on about 3 feet of water.
In terms of resolution, both have 1080 x 1920 pixels. GS5 has Qualcomm Snapdragon 801 MSM8974-AC system chip while the S4 is equipped with 600 system chip. On option features, almost everything is close by. The only things that people get surprised with the GS5 is its heart-rate monitor which is a more favored feature and its fingerprint scanner that some people say can be a bit confusing to use. One more thing, a lot of consumers are asking why the S5 has only 32 GB built-in-storage memory while GS4 has 64 GB on some releases.
The 16-megapixel camera is also another prime front of the GS5 wherein it is slightly advanced than GS4's 13 megapixel. On other camera features, the GS5 almost have the same as with GS4's face detection capability, manual and touch focus, digital zoom, Geo-tagging, voice activation, self timer and more.
By the way, GS5 has a new innovation with its camera. Unlike with its predecessors GS3 and GS4 that use Sony imaging technology, GS5 is equipped with the Samsung's own patented ISOCELL tech that enables higher ISO sensitivity settings minus the noise so what you get is more detailed and professional-looking shots. On the downside, there are few users who are quite upset about the GS5's camera auto mode that with low light environment and the night mode kicks in, that tends to change the ISO settings and images become fuzzy or grainy.
On the bottom line, the Samsung Galaxy S5 is a well-accepted innovation of Samsung bannering another milestone in upgrading its Galaxy mobile phone systems continuously. The GS5 looks good and performing very well in all its applications so far. Like the GS4, the flashy features are still there but more improved. And going back to the fingerprint scanner, this can ease up most of our fears when bringing along our mobile phones with personal data in it.
Moreover, the heart rate monitor was the superstar feature of the GS5. This made a lot of impressions with the health conscious people. Once you put your finger on the lens you can instantly see your heart rate reading on the wide screen. Talking about flashy style with built-in useful feature for fitness monitoring on mobile gadgets, this is it. All in all, if you are very particular with brands, we can say that the GS5 can be comparable to iPhone 6 or HTC's and LG's latest phone models but much cheaper in most European and US territories.