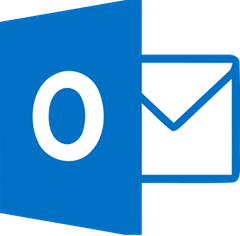 Microsoft Outlook has stood the test of time as a personal information manager and email client. It has faced some stiff competition in the past, but it has weathered many storms to stay at the top of this vertical. Thankfully, Microsoft has kept innovation alive despite being on top. The new version available in Office 365 is loaded with some new features that you may find useful.
Crisp, Clean User Interface
Outlook in Office 365 now features a simplified, cleaner user interface (UI) that aims to help you work more efficiently. A new Action bar is available across Mail, Calendar, People and Task experiences, for utmost convenience and ease of use. The Action toolbar provides quick access to commands like clearing your inbox, replying to an email or adding an event to your calendar.
The email subject line is larger and more prominent, and messages in the reading pane are now indented for easier reading. More buttons in Calendar allow for simpler navigation and quicker creation of new meetings.
More Control over Inbox
New tools have been added to help you sort through your email and identify the most important items to tackle first.
Pin – you can now pin any message in your inbox to have it highlighted in yellow and kept at the top of your inbox. This keeps important messages handy and prevents them from getting lost in your inbox.
Sweep – provides a simple set of actions to manage emails from specific senders, great for managing recurring messages like newsletters and special promotions. You can choose to keep messages from a specific sender for a specified number of days, only keep the most recent message, or delete all messages from the sender.
Archive – quickly move messages out of the inbox to a folder of choice with one-click archiving.
Undo – undo unintended actions with a single click.
Improved single-line view – a preview of the message contents in line with the subject, allowing you to perform common actions in bulk and more quickly.
Immersive reading pane – when in single-line view, clicking a message now displays the message in the same window.
More Interactive Emails
Outlook in Office 365 now provides the ability to easily resize images, add custom borders, apply shadow effects, rotate images, and more. Emojis have also been added, so you can express yourself better than ever before. You can also find the people you want to reach more easily; when you place your cursor on the recipient line, Outlook shows a list of the people and distribution groups you most commonly email. The list of recipients is automatically refined as you type, and adapts as the people you email change over time.
Enhanced Calendar Functions
Calendar now features a five-day weather forecast. Icons next to each day give you a quick look at the forecast, and clicking on one will show a more detailed view. Calendar now supports charms – icons you can choose from to apply as visual cues that help you quickly identify different types of events. For instance, you can add an airplane charm to an upcoming flight, a music note for a piano class, and so on.
You can also create email reminders for any Calendar event and specify the recipient list, include a quick message, and set the day and time you want the email reminder to be sent. Birthday and holiday calendars are also available, and can be either overlaid across your work calendar or viewed separately.
Enhanced for Mobile Devices
A number of UI and navigational improvements has been made to enhance the mobile browsing experience, including updates to more closely resemble the UI of Outlook apps on Windows, Mac, iOS and Android. Navigation has been improved in order to simplify switching between Mail, Calendar and People, and comes along with more prominent search commands. A better UI allows for the simpler creation of new events and ease of using the scheduling assistant in Calendar, and the Time strip has been updated to show the full week within the calendar. You can now switch between emails without returning to the message list, too.