The Belarc Advisor tool is a useful tool for keeping your system secure and up to date. It also can tell you a good deal of information about system in a pinch. This tool creates a quick and handy HTML page that gives you a ton of information including system keys you may need to reinstall software on your system.
Belarc Download and Installation
You can download the utility by going to the Belarc website. There is a prominent link on there to download the tool. Once the tool is downloaded it is a pretty simple process to get it installed. After the program is installed, it will ask you if you want to check for new security definitions. This will help the program discover any missing Windows updates that are necessary to secure your computer. If you are not using Belarc for this feature, then you can skip this step. The installation does not take much space on your hard drive so you will not have to worry about needing a great deal of space to get it installed.
Using Belarc
Once the program is installed and the definitions are downloaded then Belarc will begin analyzing your PC. This will take a few minutes for it to completely scan your PC. Once it is complete, it will open an HTML page like the one shown below.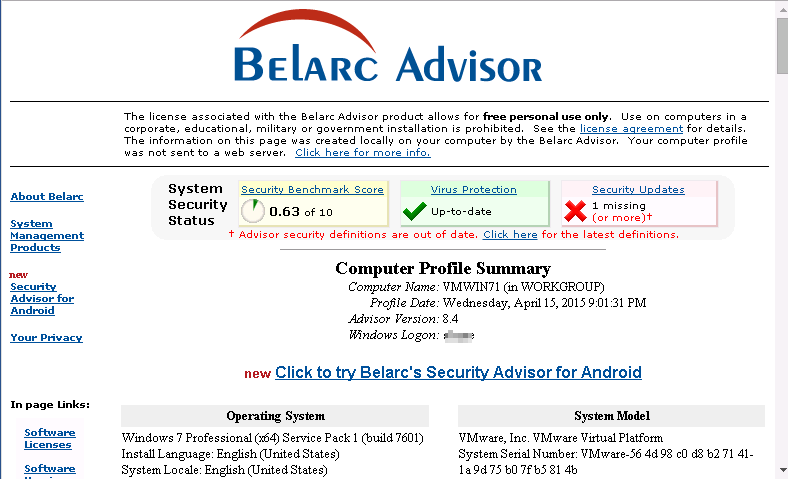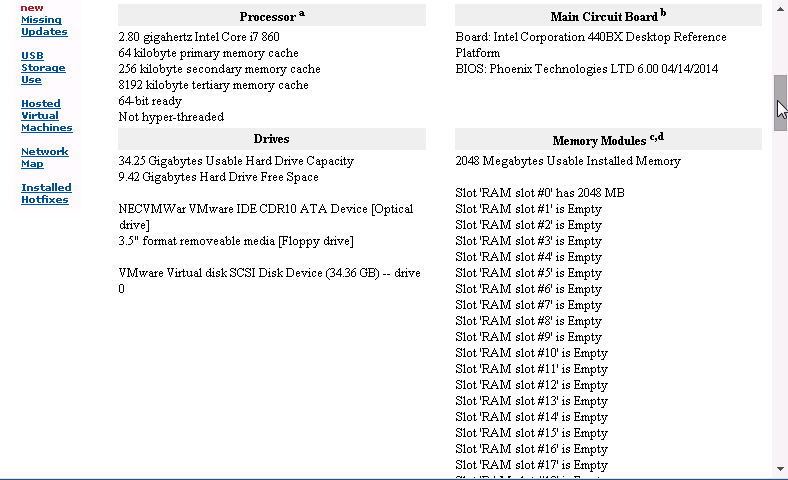 As you can see there is a great deal of information on this initial page. But, you can use the links on the right hand side to dig even deeper into your PC. You can find things like the operating system, the amount of RAM, missing updates, storage, shares and a range of other information. Two of the most useful areas of the program are the Software License section and the Missing Microsoft Security Hotfixes section. In the former section you can find license keys for the software installed on your machine. The latter section can help you identify any important updates that are missing on your computer. It will also give you a link to the article that details the issue.
At the top you can see a nice summary of your machine. It will tell you if your Antivirus is up to date and will give you a security score for your computer. If you click on any of these it will take you to another section that gives you a detailed explanation of how they arrived at this score. It will give you useful insight into what you need to do to raise the score. Examples could be to make your password stronger, or if you need to lock down user shares on your computer.
Belarc is a good, free tool to get a lot of useful information on your computer. It has been around for quite awhile, and it has a solid reputation is a system analysis tool. It is probably not a good fit as an enterprise tool, but for getting information on single computers it is a great tool.