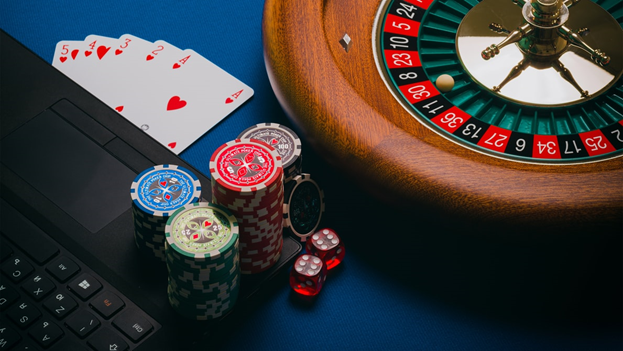 Fairness and integrity are the foundational principles of any reputable gaming establishment, without which player's trust is out of reach.
Fortunately, there are set industry standards to protect players from unscrupulous gaming operators. For instance, the United States and the UK have departments that verify and monitor devices used for number generation by gaming site operators.
One such device is the random number generator (RNG).
We have dedicated this comprehensive guide to random number generators, clearly stating how the local governments in the US ensure that numbers generated by online gaming sites are random and fair to all.
What is a random number generator?
Random number generators are complex computer programs that churn out random figures in specified intervals. gaming sites utilize this technology to simulate virtual actions such as coin flipping and shuffling cards.
RNG is programmed differently for different games, but all use related algorithms that contain respective coded rules.
Are RNGs used in gaming sites only?
Well, there are many versions of RNGs utilized in various industries. The gaming version of RNG is known as a Pseudo-Random Number Generator (PRNG). This version requires a seed number to start decoding the algorithm.
Additionally, unlike its office counterparts, PRNG doesn't require external data to support its functions. This aspect limits the likelihood of manipulation by hackers.
The tool generates continuous sets of random numbers that can either be converted into dices, cards, or symbols. All licensed gaming sites in Pennsylvania, New Jersey and all other states where online gaming is legal use RNG. Find more information on the best sites.
Wondering how the RNG does its job?
How RNGs work
Traditionally, brick-and-mortar gaming establishments used cards, dices, and coins to generate random numbers in their games. These tools were vulnerable to manipulation and poker tricks. Luckily, RNG has extensively replaced the old-school ways with trustworthy random number generation processes.
Note that some games still use traditional random number generation methods.
Back to RNG, the program has three components; the RNG core, the trigger, and the outcome.
The RNG core algorithm
This component constantly produces a stream of entirely random figures that the system can pick at any time. The process is continuous, and the probability of a generated number being selected is consistent.
The trigger
This component triggers the RNG to display a random number generated as soon as the spin is halted. The random number is recorded on the game's software.
The Outcome
Once the round has been completed, the game software processes the recorded random numbers and produces the outcome results.
RNGs are yet to achieve 100% randomness, but contemporary technology and complex computer systems are close to achieving that.
How do gaming sites use RNGs
We have seen that RNGs are an efficient and reliable alternative to cards, dices, and coins in generating random numbers in these establishments.
However, RNGs were first introduced into gaming establishments as gaming software for slot machines. Before the invention of RNGs, these slot games relied on physical reels, which were slow and cumbersome as they could only generate a single pay line at a time.
RNGs can generate several pay lines at a go hence proved to be a great alternative to physical reels. That's not all; RNGs created room for the development and modification of many other games.
Can you cheat RNGs?
If we stick to the theoretical belief that any human-made computerized system can be hacked, then yes, RNGs can be hacked too.
However, hacking an RNG system is almost impractical, with only one ever successful hack in 2008 by Ron Harris.
Today, RNGs are regularly tested for malware that could trigger the generation of biased results. With integrity testing agencies in the industry, gaming sites are mandated by law to ensure that the products are authentic and fair to all players.
Why is randomness essential?
These are games of chance, and randomness validates the aspect of chance in these events. Players are only supposed to win based on luck and not ingenuity.
Different games have various aspects of chance. In blackjack, the player determines the outcome of the game by deciding when to hit or stand. However, even in such a game where players impact the result, they can never know what card they would be dealt with next. Hence, the randomness is instilled.
Randomness in games instills fairness and injects thrill aspects as players risk their money on unpredictable events.
Steps were taken to ensure randomness
Since randomness plays such a crucial role in games, extraordinary measures are put in place to maintain integrity and fairness in the industry.
In the US, gaming establishments are mandated by law to provide regular security audits carried out by registered third-party agencies on the integrity of their RNG software.
How do these agencies test the randomness of RNGs?
Well, RNG audit companies perform the following evaluations on these systems;
RNG integrity testing
DIEHARD test and feedback evaluation
Pari-mutuel systems check
Lottery system evaluation
Poker software audit
Physical poker and betting exchange audits
Bodies that audit RNGs
An auditing agency must be registered for it to conduct auditing services on gaming systems. This further enhances integrity in the industry as gaming establishments cannot outsource dummy reports from unregistered agencies.
Here are the top RNG auditing agencies in the US
Verisign
Verisign provides reputable technical audits globally. The US-based company has offices in Europe, Asia, and Australia and offers reliable and comprehensive audits in the iGaming industry.
Gaming Associates (GA)
Gaming Associates has been providing auditing services to the US gambling sector since 1990. The company carries dozens of tests on their systems, including comprehensive RNG audits.
What games use RNGs?
It is safe to say that all online games on sites like DON99 use RNG software to generate random numbers in tandem with its software. For instance, the RNG in the blackjack machine produces a unique value as soon as the player hits the deal. In roulette, the RNG-created value is fed onto the wheel, while slot games rely on RNG heavily as every outcome the RNG software determines any spin. And on the market today, there are hundreds to thousands of different betting websites operating.
Parting shot
Random number generators have significantly impacted the gaming industry. The software facilitates a fast generation of random numbers while maintaining the game's integrity and fairness. Furthermore, the technology is least susceptible to manipulation and hacks.