Despite High Definition Digital Versatile Disc HD-DVD) being the original DVD Forum approved successor to the DVD format, it was ultimately doomed, eventually consigned to history by the rival Blu-ray Disk (BD) technology.
Originally called Advanced Optical Disc (AOD), the technology's basic format specifications were developed and proposed jointly by Toshiba and NEC. These define an optical disc that uses state-of-the-art blue-violet laser technology to enable extremely large-capacity recordings and high speed data transfer rates. Although primarily designed as a high-definition consumer video recording format, its very high storage capacities and high-speed data transfer rates also make HD-DVD suitable for storage libraries and ultimately other applications.
An HD-DVD disc has the same physical size as a DVD, but has higher data and track densities that give it between roughly three to six times the storage capacity of a standard 4.7GB DVD-R. This feat is made possible using a 405nm blue-violet laser, actually violet-purple, and an optical pickup head with a 0.65 numerical aperture (NA) lens. Because a blue-violet light laser has a shorter wavelength than the red light's 650nm, used in CD and DVD systems, it allows the laser beam to make a smaller spot on the disc surface. With each bit of data taking up less space on the disc, more data can be stored on a 4.7in disc.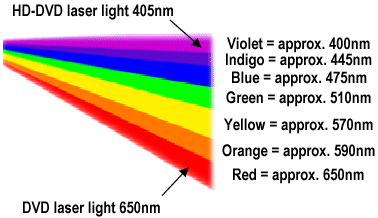 (For comparison with the light wavelengths depicted above, a human hair averages around 100,000nm thick).
The HD-DVD format offered significantly less capacity than the Blu-ray technology, using low-bit-rate encoding technology such as MPEG-4 to store 9GB of high-definition video content onto a dual-layer DVD. However, HD-DVD's big advantage over the rival Blu-ray Disc format is that it is compatible with the current generation of red laser DVD discs, enabling HD-DVD to play DVD discs without problem.
Today's DVD is a widely accepted and very reliable data storage and delivery system. The 1.2mm thick disc has the data placed in the middle of a protective outer layer of transparent plastic. HD-DVD has built on this tried and trusted format by adopting the same physical disc parameters. Compatibility with the current generation of red laser DVD discs enables HD-DVD systems to play DVD discs without problem. This was not the case for Blu-ray systems.
Indeed, NEC had developed the technology required to record and read both current and next-generation DVDs with a single optical head that combined both blue and red lasers as early as the end of 2003. Furthermore, the transition required by equipment manufacturers and disc replicators alike is a relatively simple one, tests having demonstrated that it was possible to change over an HD-DVD production line to conventional DVD replication in less than five minutes.
HD-DVD drives used state of the art signal processing – partial response and maximum likelihood PRML – to minimise noise problems resulting from playing high-density data. In addition to DVD's MPEG-2, they also recognised both MPEG-4 AVC and VC-1, allowing image data to be compressed to about one-third the size achieved by MPEG-2.
As originally specified, HD-DVD had a single layer capacity of 15GB and a dual-layer capacity of 30GB. In the spring of 2005, Toshiba announced a 45GB triple-layer. The DVD Forum had originally defined the standard for a single-sided, single-layer HD DVD-Rewritable disc with 20GB capacity, sufficient capacity for about 5.5 hours of HD content. In early 2004, Toshiba announced plans to develop a 32GB dual-layer rewritable disc.
Alternative architectures include the combination disc, in which one side may be a conventional DVD-9 and the other a dual layer HD-DVD. This offers a single inventory product for retailers and a future-proof acquisition for consumers. The format also allows for hybrid, twin format discs, in which the layer closest to the pick-up head is reflective to red and transparent to blue-violet light. With this structure, a conventional DVD video player sees the disc as a normal DVD-5, while the blue laser penetrates the first layer to read the HD-DVD data behind.
By the summer to 2005, Toshiba had developed:
a single-sided, dual-layer HD DVD-ROM/DVD-ROM hybrid disc, coupling a DVD layer that meets the specification for current DVD disc with a capacity of 4.7GB, and an HD-DVD layer with a capacity of 15GB.
a double-sided, dual-layer HD-DVD ROM/DVD-ROM hybrid disc, which effectively bonds together a 0.6mm thick dual-layer HD-DVD ROM disc with 30GB capacity, and a 0.6-mm thick dual-layer DVD-ROM disc with an 8.5GB capacity.
However, HD-DVD by then was losing ground to Blu-ray. Despite late support thrown in by Microsoft and Intel in 2005, it was looking bleak. Toshiba continued efforts up until autumn 2007, finally having their long heralded triple layer HD-DVD approved for the HD-DVD specification. This brought HD-DVD up to 51GB capacity, finally matching Blu-rays 50GB dual layer disks – but by then, Blu-ray's triple layer plans already promised 75GB storage.
The writing was on the wall. Less than a year later, the DVD Forum was forced to admit that their HD-DVD technology was not going to compete with Blu-ray. Finally, in the autumn of 2008, HD-DVD was discontinued by all involved.
Characteristic
DVD
HD-DVD
Capacity per layer (GB)
4.7
15
Max number of layers
2
2
Max number of sides
2
2
Substrate + cover layer (mm)
0.6 + 0.6
0.6 + 0.6
Laser wavelength (nm)
650
405
Numerical aperture
0.65
0.65
Cartridge
No
No
Hard coating needed
No
No
Complexity to read DVD
–
None
Maximum Data Rate (MBps)
11.08 (1x)
36.55 (1x)
Maximum Recording

Time (HDTV)

Single-layer
–
2 hours
Dual-layer
–
4 hours