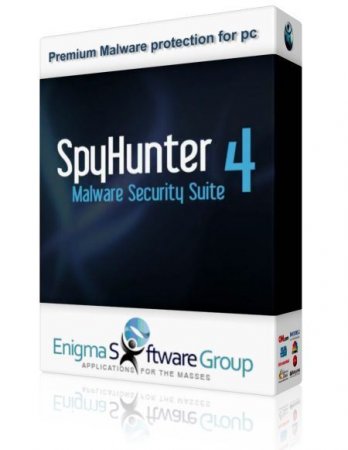 Pros : Easy to use interface. Small footprint and does not take up a lot of system reasources
Overview: Spyhunter still sits at the top as one of the best anti-virus tools around. Ranks well in detecting viruses and malware.
Title : Spyhunter 4
Company: Enigama Software Group
Supported OS: Windows Vista, 7,8,10 and XP
Overall Rating : 5 Stars


Setup
This program was downloaded and installed inside a Windows 7 guest inside VMWare Workstation. It took about 2 minutes to download and install which is very fast.  It speaks to the small footprint the software has.
After install I was asked to update the program which took about 30 seconds.
Once completed a scan automatically started.
Spyhunter works on all the popular versions of Windows currently available.
The interface is been clean and moving around is very simple.
Malware Protection

Detect, remove and block spyware, rootkits, adware, keyloggers, cookies, trojans, worms and other types of malware.

Compact OS

The integrated SpyHunter Compact OS aids in the removal of rootkits and other stubborn malware infections.

System Guards

System Guards will identify and stop any processes that attempt to secretly auto-start malware entries by exploiting the Windows registry.

Exclusions

The exclusions feature allows you to exclude certain programs from being detected in future SpyHunter scans.

One-On-One Customer Support

SpyHunter includes the Spyware Helpdesk: an interactive one-on-one customer support solution designed to handle any issues that SpyHunter is not able to automatically solve.

Latest Malware Definition Updates

Daily malware definition updates ensure complete protection from the latest malware threats.

User-Friendly Interface

Easy to use interface with intelligent automatic protection.

Custom Malware Fixes

Custom malware fixes specific to your computer's spyware problems. SpyHunter's Spyware HelpDesk creates a diagnostic report that is analyzed by our technicians, and an automated custom fix generated from the report is sent back to you via SpyHunter.
Performance
When tested against threats in the wild that we downloaded Spyhunter was able to block them all upfront.  This was done by promoting the user and asking them if they were sure they wanted to install threat.
When testing against installed browser highjacks and a few other virus threats Spyhunter was able to detect and remove the threats.
Conclusion
If you are looking for a antivirus client that will not slow down your computer and works well to block future threats as well as currently installed threats we recommend giving Spyhunter a try.