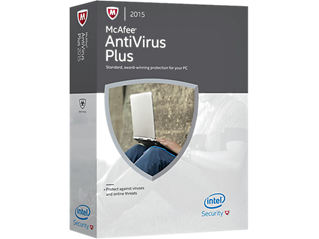 Pros : Once again, McAfee proves that it exceeds expectations in tests by independent labs
Cons : You have to buy a copy for each computer that you want to protect. Many other vendors are protecting multiple PCs with one license.
Overview: McAfee Antivirus has many features and is a good fit for most users. It has proven to be a stable piece of software capable of detecting most issues.
Title : McAfee AntiVirus Plus 2015
Company:McAfee/Intel
Supported OS: Windows Vista, 7,8,8.1 and XP (Microsoft has terminated support for XP)
Price: $49.99
Overall Rating : 3 Stars
McAfee is one of the best known brands in the field of antivirus protection. They have been around close to 30 years and they are pretty experienced in the field. However, having a big name in the industry does not always equate to having the best product in the field.
The software is pretty much the same as it has been for the past few years. There are no new killer features that differentiate it from year's past. In fact, the program is pretty average across the board.
The software is certified by the major independent labs that we care about. These include AV Comparatives, PC Security Labs, AV-Test and ICSA.
Protection
McAfee had average scores from all of the labs when it comes to protection. It was able to stop about 97% of 0-day malware attacks according to AV-Test. That was with 208 samples used. 97% is the industry average. It did score above average in detecting widespread malware with a sample size of 12,207. The industry average is 99%.
System Resources
The realtime protection monitor runs pretty lean in the program. When it is sitting idle it only consumes about 1% of resources. However, when it is running a full system scan it can take a good deal of overhead. You can expect your PC to take a performance hit when running a full scan. It is best to schedule these during off peak times if the option is available.
Interface
As we mentioned earlier, McAfee has not many any ground breaking changes, and it really shows in the interface. They have been using the same one for a few years now.
Many other vendors are taking advantage of the aesthetically pleasing big box look that is very intuitive. McAfee's interface, however, is unappealing and sometimes confusing to get around.
Tech Support
McAfee has always been pretty good about tech support. Their web site is put together pretty well and there is some good information on there. However, if you are in serious trouble and need more help, then you will have to pony up some money.
You can get phone support for $89.95. Or, you can get one year of technical support for $179.95. This is kind of off putting considering you already purchased the software to begin with.
Overall, McAfee is about middle of the road when it comes to virus protection. Yes, they have been around for quite some time. If brand and longevity is important to you then you can't really go wrong with them. Their longevity speaks for itself, and some people need that in order to trust who they buy software from. But, we believe there better options available on the market such as Bitdefender, Eset and Kaspersky.
We do like the fact that they include extra features like a firewall and a vulnerability scanner. However, what they are lacking in core AV protection overshadows these great features.