Windows Instant Scanner
Windows Instant Scanner is another variant of the litany of fake security product type infections. Infections of this nature attempt to trick the user into purchasing software to remove infections identified by the scanner. To do this, the infection will cause a ton of pop-up notifications, ranging from warning you about trojans on your computer, to some of the nastier variants that will tell you that your credit card information is at risk. Under no circumstances should you enter credit card information into the infection, read On for our removal guide.
How Did I get infected with Windows Instant Scanner?
This type of infection is usually the result of malicious code being inserted into a legitimate website. Frequently this will load between pages. Using an exploit in an unpatched or insecure browser, the infected file are then forced into your computer. This can be prevented by installing the latest antivirus software and making certain that your Windows installation is up to date.
How Much Damage is Windows Instant Scanner Doing?
This infection doesn't necessarily damage your computer, damage will, however, be caused by the other infections this infection can download into your machine if it is left to its own devices long enough. For this reason it is important to remove it or have someone remove it as soon as possible.
Windows Instant Scanner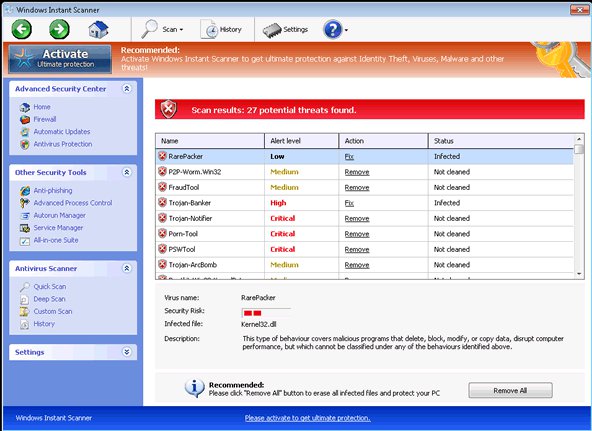 » Download Windows Instant Scanner Removal Software
How to Remove Windows Instant Scanner?
This article will cover the three main methods to get rid of Windows Instant
Scanner:
1. Use Anti-virus software (Note you may need to follow the manual guide to start so you can install a client.)
2. Hire an expert ( We Recommend http://www.pcninja.com. This is a remote computer repair company)
3. Remove this threat yourself following our manual removal guide.
Automatic Windows Instant Scanner Removal

Online Windows Instant Scanner Removal Service

Windows Instant Scanner Manual Removal Procedures
Step 1. You need to stop and delete the main .exe file that is running Windows
Instant Scanner.
You should be able to locate this file at
c:\users\[username]\AppData\local\Protector-[random3 chars].exe
Keep in mind that the USERNAME will be your user name. Expect this name to change over time.
Once you locate the file you will need to re-name the file. To do this you can right click on the file named and select "Re-name". Name it whatever you want. Once done re-start your computer. Next time you boot up the virus should not be running. Now you should be able to delete the file name.
At this time you should run a full virus scan. We Recommend Spyware Doctor with Antivirus. However you can use any client you trust the most. To see a list of other clients we recommend check out our Anti-virus Reviews section.
Windows Instant Scanner Registry Removal Procedures
For this infection, as well as many of the fake security infections we've covered in previous guides, it is not necessary to edit the registry. This is a sensitive area of the operating system, and any damage, especially the inadvertent kind, can cause significant trouble. If you are concerned about damage to your registry, you might want to use a registry repair utility such as PC Heath Advisor, which you can download here: PC Health Advisor Here to clean out the registry and scan for other malware. You can also read all or registry cleaner reviews
Windows Instant Scanner Directories:
Windows 7 / Windows Vista
c:\users\[username]\AppData\local\Protector-[random3 chars].exe
If you require advanced help or just want an expert to remove the virus than use this computer repair service. The charge is under a hundred bucks and they can often get started right away. These are real experts when it comes to malware and virus removal.
Related Article Keywords: Windows Instant Scanner,  Remove Windows Instant Scanner, Windows Instant Scanner Removal, How to Remove Windows Instant Scanner