Some higher-end professional cameras use PCMCIA hard disk drives as their storage medium. Although they consume no power once images are recorded, and have much higher capacity than flash memory (a 170MB drive is capable of storing up to 3,200 images standard 640 by 480 images), the hard disk option has some disadvantages. An average PC Card hard disk consumes around 2.5W of power when spinning idle, more when reading/writing, and even more when spinning up. This means it's impractical to spin up the drive, take a couple of shots and shut it down again; all shots have to be taken and stored in one go, and even then the camera's battery will last a pitifully short length of time. Fragility and reliability are also a major concern. The moving parts and extremely tight mechanical tolerances to which hard drives are built make them inherently less reliable than solid-state media.
With the resolution of still digital cameras increasing apace and the emergence of digital video cameras, the need for flexible, high-capacity image storage solutions has never been greater. In 1999 Iomega launched an innovative removable storage device intended for use in digital cameras as well as notebook and handheld devices. The battery-powered Clik! drive supports the PC Card interface and provides a capacity of 40MB on its 10g, 50x50mm media. It comes complete with an adapter, allowing the transfer of images from CompactFlash and SmartMedia cards to its significantly cheaper 40MB magnetic disk media. The following year Agfa's ePhoto CL30 Clik! became the first digital camera to use Clik! disks as its primary mode of storage.
Mid-1999 also saw IBM enter the fray with the launch of the world's smallest hard disk drive, its revolutionary Microdrive. The Microdrive uses a single one-inch diameter platter that weighs just 16g and spins at 4,500rpm and . Using the Type II CompactFlash interface, the new device – initially available in capacities of 170MB and 340MB – took CF-style storage into a new dimension. By the end of 1998 the largest available CompactFlash memory card held just 64MB and in mid-2000 digital cameras rarely came with more than an 8MB card. In 2000 IBM announced 512MB and 1GB versions of the Microdrive. As well as their increased capacity, these second-generation drives also boasted improved sustained data rates – and thus extended battery life – and a non-operating shock rating that had been improved by 50%, from 1,000 G to 1,500 G.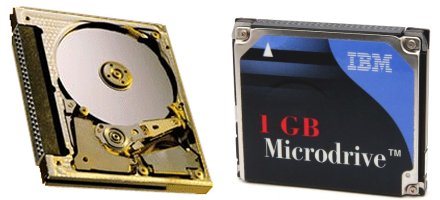 Capacities continued to increase, reaching 8GB by 2005, with Hitachi Global Storage Technologies (who had acquired IBM's hard disk drive business in 2002) expecting to see the recent advancements in Perpendicular Magnetic Recording (PMR) technology result in an up to 20GB Microdrive device within a couple of years. By that time, other manufacturers had entered the market, with Seagate having launched an 8GB 1in drive in the same year and Sony licensing re-badged Hitachi-made models under the brand name Sony Microdrive.
One of the major advantages of a digital camera is that it is non-mechanical. Since everything is digital, there are no moving parts – and subsequently a lot less that can go wrong. However, this didn't deter Sony from the taking a step which can be viewed as being imaginative and retrograde at the same time – including an integrated 3.5in floppy disk drive in some of its Mavica range of digital cameras. Whilst the company's claim that the floppy disk remained the storage media of choice for many was debatable, the fact that floppy disk media was universally compatible, cheap and readily available was undeniable. It was also easy to use – no hassles with connecting wires or interfaces. While the integrated drive obviously added both weight and bulk to a device that's usually designed to be as compact as possible – it is true that some users actually prefer designs that lend themselves to a double-handed grip. Its potential unreliability was addressed to some extent by the provision of a Whole Disk copy facility that allowed users to easily make copies of disks. This copied images from the original disk to the camera's internal memory and thence to a second disk.
In the second half of 2000 Sony updated its innovative approach with the introduction of a Mavica model which stored images on 8cm/185MB CD-R media. A so-called mini CD provides sufficient capacity to store around 300 640×480 resolution images using JPEG compression. In early 2001 the concept advanced a step further with support for mini rewritable media as well as write-once CD-R media. Performance implications that would have been unacceptable for digital camera applications made certain (write-time) trade-offs unavoidable. Notwithstanding the constraints imposed, the primary benefit of CD-RW media – it's reusability – is fully realised. As well as being able to delete images one at a time -starting with the most recent and working backward – users have the option to erase an entire disc via a format function.
If you'd like to get to know more about other ways of storing your photos, be sure to check The Photo Stick solutions.