PROS: SugarSync is very easy to use and install.
CONS: Not all phones will be able to download SugarSync at this time.
OVERVIEW: SugarSync is by far the most sophisticated of all synchronization programs. Covering PC, Macintosh and mobile phone users, the company has presented a full range of data protection for the kaleidoscope of computer users.
SugarSync Review
Company: SugarSync
Version: 1.9.15
Release Date: 12/15/10
Operating Systems:
Windows XP, Vista, Windows 7 (32
and 64 bit), Microsoft Server 2000,
2003, 2008, Macintosh, Blackberry
Android, IPhone, IPAD, Windows
Mobile, Symbian S60 v5
Price: $29.95
What It Does
Cloud storage and automatic synchronization of all data files, folders, contacts, photos, audio, video, and email from the home, office, or on the road:
– PC to Cloud/Cloud to PC – Mac to Cloud/Cloud to Mac – Mobile to Cloud/Cloud to Mobile – PC to PC – PC to Mobile
Product Details
From the start, I was wowed by SugarSync's platform. As with other sync products, the basics are provided: data transfer and synchronization. However, the folks at SugarSync truly understand today's on the go data user.
The first step is to install the SugarSync manager on the client pc or laptop. If you complete their 6 step process under the Getting Started website link, you'll earn an additional 250MB. Not bad for a start.
When you start the client program, you will see a Magic Briefcase. Provided you have installed the SugarSync client application on every pc to be synchronized, this location contains standard documents, photo, music and can also contain user created folders. Any folder placed in the briefcase below the documents folder will be automatically synchronized on the other systems containing the same folder. And, that includes your phone too. Make a change in one folder, and that edit on corresponding file or folder on a remote system is duplicated.
Files can be uploaded to the cloud as well via email. On a PC, you'll find the files under My DocumentsMagic BriefcaseUploaded by Email and for Mac, you'll find the files under Documents/Magic Briefcase/Uploaded by Email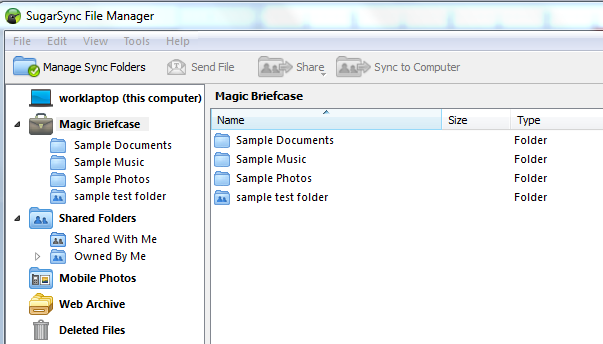 You can also setup sync sessions from the web interface of the program. Upon accessing the secure URL, you will get the same menu layout as the pc client, housing the briefcase, and folders on your computer. Just drag your files into the briefcase and voila, the synch is ready to go. They've provided version roll backs of files, and web editing of files, and file versioning of all data types. Is there anything these guys didn't think of??
Sharing files with others is a cinch. Just share the document, photo or video using a public link and email it. The link in the picture below is emailed to the recipient. As you can see, there are permissions assigned to the file, which could also be password protected.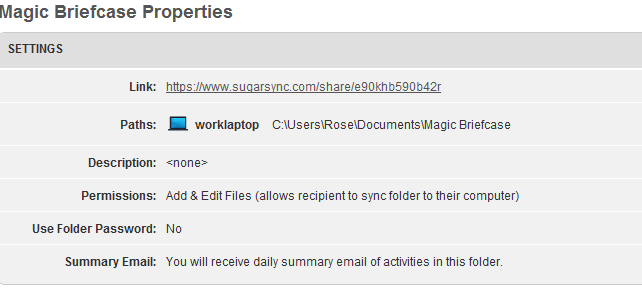 Social media isn't forgotten in SugarSync's cookbook. Upload all your favorite photos, audios and videos to Twitter, Facebook and even YouTube using SugarSync's public link feature.
Mobile phone users will love this program. Getting data out of a phone and into a safe storage area is usually a hassle dealing with memory cards and other technical issues. There is a SugarSync application for just about every phone, and can be downloaded from the ITUNES store for Apple users, AppWorld for Blackberry, and the Android Market. Android phones cannot sync photos from the phone's internal memory, only from the SD card, which is a limitation of the phone and not the software. SugarSync's next release will address this issue. The work around is to have the default storage location as the SD card and the sync then can be established. There is only support for Symbian S60 v5, but the company is working on adding the latest releases from Nokia.
Another perk is the ability to stream music and videos from the cloud to your IPhone or IPAD Touch. How many of us have a ton of audios in our libraries? Place them up in the cloud and have ANY and ALL of your favorite tunes and clips ready when you're standing in a bank waiting for your turn, or stuck in the airport.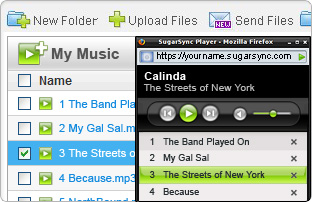 Security
Having your data stored in a remote location may be a scary thought to some. SugarSync has taken the extra step to protect their customers with two geo redundant data centers. This means they have a backup of a backup stored in two different places. Usually these are synchronized, so if something awful happens, like an earthquake or flood, the other system is seemlessly put into play and not a second or file is lost.
Your access to this cloud storage occurs over the https protocol and is a password protected connection and works behind a proxy server. Permissions can be set against files and folders, as well as sharing. Accounts can be enabled or disabled, and storage limits can be managed for each user on an account.
Installation
The software required the SugarSync manager on each pc connecting to the cloud. Mobile phones will need their respective SugarSync mobile application.
Knowledge Level
Novice = 3 Intermediate = 2      Expert = 1
No hurdles getting this program going. Most computer users, whether novices or experts, will appreciate the ease of use.
Technical Support
Take your pick: forums, chat sessions, email support and videos. Support hours are from Monday to Friday 7:30AM-4:30PM PST. No support on Saturday and Sunday.
License Model
The SugarSync Manager must be installed on every computer transferring files to cloud storage.
Extras
A 5GB account for free or a 30GB trial for 30 days is a nice way to test drive this product. If you refer someone to the service and they secure a 5GB account, both receive 500MB free. A 30GB account adds another 10GB to your storage.
How they calculate storage is nifty too. Only the most recent file counts towards the account storage limit.
Conclusion
SugarSync is by far the most sophisticated of all synchronization programs. Covering PC, Macintosh and mobile phone users, the company has presented a full range of data protection for the kaliedescope of computing users.
Ease of use, secure sessions between the cloud transfers, support for mobile users, and add on storage for some company referrals isn't a bad deal for the price. All in all this product's appeal is as sweet as "sugar."