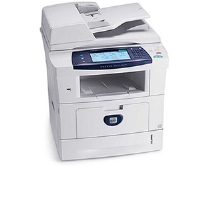 The Xerox 3635MFPX Phaser Multifunction Black and White Laser Printer is an all in one printer that is perfect for just about any business level. Copy, scan, print and fax with ease. This printer is very easy to understand and most people will be able to walk right up to it and understand what they need to do. As stated this does not print color, just black and white.
The web interface is where this printer really shines. It has many features that are really easy to use and understand.
With a print speed of 35 pages per minute and paper input of 500 sheets you can print for large jobs like election voting services in a snap. It does do duplex printing.
Of course this printer is networkable and has a USB port as well.
We did find it on tigerdirect here for only $1999.99. The retail price is 2099.99 so this is a decent discount. Not sure how long this deal will last.
Product Dimensions: 23.3 x 23.4 x 27.6 inches ; 48.7 pounds
Printer Specs:
Print Method: Laser
Resolution: 600 x 600 dpi
Maximum Duty Cycle: 75,000 Pages Per Month
Paper Input: 500 Sheets
Paper Output: 200 sheets
Duplex Printing : Automatic
Printer sizes: 5.5″ x 8.5″ to 8.5″ x 14″
Print Speed: 35 PPM B/W No Color
Connectivity: Ethernet, USB
Final thoughts: A lot can be said about this printer. It is very easy to use and the web interface is what really make this printer shine. It is perfect for small, medium and larger businesses. Down side is it does not do color.