In 1996 Palm Computing, Inc. – then a part of US Robotics – led the resurgence of handheld computing with the introduction of its Pilot 1000 and Pilot 5000 organizers. Designed as companion products to personal computers, the devices enabled mobile users to manage their schedules, contacts and other critical personal and business information on their desktops and remotely.
The Pilot 1000 debuted with 128K of memory and a monochrome black on green glass touch-screen display, while the Pilot 5000 boasted 512K of RAM. Both used version 1 of Palm OS operating system and, before very long, both could be upgarded via a 1MB memory upgrade card. Neither device had an infrared port, backlight, or flash memory, but they were equipped with a serial port.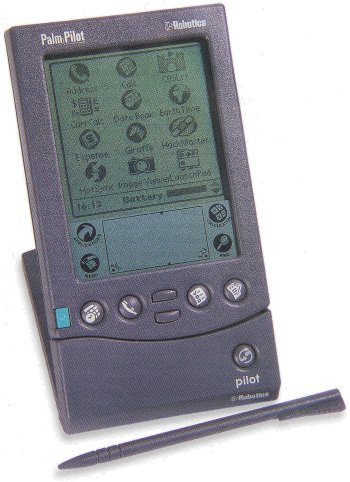 Designed as companion products to personal computers, the early Pilots enabled mobile users to manage their schedules, contacts and other critical personal and business information on their desktops and remotely. Their most distinguishing features were their shirt-pocket size, an elegant graphical user interface and an innovative desktop docking cradle which facilitated two-way synchronization between the PC and organizer, either locally or over a local or wide area network.
The Pilot devices introduced the palm-sized form factor, the early devices being about the size of a deck of playing cards and weighing around 155g. By 1999 sizes had become smaller still, the Palm V weighing in at 115g at a size of 115mm x 77mm x 10mm. At that time devices were equipped with a 160 x 160 pixel backlit screen and came complete with a comprehensive suite of PIM software including date book, address book, to-do list, expense management software, calculator, note-taking applications and games. The software bundle also included an enhanced version of Palm Computing's award-winning Graffiti power writing software, which enables users to enter data at up to 30 words a minute with 100 percent accuracy. Its ease of use and functionality made it the de facto standard in the handheld computing market.
By the end of 1999 – by which time it had first been subsumed into 3Com and subsequently spun off from its parent into an independent company – Palm Computing had consolidated its market leadership position with the launch of its much anticipated Palm VII device, adding wireless access to the Internet to the familiar suite of PIM applications. Several Web content providers collaborated with Palm to offer web-clipped versions of their sites – designed specifically for the Palm – for easy download. With sales of Palm devices estimated to rise to 13 million by the year 2001 it looked as though Palm Computing was set to dominate the palm-size segment of the PDA market for several years to come.
In the event 2001 started badly for Palm and got progressively worse. As well as the general economic turndown – particularly severe in the whole of the technology sector – the company found itself faced with a huge stockpile of inventory following a poorly managed product transition. The consequence of leaking details of its m500 and m505 models months in advance of their release was a dramatic slowing in the sales of existing models. The situation was compounded by stiffer competition from its rivals – PalmOS licensees as well manufacturers of product based on the resurgent Windows CE Pocket PC platform – and what many believed was an overly diverse and confusing product line. Following several months of disorganization – during which period the company was even seen by some as a potentialacquisition target – early 2002 saw an attempt to restore investor confidence by separating its operating system business – henceforth to be known as PalmSource – from its hardware groups.
In early 2003 PalmSource announced that future versions of PalmOS would no longer contain Graffiti. Rather, they would incorporate a modified version of Communication Intelligence Corporation's Jot handwriting recognition software, the system being referred to as Graffiti 2 powered by Jot. The rationale for the switch was legal rather than technical. In April 1997, Xerox had sued Palm, claiming that Graffiti was essentially derived from its patented Unistrokes (Unistrokes for Computerized Interpretation of Handwriting) technology. While both companies had legal rulings made in their favor along the way, the seven-year legal battle remained unsolved by the summer of 2004.