Marketed almost exclusively by Tektronix, solid ink printers are page printers that use solid wax ink sticks in a phase-change process. They work by liquefying wax ink sticks into reservoirs, and then squirting the ink onto a transfer drum, from where it's cold-fused onto the paper in a single pass. Once warmed up, thermal wax devices should not be moved, otherwise wax damage may cause damage. They are intended to be left switched on in a secure area and shared over a network. To this end they come with Ethernet, parallel and SCSI ports allowing for comprehensive connectivity.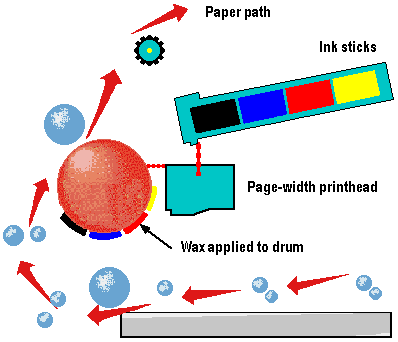 Solid ink printers are generally cheaper to purchase than a similarly specified colour laser, and, economical to run owing to a low component count and Tektronix's policy of giving black ink away free. Output quality is good, with multi-level dots being supported by high-end models, but generally not as good as the best colour lasers for text and graphics, or the best inkjets for photographs. Resolution starts at a native 300dpi, rising to a maximum of around 850 by 450dpi. Colour print speed is typically 4ppm in standard mode, rising to 6ppm in a reduced resolution mode.
There connectivity, relatively low running costs and the fact that they're able to use the widest range of media of any colour printing technology, make them well-suited to general business use and some specialist tasks such as delivering colour transparencies at high speed and large-format printing.