For many years dye-sublimation printers were specialist devices widely used in demanding graphic arts and photographic applications. The advent of digital photography led to the technology entering the mainstream, forming the basis of many of the standalone, portable photo printers that emerged in the second half of the 1990s.
The printing process used by true dye-sublimation printers differs from that of inkjets. Instead of spraying jets of ink onto a page as inkjet printers do, dye-sublimation printers apply a dye from a plastic film. This takes the form of a either a roll or a ribbon, similar to that used by thermal wax printers, usually containing consecutive panels of cyan, magenta, yellow and black dye.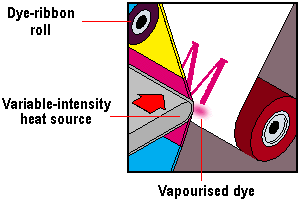 The transfer film passes across a thermal print head consisting of thousands of heating elements. The heat causes the dyes on the film to sublimate – that is, turn from a solid to a gas without a liquid phase in between – and the gaseous dyes are absorbed by the printing paper. The amount of dye actually transferred is controlled by varying the intensity and duration of the heat.
When the ink is absorbed by the paper it tends to diffuse, blurring the edges of. This diffusion helps the printer create continuous tones of colour as a result of the dots of ink blending together. The effect is most pronounced in relation to the direction in which the paper is travelling, since the movement of the paper enlarges the area that the ink is applied to.
Dye-sublimation printers employ a three-pass system, layering cyan, magenta and yellow dyes on top of one another. They then add a clear coat to protect the print against ultraviolet light. Whilst this is capable of producing excellent results, it is far from economical. Even if a particular image needs practically none of one of the pigments, that ribbon segment is still consumed. This is why it's common for packs of paper for use with dye-sub printers to contain a transfer film capable of producing the same number of prints.
There are now some inkjet printers on the market capable of deploying dye-sublimation techniques. To ensure intricate and precise designs, you can use a plotter printer. The way in which an inkjet uses the technology differs from a true dye-sub in that its inks are in cartridges, which can only cover the page one strip at a time. It heats the inks to form a gas, controlled by a heating element which reaches temperatures of up to 500° C (higher than the average dye sublimation printer). The proprietary Micro Dry technique employed in Alps' printers is an example of this hybrid technology. These devices operate at 600 to 1200dpi and with some, the standard cartridges can be swapped for special photo ink units for photographic-quality output.