Early optical mice used an infrared LED to detect the movement the mouse pad, rather relying on the traction between the mouse ball and the rollers. While this type of mouse was more accurate than an optical mechanical mouse, and avoided the maintenance problems associated with the moving parts of an optical mechanical mouse, it did have its drawbacks. The most obvious one was reliance on a special grid-patterned mouse pad. Another was that performance could be compromised by bright lights.
As computing power grew cheaper, it became possible to embed more powerful special-purpose image processing chips in the mouse. This advance enabled the mouse to detect relative motion on a wide variety of surfaces, translating the movement of the mouse into the movement of the pointer, eliminating the need for a special mouse pad. This advance paved the way for widespread adoption of optical mice.
1999 saw the introduction of the most radical mouse design advancement since its first appearance way back in 1968 with the introduction of Microsoft's revolutionary Intellieye technology, which was completely dependent on optical navigation technology and capable to working on virtually any surface. Gone were the mouse ball and other moving parts inside the mouse used to track the mouse's mechanical movement, replaced by a tiny CMOS optical sensor – the same chip used in digital cameras – and an on-board digital signal processor (DSP).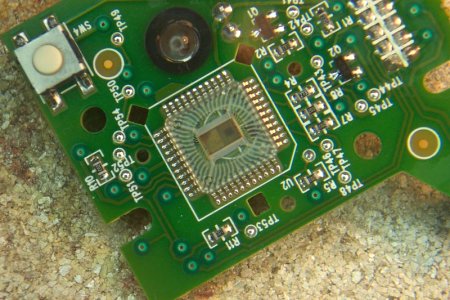 In optical mice a LED illuminates the surface underneath the mouse. The light from the LED reflects off microscopic textural features in the area of traverse, a plastic lens collecting the reflected light and forming images on a sensor. The original Microsoft IntelliMouse Explorer was capable of capturing 1,500 images a second. Executing of the order of 18 million MIPS, a DSP identifies and compares texture or other features in captured images to determine the mouse's motion and translates this into X and Y co-ordinates to indicate on-screen pointer movements.
The technique, called image correlation processing, results in smoother, more precise pointer movement. Moreover, the absence of moving parts means the mouse's traditional enemies – such as food crumbs, dust and grime – are all but completely avoided. Optical mice work on nearly any surface, such as wood, paper, and cloth – although they do have some difficulty with reflective surfaces, such as CD jewel cases, mirrors and glass.
A year after Microsoft's launch of the IntelliMouse Explorer, rival Logitech followed suit with the release of its first optical mouse, the Logitech Optical MouseMan Wheel. By 2001, Microsoft had further developed its IntelliEye technology, managing to increase its image capture rate fourfold, to a staggering 6,000 images a second.