SCSI Host Adapter:
Windows 98 and Windows XP both have embedded driver support for the SCSI host adapter being used in this tutorial. On restarting the system, Windows should detect the presence of the adapter and prompt you to take the steps necessary for the associated driver to be installed.
After Windows has been restarted, you can confirm that the driver software has been properly installed via Device Manager. Access this via Windows 98 by going Start > Settings > Control Panel > System > Device Manager. For Windows XP, right-click My Computer and click on Properties, Hardware and Device Manager.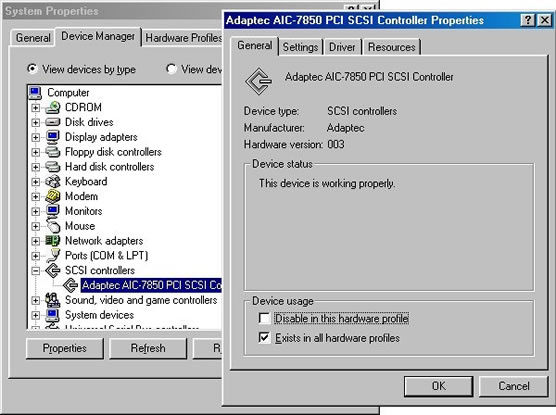 You should see an entry for your host adapter under SCSI Controllers.
If you don't, or the entry is accompanied by a yellow exclamation point or red X, follow the manufacturer's instructions for installing driver support from the floppy disk or CD-ROM media that was provided with the host adapter card.
CD-ReWriter:
The computer's operating system, whether it is Windows XP, Windows Me, Windows 98, Windows 95, Windows 2000 or Windows XP supplies a generic CD-ROM device driver that will allow your CD-ReWriter to function as a standard CD-ROM drive. You don't need to install anything else.
However, in order to take advantage of the drive's ability to record on CD-R or CD-RW media, you'll need to install packet writing or mastering applications software on your PC. Such applications – such as Roxio's Easy CD Creator – are generally bundled with CD-ReWriter products.
The Roxio suite comprises three main applications:
CD Copier: Lets you copy any CD.
DirectCD Format Utility: Prepares a CD-R or CD-RW disc so you can directly copy files to it in much the same way that you copy files to a floppy disk or removable drive. You can then use Windows Explorer, or any other program that can read from and write to a drive letter, to copy files to a CD. You can also recover files from damaged CDs, and even repair CDs.
Easy CD Creator: Lets you make your own CDs, including music CDs that can be played on your home or car stereo CD player, or data CDs for storing computer data such as the files and folders on your hard disk.
Note that if you use a CD-R disc with packet writing software, you can't subsequently use the disc with mastering software (and vice versa).
CD-RW discs must also be used with either one type of software or the other. However, in the case of rewritable media, a CD-RW disc can be erased and subsequently used again with either type of software.