Windows 98 Setup will have attempted to load drivers for the hardware it recognised. However, there is no guarantee that the default drivers loaded are the latest available, or – if you're re-building what had previously been an operational system – the same as the versions you were running previously.
The first thing to do is to check the status of all your installed hardware via Device Manager. Access this via Start –> Settings –> Control Panel –> Device Manager. An exclamation mark in a yellow circle is used to indicate devices in a problem state. Right-clicking the entry and selecting Properties will display further information, including an associated error code. Oftentimes the problem will be the absence of an installed driver. In such cases you'll need to install this, either from the CD-ROM or floppy disk that came with you hardware, or from a file that you subsequently downloaded from the Internet.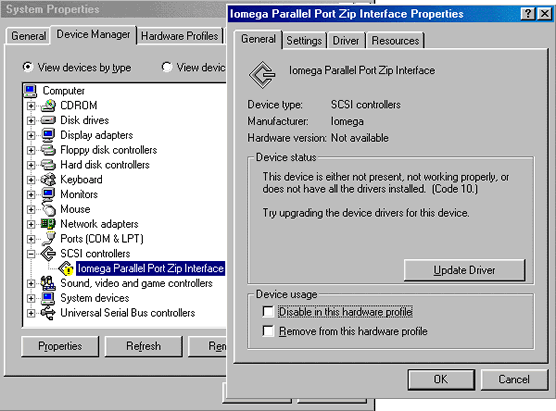 Click here to view the Microsoft Knowledge Base Article entitled Explanation of Error Codes Generated by Device Manager.
This provides a listing of error codes and associated error messages, together with explanations and possible resolutions.
There are a number of ways to update a driver, one being to click the Update Driver button on the General tab of the device's properties display.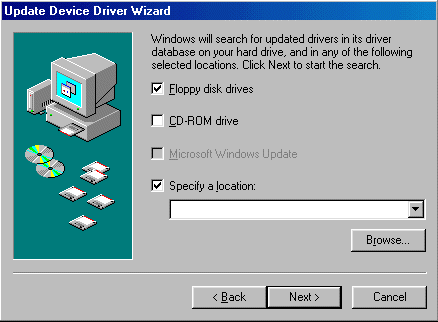 Then, simply direct the Update Device Driver Wizard to the location of the folder that contains the driver you wish to install and click Next to start the installation.
An alternative method of installation – and one that is perhaps more guaranteed to work successfully – is to simply run the the driver's Setup.exe program, if this is provided. This will install the drivers and usually prompt you to re-boot the system. Upon re-boot, Windows automatic installation routine will locate the drivers and install the hardware.
When you've achieved a situation in which Device Manager shows all hardware and associated drivers to be properly installed, you may still have a decision to make as to whether you've any drivers you want to update. This is where the cataloguing exercise at the planning stage may help you. If you took the trouble to do this, it's likely that you'll be able to identify cases where the driver version installed currently is older than the version you were running prior to the reinstallation of Windows.
Whether or not you choose to update old versions is another matter, you may prefer to leave well alone. However, if you have access to the more recent versions it's probably wise to upgrade. After all, you did previously, and probably for a good reason!