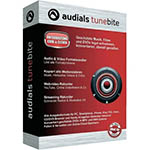 OVERVIEW: Audials Tunebite is a multi-use Copy, Record and Conversion software program for both audio and video. The Premium version will not convert video. Only the platinum version and above will convert video.
Video Recording:
With Audials Tunebite you will be able to record video and sound from video streaming services such as Youtube, Netflix and everywhere else. I am now using it to record webinars from Gotomeeting as well as training sessions I do via Skype. It's really cool stuff!!
Audio Recording:
Have you ever wanted to record some audio online? With Audials Tunebite you can do so far easier then you thought possible. Simply hit 1 button and every song from places like Pandora will be recorded into tracks with the artists name and the name of the song. The quality of the recording is the same quality as from when you listen to it live because it's taken straight from your sound card and not record over a mic.
Video Converting:
Audials Tunebite platinum allows you to backup all your videos onto your computer. Simply pop in the DVD or video you want to backup and record it. From there you can convert that video format into any format you want. So you can basically convert the DVD/Video into a format that works on your Nokia phone or Ipad or any other device that takes a specific video format. Take note that the Premium version does not convert or backup video. You have to upgrade to the platinum.
Audio Converting:
For those of us that have audio that won't play on our Digital music players, you can use Audials Tunebite to convert the audio file into a format that will play on your music device. For instance you can insert your Music CD. Make a backup and then use that backup and convert it into a format to use on your mobile phone or any other audio devic. The audio export format are: MP3, WMA, WMA Pro, OGG, WAV, M4A and FLAC
PROS: This program is one of the best bang for buck programs I've come across in a while. I went into this review thinking I was going to have to rip the program apart because it would suck. I really did not expect the program to work as it said it would. This is a strong thumbs up for the PCTechGuide.com team.
CONS: The GUI needs some work. I think they are putting too much into too small an area. It's nice to have everything one click away but it will intimidate non tech savvy users. Offering all the different conversion bitrates is overwhelming to end users. There are other areas like the player that can use some work and improvement as well. Mostly all my complaints are cosmetic. The program functions very well.
Audials Tunebite Review
Audials Tunebite Review
Company: Audials Tunebite
Version: 10
Operating Systems: Windows XP SP3 (32 Bit), Windows Vista SP2 (32/64 Bit), Windows 7 (32/64 Bit) Windows 8
Price: Platinum 10 $49.90 | Premium 10 $39.90
What It Does: Record, copy & convert Music, Audiobooks, Movies & DVDs on PC, Smartphone & Tablet
As mentioned in the overview you can record streaming audio.  You have 3 main options.
1. Direct Recording into Tracks:  This works great for audio streaming sites like Pandora.  It will record each song separately and include the artists name when possible and the song name.  It's something you have to try out to fully grasp how cool a program this is.
2. Sound Record Everything into Tracks:  This sound confusing but it is not.  Basically everything played through your sound card is recorded.  So it does not matter what site you are on or if you are recording a VOIP phone call, it's all recorded.
3.  Continuous recording:  This feature will just record everything into one single recording and not break it up into tracks.  I have not had a use for this feature yet but I'm sure I'll run into one.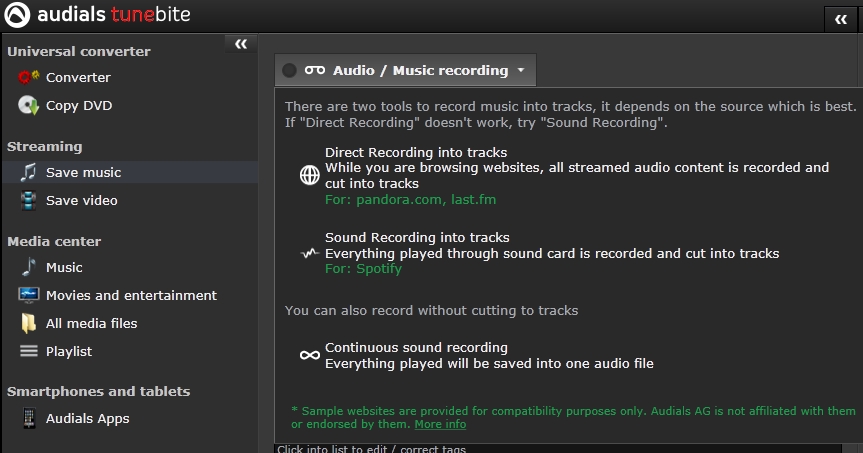 Recording Live video is a very cool feature.  Next to the music recording this has to be my favorite feature of Audials Tunebite.  You are given 3 options for recording live video
1.  Pick videos:  All videos get monitored.  When a video starts playing you pick which video you want to save.  Great for Hulu, youtube.
2. Save all videos:  With this option all videos get saved and you can just delete what you don't want later.  Not the best way to go if on youtube as you can see 20 videos on a page and you won't want them all. Great for Netflix and Itunes.
3.  Record from screen: You select the area you want to record and when you want the recording to start and stop.  This is great for recording webinars, webcam chats, online video meetings, or anything else you want to record online that has video in it.  Basically if you can see it with your eyes you can record it with this feature.  This works better then many screen capturing programs out there.  It's a feature Audials does not talk up but they really should.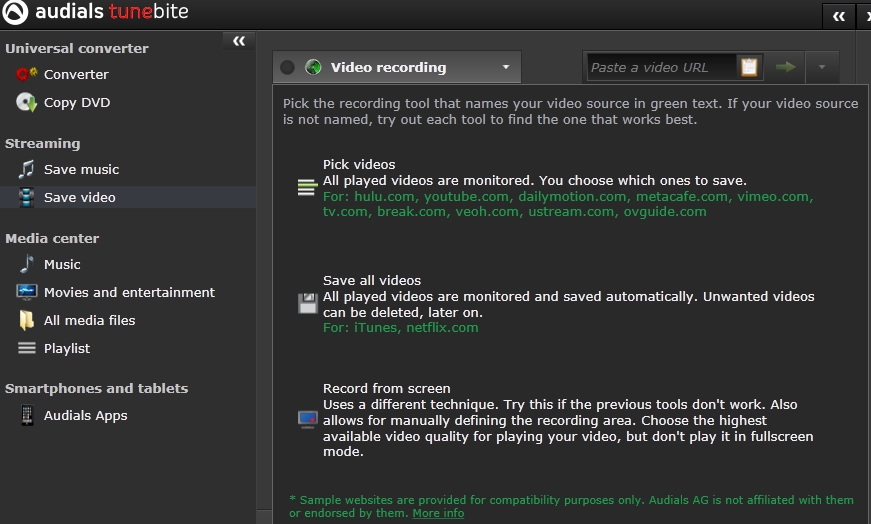 The converter section allows you to convert both video and audio's into another format.  The premium version only does audio.  The Platinum version will do it all.  Simply select the file you want to convert then select the format you want to convert that video file over to.  This is the one section I think some users will have a little issue.  While it's easy, you are given many options.  Options can be good but some of you may have to convert a file over a few times till you find the format you want to use.  From then on out you will know what to use for your specific device going forward.
This is a very powerful feature because you can record audio from Pandora or video from youtube and netflix and now copy it into a format that will play on basically any device you might own.  A ton of possibilities with this.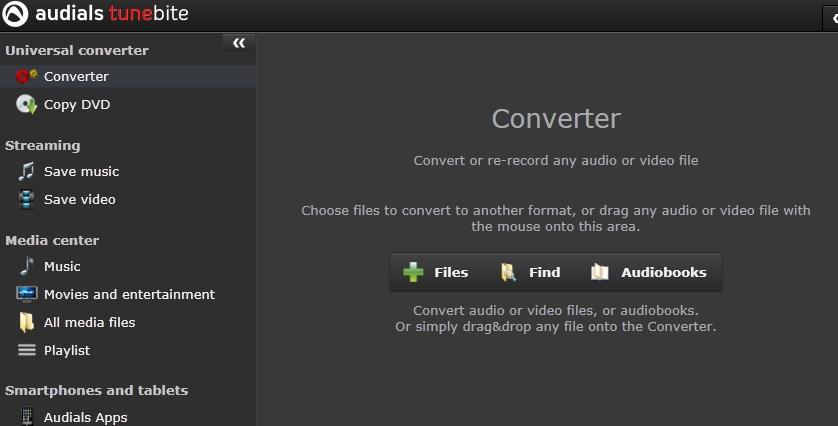 You can copy DVD's with the Platinum version of Tunebite.  It's very easy to do.  Just inset a DVD and click the next button.  Then tell it to record and that is it.  The DVD will be copied and backed up.  With that backup you can now convert that video file into any format you need to play on any device you may have.  This is a great feature that may Copy DVD programs are missing.  You can now watch your favorite videos on any device you want.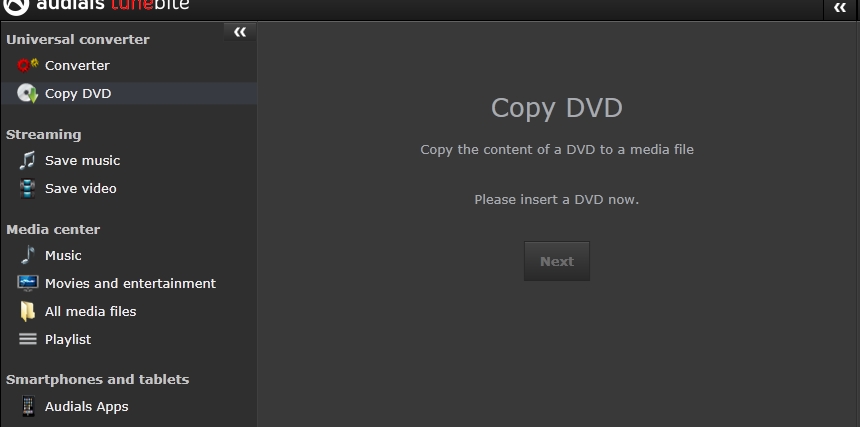 Audials Tunebite comes with a video/audio player.  While not the best looking player it's easy to use and gets the job done.  I found it very easy to just open up the program and locate the video I wanted to play right from my files list.  It's a feature that should be mentioned as you are most likely going to be using it.
Installation: Installing the program is very easy.  During installation several audio drivers will be installed.  This should not cause an issue but I can see an issue if you are listening to something during the install.  To be safe just close down all programs before install.
Conclusion This is one sweet product that does the work of several other programs.  It's one of those programs that you will end up using for all kinds of things.