Data Transfer Software AKA Data Migration Software plays an important part in the world of upgrading from and old PC to a New PC or upgrading an existing operating system such as XP to Windows 7 or Windows 8.  We have gone out and tested several data migration software programs so we could offer you an in-depth look at how each one works and explain what you can expect to get out of the data transfer program.

PROS: Syncables 360 is great for data transfer, whether it is from computer to computer, or phone to computer, it will certainly fit your needs.
CONS: There doesn't seem to be any way other than email for you to contact the personnel with Syncables with any questions or problems you may have.
OVERVIEW: Syncables 360 is a great product overall and very easy to use. You should have no problems transferring your data from one place to another.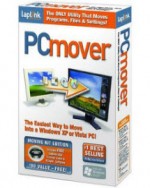 PROS: Pcmover is the only data migration software package that can transfer over software programs as well as all user accounts, custom settings and personal files.
CONS: While the software program works great, some users may have a hard time settings the transfer up. We recommend you purchase the pro version that comes with a data transfer cable to make things go smoother.
OVERVIEW: All in all PCmover is a great data transfer program that makes moving from an old computer to a new computer so much easier then in the past.
Sync Software Reviews | Anti-Virus Reviews | Data Backup Software | Driver Software | Data Encryption | Data Transfer Software | Language Software | PST Repair Software | Registry Cleaners | PC System Utilities | Internet Security | Total Security | Password Manager | Data Recovery