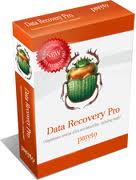 Data Recovery Pro
While I was able to recover most of the data that I had deleted to try Data Recovery Pro out, the time it took was absolutely ridiculous in my mind. It took two days to finish a full scan, which seemed very unreasonable. While Data Recovery Pro does the job, it isn't going to recover data from formatted drives or corrupted partitions. The price is reasonable, but for an actual product to purchase, I would have to recommend something more along the lines of Recover My Files or Remo Recovery Pro. They both offer more options and work a lot faster to get the job done.
» Purchase Data Recovery Pro Here

Program: ParetoLogic Data Recovery Pro
Company: ParetoLogic
Supported OS: Windows 2000, XP, Vista
Price: $49.97 USD
Rating: 6 out of 10
What It Does:
ParetoLogic Data Recovery Pro will help to recover lost files and emails. It will do this through a number of ways, such as by looking through drives, or just using specifc kewords or phrases.
Installation:
This program uses less the 5MB of disk space and takes less than a minute to install.
Details:
After installing Data Recovery Pro, you will see the screen below. I went ahead and chose the quick scan option, as I was only scanning one drive.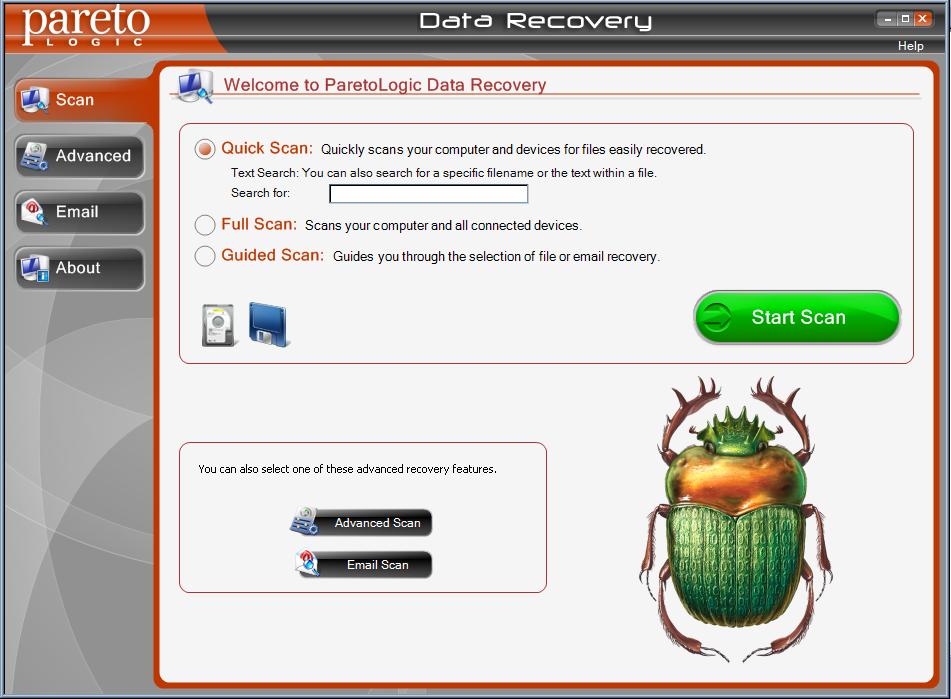 You may also choose to use the "Advanced" scanning option on the left of the screen. I would only suggest using this option if you are very familiar with computers and understand what specifications it is you want on your scans.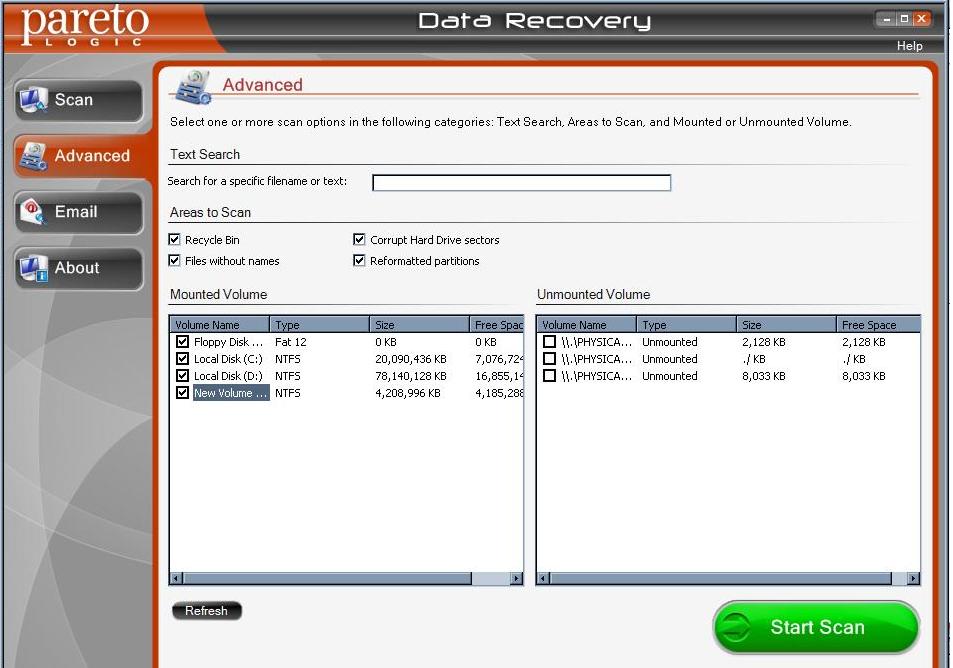 Below shows a screenshot of an advanced scan searching for recoverable data.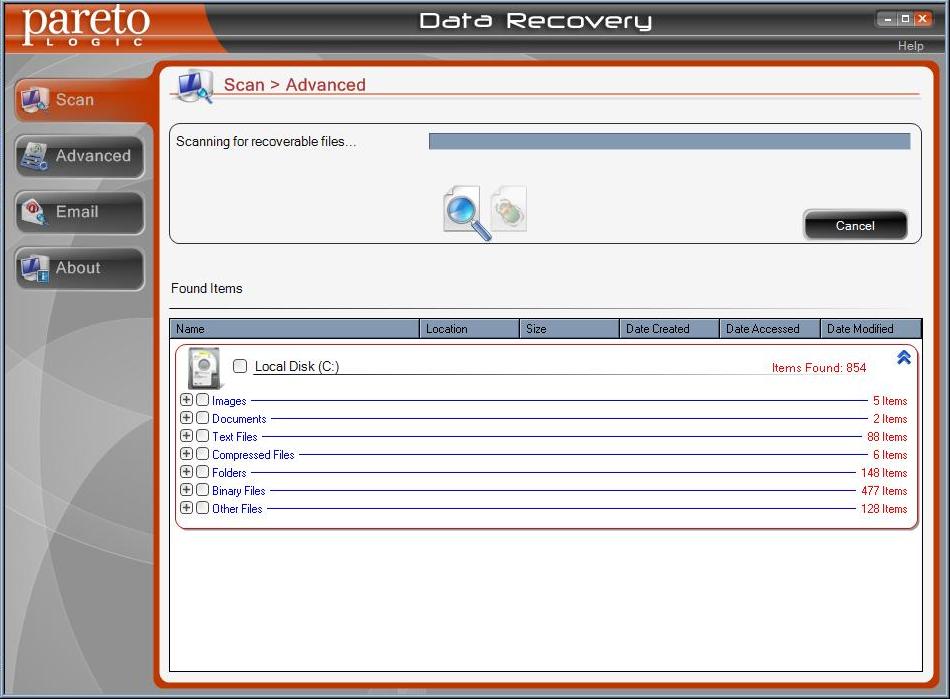 After over 24 hours, the scanning process was still not complete, so I decided to cancel the scan and see what results I found. Unfortunately, while it showed 15MB of data recovered, I only actually had about 8MB of info that was truly recovered.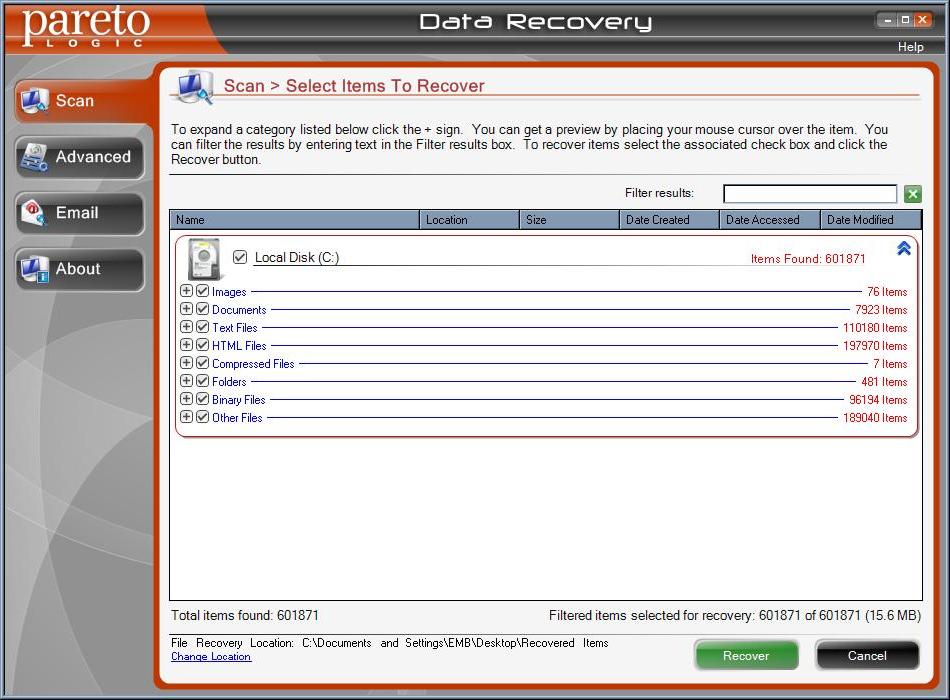 You can also choose the "Email" tab on the left and do a scan to recover any lost emails. The process is the same as the others.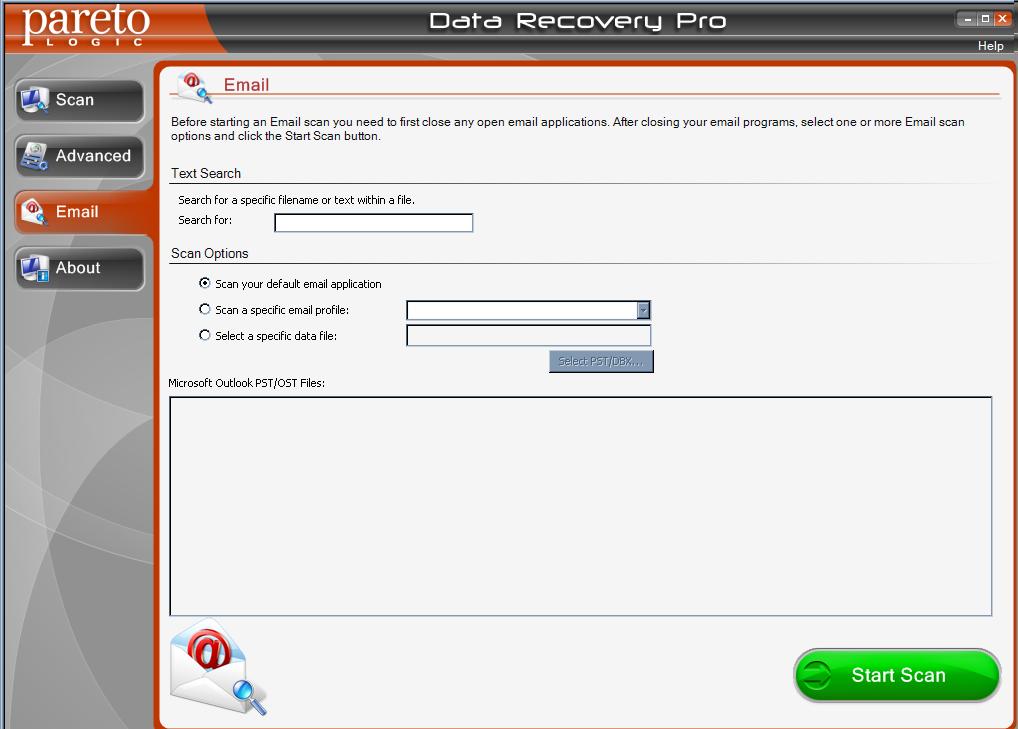 You can use the "About" tab if you need to look up information about the product, receive updates, or just to contact ParatoLogic for any technical problems you may face.
Ease Of Use:
ParetoLogic Data Recovery Pro is simple to use. I believe even the most novice of users could handle this product with relative ease.
Summary:
If you are looking to just recover pictures, text files and emails, then this product would be all right for you. Installation is super fast and the product is really easy to use. While the data recovery rate isn't perfect, it does do a decent job overall. There are better products out there, however, with Remo Recovery Pro and Recover My Files being two very good choices that I would recommend over Data Recovery Pro.
PROS: Installs quickly, recovers decently and takes up very little space on your hard drive.
CONS: Doesn't recover formatted drives or corrupted partitions.