In the summer of 2000 Intel made a renewed bid to establish a serious foothold in the market for wireless Internet devices with the launch of its low-power microprocessor architecture dubbed XScale. Built on the StrongARM technology Intel licences from British-based ARM Holdings – with which it is instruction set compatible – XScale is designed to operate at a range of clock speeds and power consumption levels. Dynamic voltage management – similar in concept to SpeedStep – is a key element in the architecture and enables the RISC-based chip to ratchet its power consumption up and down depending on the tasks it is handling at any given moment.
Intel is seeking to position XScale as the fastest and most energy-efficient technology in the nascent wireless market. It will offer higher clock speeds and lower power consumption than current StrongARMs, depending on the application. The chip can range from 50MHz, where it consumes about 10 milliwatts of power, to 800MHz, where it consumes about 1 watt. These characteristics make XScale ideal for the forthcoming breed of Internet access devices, and offer the prospect of fairly sophisticated mobile applications capable of running on a single AA battery. Competition included rival chipmaker Texas Instruments, who promoted a similar architecture referred to as the Open Multimedia Applications Platform (OMAP).
In the event XScale was much slower to reach the market than had been initially anticipated. It was not until the beginning of 2002 that Intel introduced its new family of chips based on the XScale microarchitecture – the PXA210, capable of clock speeds up to 200MHz and the PXA250, capable of running at speeds up to 400MHz. The first Pocket PC device based on XScale technology – Fujitsu-Siemens' Pocket LOOX – was officially launched a few weeks later at CeBIT 2002.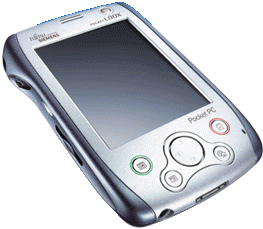 Powered by a 300MHz PXA250 XScale CPU and based on Microsoft's Pocket PC 2002 software, the Pocket LOOK comes equipped with 64MB of RAM and 32MB of ROM as standard, features a transreflective 16-bit colour screen and has a built-in Li-Polymer battery capable of providing power for 14 hours of use.
At the top of the device is a CompactFlash slot capable of accepting CF Type I and II cards as well a Secure Digital (SD) slot located on the unit's left side. Above this is a minuscule jog-dial wheel which allows the Pocket LOOX to be operated using only one hand. Immediately above this is an infrared port. An onboard chip provides support for Bluetooth, which users can enable/disable (for example in airplanes or other places where transmitting devices are not allowed) via a switch located on the right side of the unit. Above the SD slot is a minuscule jog-dial wheel which makes it possible to operate Pocket LOOX using only one hand. Immediately above this is an infrared port. A loudspeaker is located at the top of the unit and a microphone at the bottom. Finally, the front of the device sports a navigation pad together with four application buttons.
Using a specially designed GSM phone jacket Pocket LOOX can be converted into a smartphone. Other expansion modules Fujitsu-Siemens are reported to be planning to introduce include a GPRS jacket, a wireless LAN module and a battery pack.