Optical disc technologies such as DVD, DVD-R, DVD-RW, and DVD-RAM employ a 650 nm red laser, bond 0.6mm-thick discs and use lenses with a numerical aperture (NA) of 0.6. By employing a short wavelength (405nm) blue violet laser, the Blu-ray Disc (BD) successfully minimises its beam spot size, reducing the lens' NA to 0.85 and so making it possible to focus the laser spot with much greater precision.
As a consequence, the Blu-ray Disc's tracking pitch is reduced to 0.32µm, less than half that of a regular DVD, and the minimum mark length is 0.14-micron, down from DVD's 0.4-micron. In addition, by using a disc structure with a 0.1mm optical transmittance protection layer, the Blu-ray Disc diminishes aberration caused by disc tilt, allowing for disc better readout and an increased recording density. This allows data to be packed more tightly on a Blu-ray Disc than on a DVD. A single-layer disc can hold 25GB, which can be used to record over 2 hours of HDTV or more than 13 hours of SDTV. There are also dual-layer versions of the discs that can hold 50GB. All this is achieved on media that is the same physical size as a CD/DVD.
The track format of Recordable Blu-ray Disc is groove-recording, i.e., recording data only on groove or in groove tracks. For the groove recording method, lands are sandwiched between adjacent grooves to block heat transfer between the grooves during recording, preventing signal quality deterioration in one groove track due to the influence of recording data in an adjacent groove tracks with a narrow track pitch. The track pitch between grooves in Recordable Blu-ray Disc is 0.32µm.
The recordable layer(s) for a Recordable Blu-ray Disc employ either organic or inorganic materials. For a single-layer Recordable Blu-ray Disc, the thickness from the disc surface to the recording layer is 100µm. For a dual-layer Recordable Blu-ray Disc, the thickness from the disc surface to the front layer (Layer 1) is 75µm, and that to the rear layer (Layer 0) is 100µm. For the dual-layer disc, the laser beam must be transmitted through the front layer for data recording/playback on the rear layer. While recording Layer 0, the laser beam is severely out of focus for Layer 1 resulting in a very low optical density which prevents affecting the recording characteristics of Layer 1. Therefore, the front layer is required to provide an optical transmittance of 50% or more, regardless of its recorded state (whether data-recorded or blank).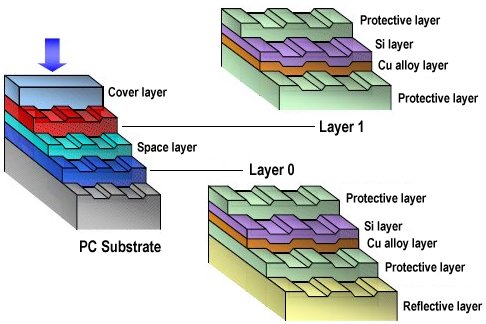 The Recordable Blu-ray Disc specification allows for multiple variations in the recording capacity. According to the Specifications Book, the 120mm single-layer type has three different discs with capacities of 23.3, 25 and 27GB, while the dual-layer type has capacities of 46.6, 50 and 54GB. The three different capacities of each type have been realised by using different linear recording densities, but all using the same track pitch. The minimum length of marks recordable on a disc is 0.160, 0.149 and 0.138µm, in the order of the recording capacity.
With the rapid growth of HDTV globally after 2003, the consumer demand for recording HD programming rose quickly. Blu-ray was designed with this application in mind and has a data transfer rate of 36MBps and utilises the MPEG-2 transport stream compression used by digital broadcasts. This makes it highly compatible with global standards for digital TV, and means that HDTV broadcasts can be recorded directly to the disc without any quality loss or extra processing. In addition, by fully utilising an optical disc's random access features, it's possible to playback video on a disc while simultaneously recording HD video.
While the format itself is not compatible with previous DVD technologies, Blu-ray products are made backwards compatible through the use of a BD/DVD/CD compatible optical pickup, thereby allowing playback of CDs and DVDs.
Initial indications were that DVD Forum member Warner Bros. and other content-production companies were firmly in the HD-DVD camp, since it would allow Hollywood studios to repurpose their content one more time, without having first to incur high investment costs in transitioning to brand-new replication equipment. However, by the end of 2005 the BD format had taken the lead, with most major movie studios having committed to releasing films in the format by the following year.
In January 2006 Sony announced its intention to start selling Blu-ray Disc players in the USA in the summer of that year, a few months later than rival Toshiba's planned launch of its first HD-DVD player. This seemed a coup for the HD-DVD camp, but slow take-up of the technologies from a wary consumer market meant that this proved no great advantage. It was clear by then that one of the technologies would fail, picking the winner was tough, and few were willing to make a costly gamble on a system and media that might soon be defunct.
The table below compares some of the principal characteristics of the Blu-ray Disc format with the DVD format:
Characteristic
DVD
BD
Capacity per layer (GB)
4.7
25
Max number of layers
2
2
Max number of sides
2
2
Substrate + cover layer (mm)
0.6 + 0.6
1.1 + 0.1
Laser wavelength (nm)
650
405
Numerical aperture
0.65
0.85
Cartridge
No
No
Hard coating needed
No
Yes
Complexity to read DVD
–
More complex
Maximum Data Rate (MBps)
11.08 (1x)
36.55 (1x)
Maximum Recording

Time (SDTV)

Single-layer
2 hours
13 hours
Dual-layer
4 hours
26 hours
Triple-layer
–
39 hours
Maximum Recording

Time (HDTV)

Single-layer
–
2 hours
Dual-layer
–
4 hours
Triple-layer
–
6 hours